The Stealth Architect Behind Jon & Vinny's and L.A.'s Most Surprisingly Serene Spaces
Jeff Guga has become the insider's architect for restaurateurs and artists in Los Angeles.
---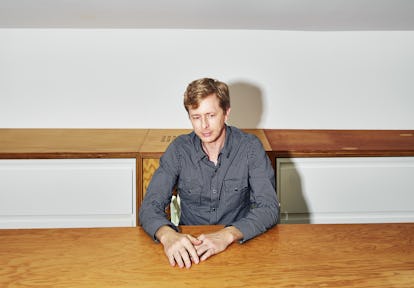 Photographs by Spencer Lowell; photography assistant: Tim Mahoney
An unwieldy but wonderfully apt hashtag appears on an Instagram photo of Jon & Vinny's, the Los Angeles eatery designed by the architect Jeff Guga and prized for its tranquil interior: #luckylouiskahnrayoflight. Across the narrow, skylighted dining room, handsomely fitted out in unadorned white oak, broken bands of natural light cast a Morse code–like pattern, a sprightly reminder of one of Louis Kahn's irresistible maxims: "The sun never knew how great it was until it struck the side of a building." The afternoon sun striking Guga's harmoniously composed room does appear to be delighted.
Since he established his own architectural office in 2004, Guga's eloquent handling of elemental forms and straightforward materials has been evident in a wide variety of projects: He's configured artist studios, enlivened timeworn Mediterranean villas, and finessed the ideal addition—a light-filled box—to a landmarked midcentury house. His career and dedicated following have developed steadily in a rather rhizomic fashion, constantly branching out, connecting, reconnecting, and flourishing in new ways. After Guga designed a New York pop-up store for Taschen, the book publisher Benedikt Taschen recommended him to Jon & Vinny's chef-owners Jon Shook and Vinny Dotolo. For an architect who is a fervent bibliophile by his own admission, a bookstore had not been much of a conceptual stretch; a restaurant, however, prompted doubts. "A lot of restaurant design is about entertainment," Guga explains. "And I don't want to entertain, I want to calm people." His refined plan for a stylish 21st-century pizza joint was nominated for a James Beard Foundation Outstanding Restaurant Design Award in 2016. The ­following year, the once-­hesitant architect designed a second L.A. ­restaurant, the equally serene and acclaimed Kismet, and garnered a second nomination.
Guga arrived in Los Angeles 20 years ago, a fact that seems to startle him in a way familiar to many California transplants: the sudden realization that an outward journey has morphed into a long stay. Born in Illinois, the youngest child in a working-class family, he grew up gardening in "the beautiful black-gold soil" of the Midwest. "I started growing all these flowers and vegetables with my father," he recalls. "It was the most luxurious thing, to have your own fields of flowers that you could cut and place in vases." His father, a passionate gardener, was employed as a machinist; when Guga would ask if he could buy a popular toy, his dad would instead craft a facsimile in stainless steel. "I didn't think about it when I was a kid, but stainless steel is really difficult to work with," says Guga. "It's hard and delicate at the same time; it's an exquisite surface. Thinking about my dad's work is what eventually drove me to architecture."
After a detour in finance working for a Chicago firm (trapped in a cubicle all day, he memorized Emily Dickinson poems and longed for literary conversation), Guga enrolled at the Rice School of Architecture, in Houston. His girlfriend at the time was studying at the ­Culinary Institute of America, so that summer Guga followed her to upstate New York and found a house-painting job through the local PennySaver. The homeowners turned out to be a culturally engaged artist couple, and at their suggestion, Guga dived into Lawrence Weschler's Seeing Is Forgetting the Name of the Thing One Sees: Over Thirty Years of ­Conversations With Robert Irwin. Although Guga had grown up with a reverence for the ability to make things, Irwin and Weschler's dialogues about spatial experience and the marvels of perception catapulted his thinking about the built environment. Like Irwin, Guga "one day got hooked on his own curiosity and decided to live it."
After getting his degree, he joined Daly Genik Architects, a Santa Monica–based firm founded by fellow Rice alums Kevin Daly and Christopher Genik. But when a position opened up at Frank Gehry's office, Daly encouraged Guga to take it. "I know that people think I use plywood because I worked for Gehry," Guga demurs, glancing around his own house, an attentively pared- down 1950 bungalow in one of the Westside Los Angeles tracts that sprung up alongside the burgeoning aircraft industry. He's quick to characterize his home as really simple "and a little ad-lib": The strikingly refined banquettes, floating bedside shelves, and bathroom cabinetry were constructed from birch and Douglas fir plywood left over from other jobs. His hands-on renovation spills out into the yard, where he's methodically amended the soil, thinned out towering camellias, and added a studio at the back of the property. He also acquired a gardening plot at a nearby community farm, a former soybean field long shared by neighbors. It's obvious when Guga talks about the purple of flowering eggplant or the sensual whorls in a sheet of old-growth veneer that his love for strong color and authentic materials is intrinsic, closely observed, and intimately understood.
Guga worked with Gehry for nearly a decade. "I spent all my money on books," he confides, pointing to his slim plywood bookshelves lined with first editions protectively hidden from sunlight by a sliding panel. The titles range from One Man's Meat, a 1944 collection of E.B. White's bracingly lucid essays, to signed copies of Toni Morrison's powerful novels. "My ­addiction" is how he wryly sums up various collecting interests: In addition to the first editions, there is an incredible array of graceful Berndt Friberg ceramics, a group of dark, bulbous Axel Salto vessels, elegantly rustic stools designed by Charlotte Perriand for a ski lodge, and a George Nakashima coffee table that he vows never to sell. Mixed in among the photographs hanging on the library wall is Richard Avedon's 1979 double portrait of Samuel Beckett. It's a particularly searing image, as reductive and vivid as Beckett's prose. Guga does not hesitate to point out that the picture is fake, a digital copy. "I wish I could afford that Avedon photograph. Samuel Beckett always watches over me; he is my patron saint."
Collaborating with artists, Guga says, has brought him into a more iterative form of working, a critical creative process of trial and error. Seven years ago, when Mark Grotjahn bought a 1920s brick building in Hollywood, Guga devised a simplified low-budget scheme for his first painting studio. When Grotjahn later acquired several disused factory buildings along the Los Angeles River, the two continued to work together. Tackling that enormous venture, Guga transformed neglected industrial spaces into a meticulous complex of studios, private offices, showroom, shared work spaces, meeting rooms, archive, kitchen, and minimalist courtyards that double as outdoor living areas. He also incorporated skylights; designed the sleek functional furniture, including worktops constructed from stainless steel and white-veined black marble; and confidently introduced blasts of color—a banquet-length table topped with an egg yolk yellow laminate, exterior walls painted a dusty mauve.
As Guga's interwoven relationships with artists continually intersect and steadily expand, he's renovated both studios and homes, traded work, and designed custom furniture. There's an ongoing project on the undeniably eccentric compound owned by Aaron Curry and Jennifer Chbeir: Tucked up against a hillside, the property, which includes a period log cabin and a 1920s sculpture studio built by the Italian émigré artist Salvatore Cartaino Scarpitta, had been subdivided into a warren of apartments. Starting in the basement and working systematically from room to room, Guga pushed the potential of the original plan, revealing the pitched roofs, bringing in light, and composing congenial, workable spaces. Currently, Guga is renovating a 1920s house designed by architect A.F. Leicht and recently purchased by the artists Jonas Wood and Shio Kusaka. Leicht's Hollywood houses are known for their undulating walls, elaborate wrought-iron ornamentation, and theatrical interiors featuring minstrels' balconies and octagonal breakfast rooms. Leicht and Guga might seem like an architectural odd couple, but it's actually an inspired bit of matchmaking. Unlike the sort of restoration architect who aims to airlessly preserve the past, or other overly ambitious contemporary practitioners who hope to erase it, Guga is able to carefully edit the original work, clarify intentions, and deliver invigorating juxtapositions.
In all of Guga's practice, there is a sense of architecture as social art, a vital dialogue between experience and ideas, alert to the present and aware of the past. "It's funny, but the best compliment I ever received about my work was from a plumber," Guga remarks. "He'd worked on three of my houses over a five- or six-year period and probably had no idea what space is or materiality or proportion were or what an architect does, but he said to me, 'Guga, I don't know what it is, but you've got the knack.' And that was perfect."
Related: At Home and in the Studio with Shio Kusaka and Jonas Wood
See what's popular on W video: