Jeff Koons Will Collaborate with Anyone, From Louis Vuitton to Phone Cases and Lady Gaga
From phone cases to BMW sports cars, Koons has always had a mind toward bringing his art to the masses—though often with a price.
---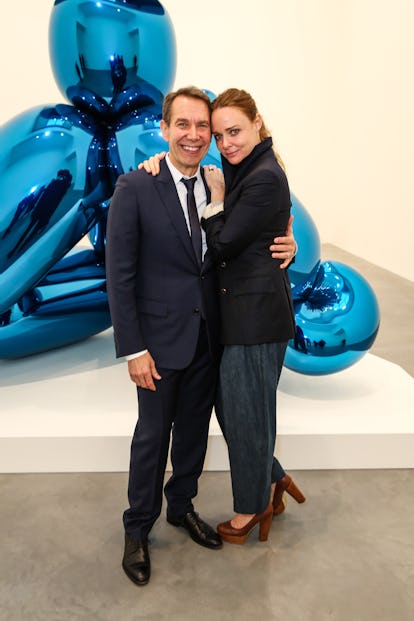 David M. Benett/Getty Images
"I want my work to be accessible to people," Jeff Koons said at the unveiling of his collaboration with H&M in 2014, which was effectively a preview of his blockbuster of a retrospective at the Whitney Museum. Such a statement might come as a surprise from someone widely regarded as the world's most expensive living artist, but Koons has always had something of a mind toward the masses—and, therefore, an enthusiasm when it comes to seemingly any chance to collaborate.
After all, if there's anyone who can spruce up even a luxury item, it's Koons, who once took to collecting the old Birkin bags of everyone from Sofia Coppola and Naomi Campbell and turned them into readymades. From his newly unveiled Mona Lisa-adorned duffel bags for Louis Vuitton to his variety of blue orbs for Lady Gaga, who was so moved by his gazing balls when she first saw them she got down on the floor, take a look back at Koons's most stand-out collaborations from recent years.
Jeff Koons x Louis Vuitton
Koons's "Masters" collection for Louis Vuitton, which was unveiled on Tuesday after a top-secret year in the making, features 50-plus leather goods and accessories emblazoned with the artist's "Gazing Ball" series—that is to say, his take on Mona Lisa and other masterpieces by Van Gogh, Titian, Rubens, and Fragonard, all semi-obscured by the helpful hint of each artist's name in metallic, all-caps text.
Jeff Koons x Bernardaud
It's a good thing Koons had Vuitton up his sleeve, because his prolific partnerships were previously in the midst of a rare tragic chapter, thanks to the loss of one of his balloon dog plates made with the French porcelain maker Bernardaud, which shattered in December at Art Basel Miami. No matter, though: that version cost a mere $9,000 or so, compared to the record-setting $58 million price tag of its full-sized inspiration—and gave Koons a chance to remind the art world that wisdom is priceless. "It's a shame when anything like that happens but, you know, it's just a porcelain plate," he told Page Six.
Jeff Koons x Google
Last year, on the heels of Skrillex, Koons teamed up with Google on his most affordable pieces to date: phone cases, aka "live cases," as each showcases short video clips like a spread of New York City Ballet dancers on the phone's background, in addition to an image from Koons's "Gazing Ball" series on the outside. At $40, they may have come (comparatively) cheap, but Koons' pals like Lady Gaga, Pharrell, Marc Jacobs, and Arianna Huffington also quickly ate them up.
Jeff Koons x Stella McCartney
After Stella McCartney took inspiration from Koons for the flowing gowns of her spring 2006 collection, the designer and the artist officially teamed up on a necklace and a charm bracelet in the shape of one of Koons' signature rabbits, rendering McCartney's signature love of animals in platinum.
Jeff Koons x Burton
Inspired by the "sense of vastness that overcomes you" from one of his other pastimes, snowboarding, last year, Koons teamed up with Burton on their most expensive board to date: a both high-end and high-minded $5,000 snowboard called the Philosopher, emblazoned with the likeness of Plato.
Jeff Koons x H&M
In 2014, Koons previewed his mega-sized of a retrospective at the Whitney Museum at, of all places, H&M's Fifth Avenue flagship store—a balloon-filled affair that included both redecorating and retailing this dog-adorned leather messenger bag.
Jeff Koons x Lady Gaga
"One second I'm a Koons, then suddenly the Koons is me," Lady Gaga sings in her song "Applause" on her 2014 album Artpop—one, it turns out, Koons actually designed the cover for. True to her word, it features Gaga as one of Koons's typical blue sphere-studded imaginings alongside trappings of art history, like slivers of Botticelli's The Birth of Venus. Their collab included a statue too, which Gaga unveiled at the album's release in New York, marking one of many hangs with the artist, whom she first met with one Miuccia Prada at the Met Gala.
Jeff Koons x Dom Pérignon
Not that anyone doubted Dom Pérignon's associations with luxury, but Koons took things to another level in 2013 when he collaborated with the Champagne giant—a partnership that made for not just $287.65 Koons-approved bottles, but a hot pink take on one of the artist's Venus ballon sculptures that retailed at Neiman Marcus for $20,000.
Jeff Koons x BMW
Koons hasn't always had bad luck at Basel: in 2013, it hosted the North American unveiling of his take on the BMW Art Car, a yearly commission that's tapped art-world heavyweights Alexander Calder, Andy Warhol, Roy Lichtenstein, and Jenny Holzer. For his part, Koons reworked the BMW M3 GT2 by covering it in bold-colored stripes, inspired from his sessions of studying pictures of explosions.
See Kendall Jenner, Performance Artist, Channel Icons Like Marina Abramovic and Yoko Ono: