Koons for All
In case you missed it, here are the top style stories of the week.
---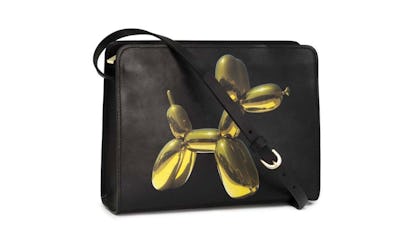 Band of Outsiders The New York-based brand is collaborating with a Seattle-based coffee monopoly that you might have heard of: Starbucks.
Beyoncé Has released two T-shirts illustrating the lyrics for "Blow" and "Drunk in Love" with emojis. Is also under attack for not combing Blue Ivy's hair. We know exactly which emoji to use here.
Delevingne, Cara Accidentally uses copyrighted design in new tattoo. Gets away with it, of course.
Fendi Bringing bag design to the masses with a new app. What does Karl have to say about that?
Hash, Anne Valerie The couture designer is joining French high street label Comptoir des Cottoniers. Très chic.
Hince, Jamie Admits that he finds his wife Kate Moss annoyingly beautiful. Who doesn't?
Koons, Jeff Has finally created a piece of art that you can afford: a $50 bag in collaboration with H&M.
Menkes, Suzy Bans bitchiness, is still the boss.
Mugler The brand's resort 2015 collection was so hot, "it literally started a fire" at Milk Studios. Hence, the firemen.
Pitt, Brad Wore a T-shirt that may have been drawn by his kids. Just in time for Father's Day.
Prince Charles Burned his non-natural fiber sweaters to encourage wool-wearing in June. Poly-blends be damned!
Ringly A new line of technology-enhanced jewelry will alert you to important phone activity. All they need is a collaboration with Cartier and I'm sold.
Spanx The bodywear brand plans to launch a collection of lycra-blend jeans this summer; disappoints Prince Charles who would really prefer the collection to be available in wool.