A Travel Expert's Guide to Cape Town, from Wine Estates to Vegan Ice Cream
Jen Rubio of the luxury luggage company Away shares her tips for the South African city, from steep hikes and coastal drives to cocktails and vegan ice cream.
---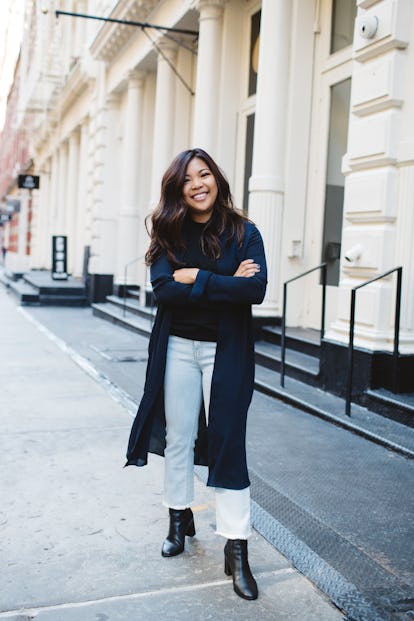 Masha Maltsava
It's essentially Jen Rubio's job, as cofounder of the super-sleek luggage company Away, to travel, so winning the title of one of her favorite cities is no easy feat. Still, amidst her recent journeys everywhere from Marrakech to Barcelona to Tulum, one place has managed to stand out: Cape Town, a design capital-in-the-making that Rubio's discovered counts far more than galleries among its gems. She shares her travel guide to the South African city, from windswept coastal drives and picnic-friendly wine estates to must-eat vegan ice cream, here.
Browsing Woodstock's many stalls and shops There's a market that happens every Saturday, but also tons of little shops that are open all week. I brought home lounge pants made from African wax fabrics and bold, handmade jewelry, and lamented that I couldn't bring any of the stunning hand-carved furniture home with me.
A big group dinner at The PotLuck Club It's the more casual, fun sister restaurant to the much fancier (and impossible to get a table at) Test Kitchen. After an afternoon at the Old Biscuit Mill, a group of 12 of us met here to enjoy a tapas dinner, copious amounts of wine, and a stunning view of the mountains.
Hiking Lion's Head Table Mountain is stunning, but the steep hike to the top of Lion's Head Peak is shorter (about an hour, if you take your time) and offers better views. The trail winds around the peak so you can see Cape Town from every angle. During peak season, the last 10 minutes of the hike can be crowded (and involve ladders and a single-file line), but it's worth it for the Instagram.
Cruising down Chapman's Peak Drive The winding, coastal drive from Hout Bay (20 minutes south of Cape Town) to Noordhoek is spectacular on its own—and was grossly exaggerated in our rented Jeep with the top down and our surfboards in the back.
Vegan ice cream at Unframed The owner is a French kite surfer who quit his banking job in New York to study (yes, study) ice cream after being inspired by Morgenstern's. His minimal gelato shop on Kloof Street serves up—no lie—the best ice cream in the world.
A long, lazy lunch at Kloof Street House A sunny afternoon is well spent at a table in the garden of Kloof Street House. It's one of those vibe-y but not insufferably trendy places where you can sit up for hours, order round after round of drinks, and people watch.
Breakfast at Hemelhuijs This spot near Bree Street serves the best breakfast in town. Indulge in the truffled white hot chocolate. The decor is gorgeous and moody, and they serve everything on their own stunning tableware, which you can buy and take home with you. (Be careful packing it!)
A day at a wine estate Get out of the city and drive out to one of the many vineyards in Franschhoek or Stellenbosch. Babylonstoren is my favorite. Even if the restaurant or tasting rooms are fully booked (which, during the busy season, they often are), you can bring a picnic blanket and enjoy their rosé in the gardens.
Sundowners and pizza on The Roundhouse lawn We skipped the multi-course fine dining experience and grabbed a seat on the lawn at The Rumbullion. Cape Town sunsets are best viewed over Camps Bay, and this one didn't disappoint.
Rooftop cocktails at Tjing Tjing Boozy, boisterous Long Street is often compared to the French Quarter in New Orleans. We avoided it for the most part, but three floors above the noise, on top of a 200-year-old house, is Tjing Tjing, a sexy little cocktail bar worth visiting.
The Best Travel Accessories $70,000 Can Buy
See W's most popular videos: