Exclusive Song Premiere: Jena Irene Asciutto's Stoner Power Ballad "So I Get High," Featuring Special Guest Star Bernie Sanders
The American Idol finalist got the Bernie blessing to incorporate his pro-legalization speech into a stoner power ballad.
---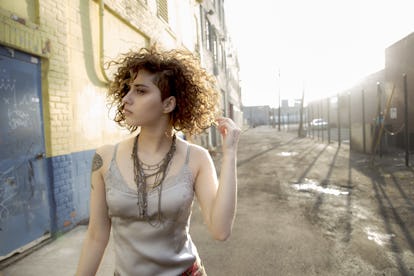 Original 1265 Recordings
"I'm pumped, dude. I'm already celebrating," the musician Jena Irene Asciutto squealed into the phone on the eve of 4/20, stoners' Thanksgiving. And Asciutto, a professed pot fiend, was ready for it.
"I'm definitely going to roll a big, fat blunt up," she said. "Not in the morning. I'm going to wait until the afternoon, because god knows, we all have work to do, and I can't really get things done in a timely fashion when I'm … baked."
Asciutto wasn't always such a cannabis aficionada. In high school, she tried smoking weed, and it wasn't her thing. But when she started to progress through the rounds of American Idol—in which she placed second during the show's 13th season—and her anxiety started to mount, she turned to marijuana as a stress-reliever.
The singer-songwriter is staunchly pro-decriminalization and pro-legalization. She recently applied and was granted approval for a medical marijuana card in her adoptive hometown of Detroit. She even wrote a song about it, inspired by an argument with her mother that "turned into this anthemic tune to all the haters out there," she said. "You've got your own poison, and mine is a natural substance."
"So I Get High" premieres exclusively on W today, for obvious reasons—and it features a special guest star, a certain gruff senator from Vermont. While working on the song, Asciutto stumbled on a Youtube clip of Bernie Sanders delivering a speech in favor of legalization. He declares: "It is time to end the arrests of so many people and the destruction of so many lives for possessing marijuana." The crowd, of course, bursts into applause.
With the Sanders camp's blessing, Asciutto cut a segment of the speech and pasted it on to the end of her pro-weed power ballad, giving the song a political cast. Throughout his presidential campaign, Sanders was outspoken in favor of lifting the federal marijuana ban, and deferring to each state to determine its own stance. And while Asciutto said she doesn't consider herself particularly politically active, her penchant for pot has offered her an entry point: "This is something I've been most comfortable being active and open about," she explained.
But don't get too partisan on 4/20. Today is all about, as Asciutto will have you know, "Peace, love, weed."