Jennifer Lawrence Will Emerge From "Retirement" With a Netflix Comedy
After a career hiatus, Jennifer Lawrence will get back to acting with films distributed by Netflix and A24 later this year.
---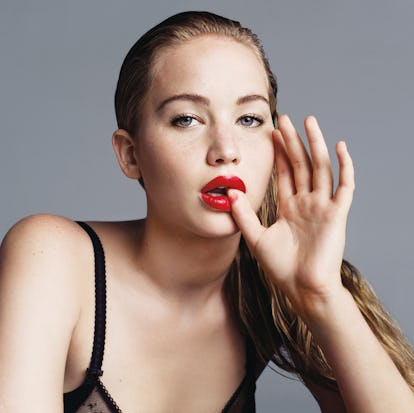 Inez and Vinoodh
It's been a while since we've heard from Jennifer Lawrence, at least as an actor.
Her wedding to the gallerist Cooke Maroney dominated any headlines about her last year, after she had announced that she would step back from acting to focus on activism. In some cases the word "retirement" was used to describe her career pivot, but in between wedding prep, popping up at the occasional Dior fashion show, and hanging out with Kris Jenner, Lawrence has remained booked and busy, and her imminent return to the screen makes it clear that she was just on a hiatus.
In fact, it's been announced that Lawrence will team up with Adam McKay (director of The Big Short, Vice, and some episodes of Succession) to lead a film called Don't Look Up. The movie will be released on Netflix.
According to the Netflix Film Twitter account, the movie is a comedy in which "an asteroid is approaching Earth, and it's up to two low-level astronomers to go on a massive media tour to warn the rest of mankind." Lawrence stars as one of the astronomers.
Though the threat of a deadly asteroid is real (scientists at MIT have recently come up with a system that could predict and deflect them), McKay's screenplay is reportedly very much a comedy.
The director and writer praised Lawrence's talents, saying in a statement, "She's what folks in the 17th century used to call 'a dynamite talent.' And the fact that Netflix sees this movie as a worldwide comedy sets the bar high for me and my team in an exciting and motivating way."
The film is reportedly supported by a healthy budget (some reports have said close to $75 million, though others sources put the number lower) and after it begins shooting in April is set to be released later this year.
But this is not the only project on Lawrence's comeback slate. Lila Neugebauer, a Tony Award–winning theater director, has wrapped production on her first film, which stars Lawrence as a soldier struggling with PTSD. The untitled project also costars Brian Tyree Henry and Samira Wiley and is also set to be released later in 2020.
An A24 production, Neugebauer's project sounds like it has Oscar bait potential, which could also be said of the two biopics that Lawrence reportedly has in the works.
There's her involvement in Bad Blood, the biopic based on John Carreyrou's novel of the same name about the Silicon Valley scammer Elizabeth Holmes. Lawrence would, of course, play the bug-eyed grifter. And there's also Mob Girl, a Paolo Sorrentino film adapted from the book Mob Girl: A Woman's Life in the Underworld, in which Lawrence would play a mob wife turned police informant named Arlyne Brickman.
Suffice it to say, 2020 is set to be a big year for JLaw. Don't be surprised to see her on the festival circuit before the next Fashion Week.