Jennifer Lawrence Photobombed Emma Stone on the Red Carpet
Just two Oscar winners hanging out.
---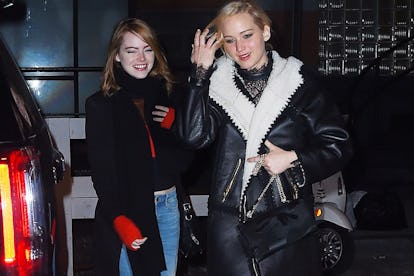 Getty Images
Jennifer Lawrence and Emma Stone: two of Hollywood's purest friends. Also some of the silliest. Ever since Stone texted J-Law and she responded "F— off!" they've been inseparable. At the Governors Awards in Hollywood on Saturday, Lawrence exhibited another unique display of best-friendship by jumping into Stone's red carpet photos, resulting in some cute pictures.
Lawrence wore a black, floral embroidered Alexander McQueen crop top and long skirt, while Stone had on a sleek white buckled Louis Vuitton dress. But despite their sophisticated dresses, they got a bit silly in their photos, where they're laughing, dancing, and hugging—antics you don't normally see on the red carpet. Or rather, Lawrence is, while Stone contemplates where she should join in or strike a serious red-carpet pose.
"I love Emma," Lawrence told Glamour for her February 2016 cover interview. "She cracks me up; she's so 'theater.' She's so adorable."
This isn't the first time the two have entertained by bucking convention at industry events. During the Toronto International Film Festival in September, J-Law caught Stone off-guard by moving in to hug her when she wasn't expecting it, eliciting a half-hearted back-pat on her part. But don't be fooled by their awkwardness—they're closer than ever.
Related Stories: –Brie Larson, Jennifer Lawrence, and Emma Stone Have the Group Text of Your Celebrity Dreams
Jennifer Lawrence Takes W's Screen Test: