The Nonconformist
In her latest role, the actress Jennifer Lawrence proves that being a little nuts has a silver lining.
---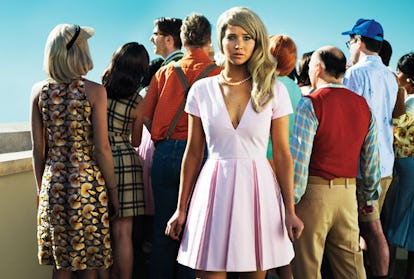 On the Monday before Thanksgiving, Jennifer Lawrence was standing nearly naked in a hotel room in Beverly Hills. "I have no modesty left," she said as she decided what to wear for an appearance on The Ellen DeGeneres Show, followed by a taping of The Tonight Show, and in the evening, the Los Angeles premiere of her latest film, Silver Linings Playbook. She had already been to two photo shoots that day, and on one of them, a hairstylist wove dreadlocks into her long, naturally blonde hair, which had been dyed brown for The Hunger Games: Catching Fire, the second installment of the grimly futuristic trilogy.
The first Hunger Games, which came out in 2012, grossed almost $700 million worldwide and made Lawrence, who plays the intrepid teenage warrior Katniss Everdeen, an international star. Between chapters 1 and 2, she filmed Silver Linings, a dark romantic comedy. "I like that my character knows that she's crazy—and accepts it," ­Lawrence told me. "She says, 'Keep being weird! Just be proud of it.' "
Although she's not remotely cuckoo, Lawrence, 22, is stubbornly, wonderfully true to herself, and that self is not constrained by Holly­wood's usual rules of conformity. For instance, while she is a newly named face of Christian Dior, Lawrence loves to eat and is, as she bluntly puts it, "fat, by Hollywood's standards." And even though her fame has escalated rapidly, Lawrence still lives in the modest condo in Santa Monica she moved into in 2006, when she was 16 and playing the rebellious teenage daughter on the TBS series The Bill Engvall Show. Despite an Oscar nomination for 2010's very serious Winter's Bone, Lawrence can still quote Dumb and Dumber from beginning to end. She speaks her mind and is not guarded or conventional. When I asked her what superpower she would want to have, Lawrence said, "It would be horrible to read people's thoughts. I always know when I'm being lied to, and that drives me nuts."
Perhaps that's the key to Lawrence's honesty: She doesn't want to betray her own need for the truth. "I don't think I'm particularly brave or bold or different from anyone else," Lawrence insisted. "I just think this is an easier way to be." Usually, this outsize a personality is hard to subsume into a role, but Lawrence disappears into her characters. In Silver Linings, she plays a widow who has Goth tendencies, with no shred of the actress's real-life bounding friendliness. "I am like the movie in one way: I'm superstitious," she said, slipping into a fitted black and white tweed Dior dress. "Whenever it's 11:11, I make all of the people around me wish that my boyfriend [the actor Nicholas Hoult] not get killed in a motorbike accident. He just bought a motorbike, and I think my ritual will keep him alive. The other night, at 11:11 p.m., I told an entire bar to say, 'Nick will not die in a motorbike accident.' And they did it." I asked her if she repeated this ritual at 11:11 a.m. too. "I don't wake up for it!" Lawrence exclaimed. "God, I hardly ever wake up before 11. I'm an artist! I need at least 18 hours a night, with catnaps." Lawrence laughed and picked up her bag to leave for Ellen. "I'm not that crazy," she said, half-joking. "But I am an artist."
Lawrence styled by Lindsey Frugier. Extras styled by Callan Stokes.