Everything You Need to Know About Jennifer Lawrence's New Stylists
Jill and Jordan always have nipple covers in their bags, love wearing blazers at night.
---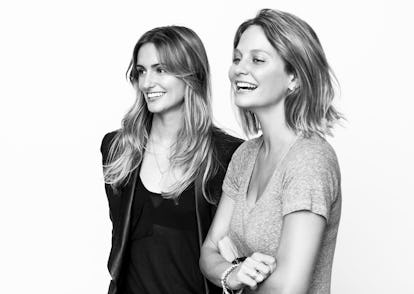 This month, Jennifer Lawrence made headlines by revealing that she'd left her longtime stylist Rachel Zoe for Jill Lincoln and Jordan Johnson. Here, the stylish duo, who are responsible for Lawrence's recent red carpet looks while promoting "The Hunger Games: Mockingjay – Part 2," talk about their style icons, how they established their careers, and more.
Define your personal style in three words: Jill: Less is more. Jordan: Keep it simple.
How did you become a stylist: Jill: I went to design school and got an internship with a photographer and stylist's agency after my sophomore year. They would send me to photo shoots where I met and began assisting different stylists and ended up working for six years for Isabel Dupre. Her work at Elle Magazine through the '90s inspired me to pursue styling. Jordan: I went to the Fashion Institute of Design & Merchandising [in Los Angeles] and while in school I interned with Rachel Zoe. I was eventually hired as an assistant and then promoted to styling associate.
What's the biggest difference between styling for a magazine and for the red carpet? Jill: It's apples and oranges. Editorial is a fairly controlled. If the dress doesn't look good on screen, you switch it out. You can play with shapes and accessories because its "fantasy." The top is falling oddly? Put a pin in it. There is no retouching or tailors on the carpet if something doesn't look right.
What are your favorite looks that you've styled this year? Jill: Julianna Margulies is one of the loveliest women in the business with a beautiful body, as you can tell in this dress we chose for her date with Michael Kors to the CFDA Awards. Jordon: Kiernan Shipka in Dior Couture at the Emmys. She wanted something really unique since it would be her last Emmy's with Mad Men. We called in two looks for our first fitting and immediately knew that was the winner.
What are your favorite red carpet looks of all time? Jill: Gisele Bundchen in Dior at 2005 Oscars. That was the dress of my red carpet fantasies. She was out of a fairy tale. Jordan: Kate Moss in vintage at the Ed Wood premiere in 1994. The dress once belonged to Errol Flynn's wife, yet it was so current in the early '90s and still is today. Kate can do little wrong.
How do you style a celebrity while they are on tour promoting a film? Jordan: When you have several premieres in a row you have to be strategic in the placement of the looks to keep people guessing. We try to mix looks up while staying true to the client's personal style. You hold your breath that some of it works out according to plan.
What's your daily uniform: Jill: Equipment button down, A.P.C. cardigan, COH distressed slim jeans, Chloe ballet flats. Jordan: Acne Cropped jeans, Row blazer, Nili Lotan camisole, 3.1 Philip Lim brogues.
Who are your all-time style icons: Jill: Emanuelle Alt, Carlyne Cerf de Dudzeele. Jordan: Françoise Hardy.
What's always in your bag: Jill: Lost valet tickets, 10 pairs of sunglasses, and an overflowing receipt pouch. Jordan: Rosebud Salve, nipple covers, dog treats.
What are your style pet peeve: Jill: High-waisted pants and wedge sneakers. Hate. Jordan: Ill-fitting denim drives me crazy…
Greatest hits: Jill: Saint Laurent tux jacket, black strapless Victoria Beckham corseted dress, The Row grey cashmere robe. All extravagant purchases Jordan forced me into. She is a pusher but always right. Jordan: A long black thin knit Chanel dress Jill and I drew straws over (it was the last one), Margiela caramel tall boots. I searched for years and they are the perfect at-the-knee boot to wear with skirts.
Finishing touches: Jill: A chocolate and gold-faced vintage Rolex I bought myself when I moved to L.A., and a leather studded belt from Imogen+Willi in Nashville. I wear at least three times a week. Jordan: A lady bag with strap. I rotate between Chanel, Dior, and Dolce. Also, a diamond cluster earring cuff my boyfriend bought me last Christmas.
Nighttime look: Jill: Saint Laurent tux jacket over whatever I wore during the day and classic Casadei black snakeskin heals. If it's a really special night, my recent go to is an electric green Lanvin skirt with a side ruffle. Jordan: Generally what I'm wearing during the day, throw on blazer from the Row or Celine and Aquazarra heals. I switch bags a lot, usually Roger Vivier for evening.
Best recent discovery: Jill: Kitchen Mouse Café and Catering downtown in LA. Just trust. And RMS everything. It's the perfect make up for girls who don't do make up. Jordan: SOOPL fashion trollys from the Netherlands. Not exactly a recent discovery but a former intern told us about and it has changed our lives. Every stylist should have one.
Favorite stores: Jill: ABC Home in New York. I mostly just take pictures because my boyfriend and I think we can make everything they sell. Also, Dover Street Ginza, Okura, Beams, J Antiques. I love shopping in Tokyo. Jordan: I love vintage and discovered Avalon Vintage in Highland Park in L.A. this past year. I buy things immediately based off of their Instagram. Also, Andrianna Shamaris in New York for home.
Last purchase: Jill: Jet Blue flight to a client's wedding this weekend, because I never buy flights ahead of time. Jordan: Black suede Dior lace-up booties. I haven't taken them off for a week except to sleep and shower.
Lusting after: Jill: A round trip first class ticket to the farthest place Etihad Airlines flies. And a week off but I'd be happy with just the flight. Jordan: A lifetime 100% off VIP card at Chloé.
Favorite haunts: Jill: In New York City: Orient Express bar for whiskey, Pravda for martinis, Bubbys (High Line) for french fries. Also, Hinano in Venice Beach for post beach draft beer and popcorn, Shot Bar Zoetrope in Tokyo for lots and lots of whiskey, Polpo Smithfield in London (we ate here three times in two days on a recent trip), and the roof top at Soho House Istanbul for the view. Jordan: République is my favorite restaurant in L.A., and Jinpachi for Sushi. In New York, the library at the Greenwich Hotel. In Cabo, Flora's Farm Bar, an offshoot of Flora's Farm restaurant that has amazing watermelon margaritas. And L'Ami Louis in Paris.
Photos: Everything You Need to Know About Jennifer Lawrence's New Stylists
From left: Jordan Johnson and Jill Lincoln. Photo courtesy of the stylists.