Jennifer Lawrence Will Be the Third Oscar Winner to Play Zelda Fitzgerald
Jennifer Lawrence is attached to Zelda, an in-development​ project from Ron Howard.
---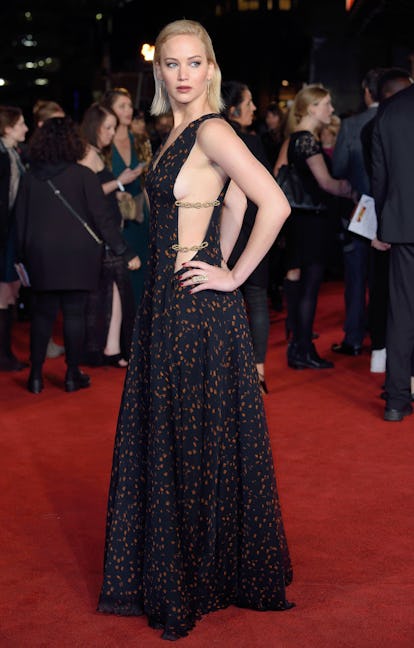 WireImage
Jennifer Lawrence seems set to join the pantheon of award-winning actresses who have tackled the role of flapper icon Zelda Fitzgerald. She's attached a to a biopic of the jazz age "It Girl" currently being developed by Ron Howard.
Lawrence, who has racked up four Oscar nominations and one win in her relatively short career, would be the third woman with a Best Actress trophy on her mantle to portray Fitzgerald. Oscar winner (and six-time nominee) Sissy Spacek portrayed an older Zelda in 2002's TV flick Fitzgerald, while winner (and eight-time nominee) Geraldine Paige tackled the role in the 1980 unsuccessful broadway production Clothes for a Summer Hotel.
Numerous winners of other trophies have also put the role on their resume one way or another.
Tony winner Natasha Richardson played the icon in a 1993 made-for-tv biopic. Golden Globe and Emmy winner (and not to mention three-time Oscar nominee) Laura Linney filled the role in a 2001 installment of Masterpiece Theater, as did Globe-winning Tuesday Weld in a '75 TV movie. Tony and Emmy winner Blythe Danner put her spin on things in F. Scott Fitzgerald and The Last of the Belles.
All of which is to say that fictionalized versions of Zelda abound across IMDb, and yet, she's never received a full-on big screen biopic of her own. Meaning, no one has actually been eligible to win a Best Actress Oscar for portraying her. Lawrence could potentially change that.
Fitzgerald was known for her tumultuous marriage to The Great Gatsby novelist F. Scott. While the Mr.'s books might have helped to define the jazz era, the Mrs. personified them. Known for her flapper style, Zelda Fitzgerald was the It girl of her age. Though she put out novels and artwork of her own during her life, they were derided at the time, but critical appraisal has grown kinder in recent years.
Nancy Milford's Pulitzer prize-nominated biography Zelda has been optioned as the basis of the film, and the project will share its name according to The Hollywood Reporter. Ron Howard (who could potentially direct) is developing the project alongside Lawrence's Hunger Games producer Allison Shearmur. Emma Frost (a television writer best known for The White Queen, and not January Jones's X-Men character, also known as The White Queen) has scripted the project.
Lawrence is on something of a swing of playing characters based on real life people that started with her title role in Joy. Also on her upcoming projects list is a role as controversial Theranos chief executive Elizabeth Holmes in Bad Blood and real-life war photographer Lynsey Addario in a Steven Spielberg film. She also has a role in reported casual dating partner Darren Aronofsky's next flick, an adaption of the spy thriller novel Red Sparrow, the Chris Pratt-costarring space flick Passengers in the pipeline.
Incidentally, Zelda isn't the only Fitzgerald theme project in the work. Emmy nominee and Florida Film Critics Circle Awards winner Christina Ricci is set to star as Zelda in Z: The Beginning of Everything, an Amazon Prime series set to premiere next year. Vanessa Kirby also played the part in the recent Genius, a film that focused on Colin Firth's portrayal of Fitzgerald's editor Max Perkins.
Watch Jennifer Lawrence reveal her cinematic crush: