Jennifer Lopez Felt Like She "Let Everyone Down" With Her Oscars Snub
Thanks to Oprah, she finally opened up.
---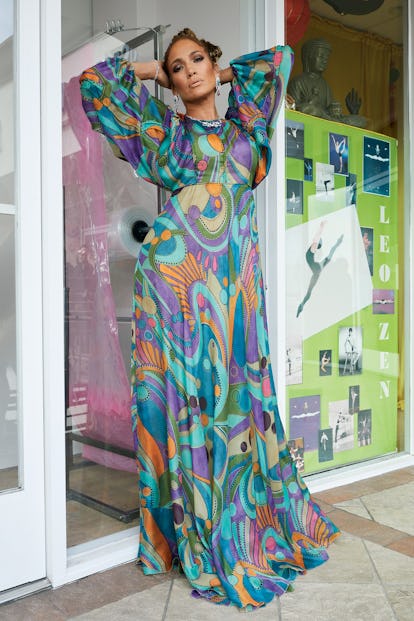 Photograph by Juergen Teller; Creative Partner to Juergen Teller: Dovile Drizyte; Styled by Sara Moonves. Hair by Danielle Priano for PSxDanielle at The Wall Group; Makeup by Scott Barnes for Scott Barnes Beauty at SixK.LA; Manicure by Michelle Saunders.
By now, pretty much everyone has expressed their anger at the Academy Awards for snubbing Jennifer Lopez, whose portrayal of Ramona in Hustlers had been generating Oscars buzz ever since September, when the film premiered. The exception has been Lopez herself—at least until this weekend, when Oprah Winfrey got her to finally share how she felt.
"I was a little sad because there was a lot of buildup to it," Lopez told Winfrey at the Los Angeles leg of Winfrey's 2020 Vision Tour on Saturday. "I got so many good notices—more than ever in my career. And I'm reading all the articles and I'm going, Oh my God, could this happen? And then it didn't and it was like, Ouch. It was a bit of a letdown."
Hustlers, which stars Lopez as Ramona, the ringleader of a crew of strippers who scam their Wall Street clients out of thousands of dollars, didn't receive a single Oscar nomination. And more generally, only one person of color (Cynthia Erivo) was nominated in any of the acting categories. Still, to Lopez, the loss felt personal: "Most of my team has been with me for years—20, 25 years—and I think they had a lot of hopes on that and they wanted it too," she said. "So I felt like I let everyone down a little bit."
Lopez's portrayal of Ramona didn't go entirely unnoticed during awards season; the Golden Globes, Screen Actors Guild Awards, Critics' Choice Awards, and Independent Spirit Awards all nominated Lopez for Best Supporting Actress. Ultimately, she didn't take any of the awards home, though she did get to show off her hard-earned mastery of pole dancing at the Super Bowl halftime show last month.
At this point, it sounds like Lopez has come to terms with the way things played out. "You realize you want people's validation," she told Winfrey. "You want people to say you did a good job, and I realized, No, you don't need that. You do this because you love it. I don't need this award to tell me I'm enough." Of course, her ultrasupportive fiancé, Alex Rodriguez has long agreed. "Jen, it doesn't take a trophy, medal, or plaque to identify a true champion," he wrote on Instagram after the Globes, going on to call her a "champion" four more times.
Related: The Oscars Are Addicted to Pleasing Basic Bros
How Jennifer Lopez's Glitzy Style Went From Demure to Daring
Jennifer Lopez arrives on the red carpet for the 69th Annual Academy Awards on March 24, 1997 at the Shrine Auditorium in Los Angeles, California. Photo courtesy of Getty Images.

Getty Images
Jennifer Lopez during The 40th Annual GRAMMY Awards at Radio City Music Hall in New York City, New York, United States. Photo courtesy of Getty Images.

Getty Images
Jennifer Lopez at the VH1 Fashion Awards in New York, New York, October 1998. Photo courtesy of Getty Images.

Getty Images
Jennifer Lopez at the Vanity Fair Oscar Party in Los Angeles, California, March 1999. Photo courtesy of Getty Images.

Getty Images
Jennifer Lopez at the Grammy Awards in Los Angeles, California, March 2000. Photo courtesy of Getty Images.

Getty Images
Jennifer Lopez at the Golden Globes in Beverly Hills, California, January 2001. Photo courtesy of Getty Images.

Getty Images
Jennifer Lopez at the 73rd annual Academy Awards in Los Angeles, California, March 2001. Photo courtesy of Getty Images.

Getty Images
Jennifer Lopez at the 75th annual Academy Awards in Hollywood, California, March 2003. Photo courtesy of Getty Images.

Getty Images
Jennifer Lopez at the 61st annual Golden Globes in Beverly Hills, California, January 2004. Photo courtesy of Getty Images.

Getty Images
Jennifer Lopez at the 66th annual Golden Globes in Los Angeles, California, January 2009. Photo courtesy of Getty Images.

Getty Images
Jennifer Lopez at the 68th annual Golden Globes in Beverly Hills, California, January 2011. Photo courtesy of Getty Images.

Getty Images
Jennifer Lopez at the Cannes Film Festival in Cap d'Antibes, France, May 2010. Photo courtesy of Getty Images.

Getty Images
Jennifer Lopez at the Vanity Fair Oscar Party in Beverly Hills, California, February 2015. Photo courtesy of Getty Images.

Getty Images
Jennifer Lopez at the 87th annual Academy Awards in Hollywood, California, February 2015. Photo courtesy of Getty Images.

Getty Images
Jennifer Lopez at the Metropolitan Museum of Art Costume Institute Gala in New York, New York, May 2015. Photo courtesy of Getty Images.

Getty Images
Jennifer Lopez at the 73rd annual Golden Globes in Beverly Hills, California, January 2016. Photo courtesy of Getty Images.

Getty Images
Jennifer Lopez arrives at the MTV Movie Awards held at the Nokia Theater in L.A., April 2015. Photo courtesy of Getty Images.

Getty Images
Jennifer Lopez attends the 59th GRAMMY Awards at STAPLES Center on February 12, 2017 in Los Angeles, California. Photo courtesy of Getty Images.

Getty Images
Jennifer Lopez attends the "Rei Kawakubo/Comme des Garcons: Art Of The In-Between" Costume Institute Gala at Metropolitan Museum of Art on May 1, 2017 in New York City. Photo courtesy of Getty Images.

Getty Images
Jennifer Lopez attends the Billboard Latin Music Awards at Watsco Center on April 27, 2017 in Coral Gables, Florida. Photo courtesy of Getty Images.

Getty Images
Jennifer Lopez attends the 2017 NBCUniversal Upfront at Radio City Music Hall on May 15, 2017 in New York City. Photo courtesy of Getty Images.

Getty Images
Jennifer Lopez attends the 2018 Time 100 Gala at Frederick P. Rose Hall, Jazz at Lincoln Center on April 24, 2018 in New York City. Photo courtesy of Getty Images.

Getty Images
Jennifer Lopez on the red carpet at the Latin Billboard Awards in Las Vegas, NV on April 26, 2018. Photo courtesy of Getty Images.

Getty Images
Jennifer Lopez and Alex Rodriguez attends the Heavenly Bodies: Fashion & The Catholic Imagination Costume Institute Gala at Metropolitan Museum of Art on May 7, 2018 in New York City. Photo courtesy of Getty Images.

Getty Images
Jennifer Lopez attends the 2018 MTV Video Music Awards at Radio City Music Hall on August 20, 2018 in New York City. Photo courtesy of Getty Images.

Getty Images
Jennifer Lopez attends the 'Second Act' World Premiere at Regal Union Square Theatre, Stadium 14 on December 12, 2018 in New York City. Photo courtesy of Getty Images.

Getty Images
Jennifer Lopez attends the 61st Annual GRAMMY Awards at Staples Center on February 10, 2019 in Los Angeles, California. Photo courtesy of Getty Images.

Getty Images
Jennifer Lopez attends 2019 Vanity Fair Oscar Party Hosted By Radhika Jones at Wallis Annenberg Center for the Performing Arts on February 24, 2019 in Beverly Hills, California. Photo courtesy of Getty Images.

Getty Images
Jennifer Lopez attends The 2019 Met Gala Celebrating Camp: Notes on Fashion at Metropolitan Museum of Art on May 06, 2019 in New York City. Photo courtesy of Getty Images.

Getty Images
Jennifer Lopez attends the CFDA Fashion Awards at the Brooklyn Museum of Art on June 03, 2019 in New York City. Photo courtesy of Getty Images.

Getty Images