Jennifer Lopez Says She Personally Chose That Juicy Couture Tracksuit for Her 2001 "I'm Real" Video With Ja Rule
"I shocked everyone when I decided to wear it!"
---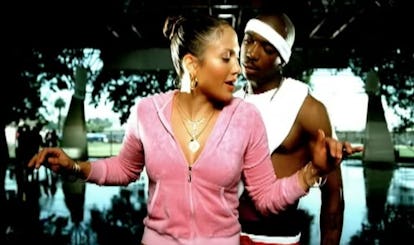 youtube
In the aughts, there was no ensemble more ubiquitous than the Juicy Couture tracksuit. What you might not know, however, is that Jennifer Lopez was one of the first celebrities to sport the trend. Back in 2001, she wore a bubblegum pink shorts and hoodie combo from the brand well before it was a fixture on the covers of tabloids in the grocery store checkout aisle.
In anticipation of the upcoming Video Music Awards, Lopez took the opportunity to reflect on the moment in her music video with Ja Rule for "I'm Real," and revealed how, exactly, she ended up wearing the iconic combo. Spoiler alert: She was keeping it real.
"6️⃣ days till #VMAs," she wrote in the caption of an Instagram post of her music video. " 'I'm Real'…this was another remix that we did, we had already shot the first video but then I did this remix with Ja Rule—everyone went crazy for the song so we decided to shoot a video for it. We shot it in one day."
Even though Lopez was being courted for the project by designers, she ended up hand-picking an outfit by a much lower profile brand. "The stylists brought me all this fancy couture from all the big designers," she wrote. "But this little known company Juicy sent these sweatsuits for me to chill and hang out in…I loved them so much I decided to wear it in the video with my throwback Adidas and my nameplate and a bun. I shocked everyone when I decided to wear it! It seemed fitting since the song is called 'I'm Real,' so I decided to be ME!! #mtv #videovanguard #2001."
Lopez's tracksuit wasn't the only flash decision that ended up making the collaboration so unforgettable. Five years ago, Ja Rule revealed that the song had a similarly spontaneous backstory.
"I did a record for Mariah Carey, and [former Sony Music head] Tommy Mottola heard that and wanted me to do a record for J.Lo for a record she had on her album called 'I'm Real,' " he told Complex. "I got the record and was like, 'What do you want me to do with this?' Because it was more of a dance record. I'm like, 'You want me to redo the whole record? Because I could do that. But I don't know what to do with this.' So we remixed it."
Somehow, Ja Rule was able to accomplish that in less than 15 minutes. "It was special because it was one of the quickest turnarounds in the history of records," he recalled. "It was the fastest turnaround of a record I've ever been a part of. We were on the jet the next day going to record and shoot the video. Everything just happened so quick. Jennifer heard the record, she loved the record, did her thing on it. It was a special moment because before that I don't think there was rap artists writing pop songs or R&B records. I was entering into a new arena and it was fun…It was a big record for Jennifer as well because it gave her that urban cool she was looking for. For both of us it was a win-win." Consider it a win-win-win if you include Juicy Couture.