Jennifer Lopez: Women Get More Confident as They Get Older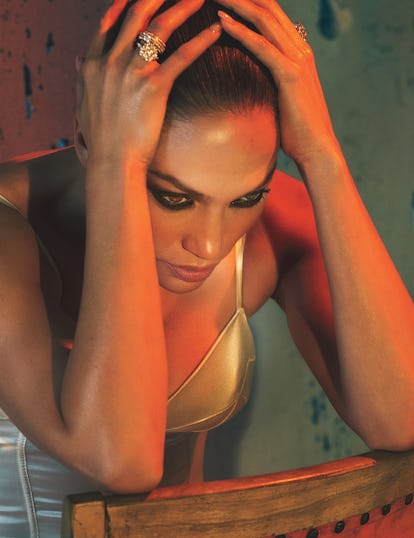 Photograph by Mert Alas & Marcus Piggott, Styled by Edward Enninful; Hair by Shay Ashual at Art Partner; makeup by Aaron de Mey at Art Partner; manicure by 
Mei Kawajiri for Chanel at Orme Square. Set design by Andrea Stanley and Emma Roach at Streeters.
Jennifer Lopez is zipping a fresh corpse into a body bag. It's midafternoon on the Queens set of her NBC cop drama, Shades of Blue, and the 47-year-old globally famous actor–musician–entrepreneur–force majeure is filming a grim scene with a person whose cause of death is unknown. I am happy to report that when the scene wraps, the corpse climbs back out of the bag and goes to get lunch.
Lopez gets a break, too, and when I meet her a few minutes later upstairs in her modest dressing room (neutral colors, candles), she politely introduces herself as "­Jennifer," as if we're helping ourselves to coffee at a Tuesday-night PTA meeting.
No introduction is necessary, of course. This is Jennifer Lopez—effing J.Lo!—and within seconds it becomes clear how she became who she is. Still in costume as her tough Shades character, Harlee Santos (navy sweater, matching slacks), Lopez in conversation is thoughtful, unabashedly direct, and funny—and deft with an expletive.
"I have no patience for anything that's not real," she says. "Just no bulls–t."
More than two decades into an impossible-to-pigeonhole career that took off with a run as a Fly Girl on Fox's In Living Color, followed by the title role in 1997's Selena (she considers that movie the moment her professional life truly changed), the Bronx native remains a no-B.S. phenomenon, whether solving crimes on TV, making new music (a ­Spanish-language album, produced by her ex-husband Marc Anthony, is due this year), or performing live in All I Have, her concert residency in Las Vegas, which is booked through the fall.
She's also a powerhouse behind the scenes. Lopez is an executive producer on Shades as well as on World of Dance, an NBC competition series coming this year; she's doing the same for an HBO project she's developing and will star in about the late Colombian drug lord ­Griselda Blanco. Oh, and did I mention she just launched a shoe line with her pal Giuseppe Zanotti?
A Salute to 5 Powerful Women: Jennifer Lopez, Donatella Versace, Kate Moss, Taraji P. Henson, and Jessica Chastain
When I ask Lopez if it's important to her to keep taking risks, she looks at me as if I have five heads and three of them are aliens. "I think living and pushing outside your comfort zone is the only way to be happy, ultimately," she says. "In the middle of it, risk is uncomfortable," she allows, shifting in her chair by a window. "But to me, there's something super­ exciting about that. It's probably the way I'm wired. Most people don't like it, but I'm like, 'Yeah! Let's do more, let's take more, let's see more…' Then I'm in it and, like, 'Wow, this is a lot.' " She laughs.
At this point in her career, Lopez has experienced pretty much everything the industry could throw at her—professional ups and downs; publicly chronicled romances and breakups; the relentless grind of gossip, both ludicrous and nasty—and has emerged triumphant, as relevant as ever.
When I tell her a report had gone around on Facebook that she'd died, she's visibly amused. "I died?" she asks. "Today I was getting married on Twitter!" (Lopez's onstage kiss with Anthony at the Latin Grammys was enough to ignite rumors of a reunion with the father of her children. A couple of weeks later, the rumor would be that she and Drake are an item.) Sometimes, while working with young actors or pop stars, she has to laugh when she sees them become completely preoccupied with the latest "news." But she knows there was a time when it drove her crazy too. "I remember going, 'Oh, my God—they said this about me! What am I going to do? It's not true!' Then I realized: Nobody cares. In the Bronx, nobody cares. Being happy as a person, being a good mom, doing good work—that's fulfilling to me."
Parenthood has had a stabilizing effect. There's nothing that brightens Lopez more than talking about her 9-year-old twins, Emme and Max. When I ask her if she could ­follow around anyone for a day and just be a fly on the wall, without them noticing, she says she'd love to be able to tail her kids.
"It would be so funny and enlightening," she says. "They have their own little lives. I'd love to walk around with them and watch what he notices and she notices, who they talk to, what they're like. What makes them smile, what makes them laugh." In real life, Lopez seldom gets a chance to move around undetected, even when she's on her own. "Everything I do has to be rushed, because there's a limited amount of time I can be out before things get crazy."
"She calls it 'pandas in a jail,' " says Elaine Goldsmith-Thomas, Lopez's producing partner, describing the swarm of photographers and onlookers that almost always descends upon Lopez in public. (By the same token, Goldsmith-­Thomas says she's never seen anyone with Lopez's skill at working a crowd of fans.) "My dream would just be to walk down the street in Milan and take my time, shopping, walking," Lopez confides. "Sit outside, without feeling I have to hide."
Not that she's complaining. She may not have been able to predict all that she ultimately signed up for, but she appreciates everything she has, and the fragility of it. "I've gotten comfortable knowing what I am good at, and how to do it," she says. She tells a story about a fellow actor on Shades who'd been uncomfortable being on set without a shirt.
"Men in their 20s are very confident and cocky, and women are superinsecure. And then it flips: Men get superinsecure, and women get comfortable in their own skin, in a way that makes them more beautiful. I never appreciated my body or my looks when I was in my 20s. Now I'm like, Look at me! Look at you! Not in a conceited or arrogant way—I just appreciate myself in a way I didn't when I was that age. And it's not about perfection. I like the scars that I have."
She reaches down and pulls up one of her pant legs, exposing a knee. "My knees are so bruised all the time, from my shows. I think, I am going to have all this scar tissue. But then I'll be like, 'This is from all the shows I did—when I used to slide across the stage and everybody went 'Aaaah!' "
"When I rocked s–t," Lopez says. "That's what this is from."
Watch Kate Moss, Jennifer Lopez, Taraji P. Henson and Jessica Chastain Sit for their Revealing Screen Tests
How Jennifer Lopez's Glitzy Style Went From Demure to Daring
Jennifer Lopez arrives on the red carpet for the 69th Annual Academy Awards on March 24, 1997 at the Shrine Auditorium in Los Angeles, California. Photo courtesy of Getty Images.

Getty Images
Jennifer Lopez during The 40th Annual GRAMMY Awards at Radio City Music Hall in New York City, New York, United States. Photo courtesy of Getty Images.

Getty Images
Jennifer Lopez at the VH1 Fashion Awards in New York, New York, October 1998. Photo courtesy of Getty Images.

Getty Images
Jennifer Lopez at the Vanity Fair Oscar Party in Los Angeles, California, March 1999. Photo courtesy of Getty Images.

Getty Images
Jennifer Lopez at the Grammy Awards in Los Angeles, California, March 2000. Photo courtesy of Getty Images.

Getty Images
Jennifer Lopez at the Golden Globes in Beverly Hills, California, January 2001. Photo courtesy of Getty Images.

Getty Images
Jennifer Lopez at the 73rd annual Academy Awards in Los Angeles, California, March 2001. Photo courtesy of Getty Images.

Getty Images
Jennifer Lopez at the 75th annual Academy Awards in Hollywood, California, March 2003. Photo courtesy of Getty Images.

Getty Images
Jennifer Lopez at the 61st annual Golden Globes in Beverly Hills, California, January 2004. Photo courtesy of Getty Images.

Getty Images
Jennifer Lopez at the 66th annual Golden Globes in Los Angeles, California, January 2009. Photo courtesy of Getty Images.

Getty Images
Jennifer Lopez at the 68th annual Golden Globes in Beverly Hills, California, January 2011. Photo courtesy of Getty Images.

Getty Images
Jennifer Lopez at the Cannes Film Festival in Cap d'Antibes, France, May 2010. Photo courtesy of Getty Images.

Getty Images
Jennifer Lopez at the Vanity Fair Oscar Party in Beverly Hills, California, February 2015. Photo courtesy of Getty Images.

Getty Images
Jennifer Lopez at the 87th annual Academy Awards in Hollywood, California, February 2015. Photo courtesy of Getty Images.

Getty Images
Jennifer Lopez at the Metropolitan Museum of Art Costume Institute Gala in New York, New York, May 2015. Photo courtesy of Getty Images.

Getty Images
Jennifer Lopez at the 73rd annual Golden Globes in Beverly Hills, California, January 2016. Photo courtesy of Getty Images.

Getty Images
Jennifer Lopez arrives at the MTV Movie Awards held at the Nokia Theater in L.A., April 2015. Photo courtesy of Getty Images.

Getty Images
Jennifer Lopez attends the 59th GRAMMY Awards at STAPLES Center on February 12, 2017 in Los Angeles, California. Photo courtesy of Getty Images.

Getty Images
Jennifer Lopez attends the "Rei Kawakubo/Comme des Garcons: Art Of The In-Between" Costume Institute Gala at Metropolitan Museum of Art on May 1, 2017 in New York City. Photo courtesy of Getty Images.

Getty Images
Jennifer Lopez attends the Billboard Latin Music Awards at Watsco Center on April 27, 2017 in Coral Gables, Florida. Photo courtesy of Getty Images.

Getty Images
Jennifer Lopez attends the 2017 NBCUniversal Upfront at Radio City Music Hall on May 15, 2017 in New York City. Photo courtesy of Getty Images.

Getty Images
Jennifer Lopez attends the 2018 Time 100 Gala at Frederick P. Rose Hall, Jazz at Lincoln Center on April 24, 2018 in New York City. Photo courtesy of Getty Images.

Getty Images
Jennifer Lopez on the red carpet at the Latin Billboard Awards in Las Vegas, NV on April 26, 2018. Photo courtesy of Getty Images.

Getty Images
Jennifer Lopez and Alex Rodriguez attends the Heavenly Bodies: Fashion & The Catholic Imagination Costume Institute Gala at Metropolitan Museum of Art on May 7, 2018 in New York City. Photo courtesy of Getty Images.

Getty Images
Jennifer Lopez attends the 2018 MTV Video Music Awards at Radio City Music Hall on August 20, 2018 in New York City. Photo courtesy of Getty Images.

Getty Images
Jennifer Lopez attends the 'Second Act' World Premiere at Regal Union Square Theatre, Stadium 14 on December 12, 2018 in New York City. Photo courtesy of Getty Images.

Getty Images
Jennifer Lopez attends the 61st Annual GRAMMY Awards at Staples Center on February 10, 2019 in Los Angeles, California. Photo courtesy of Getty Images.

Getty Images
Jennifer Lopez attends 2019 Vanity Fair Oscar Party Hosted By Radhika Jones at Wallis Annenberg Center for the Performing Arts on February 24, 2019 in Beverly Hills, California. Photo courtesy of Getty Images.

Getty Images
Jennifer Lopez attends The 2019 Met Gala Celebrating Camp: Notes on Fashion at Metropolitan Museum of Art on May 06, 2019 in New York City. Photo courtesy of Getty Images.

Getty Images
Jennifer Lopez attends the CFDA Fashion Awards at the Brooklyn Museum of Art on June 03, 2019 in New York City. Photo courtesy of Getty Images.

Getty Images