Jennifer Zuccarini Loves Killer Lingerie, Jane Birkin's Style
The underwear designer shares her style notes just in time for Valentine's Day.
---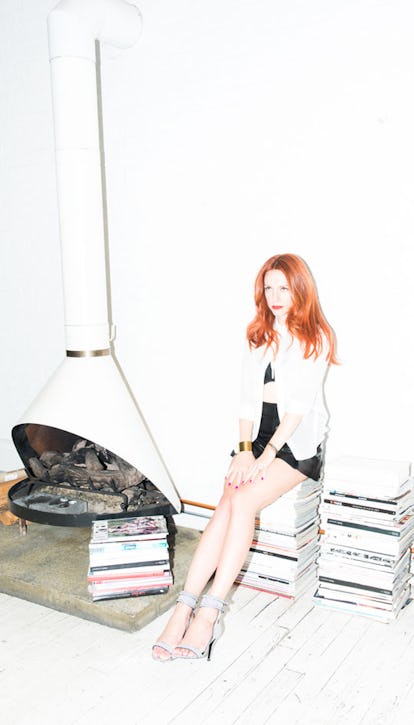 Jennifer Zuccarini, the former design director at Victoria Secret and co-founder of Kiki de Montparnasse, is well versed in the art of seduction—which is why when she launched her own lingerie line Fleur du Mal no one batted an eye. (But a lot of women opened sure opened their wallets.) Inspired by the ritual of dressing and undressing, the collection calls out Zuccarini's own brand of sexy—namely sheer, ready-to-wear essentials layered with lingerie. Here, she reveals all about her breezy boudoir style, from her lingerie muses to her finishing touches for night on the town.
Define your style in three words: Fun, feminine, subversive.
Daily uniform: Lately I like wearing over-the-knee boots, my high-waist leather shorts (from Fleur Du Mal, of course) with a button-down shirt or a boxy sweater.
Greatest hits: Anything leather. I wear our leather trousers all the time. I have a lot of vintage pieces that I don't wear regularly, but I will keep forever. I've been carrying the same Céline bag in python for three years, but I can't find something I like better!
Preferred footwear: Marabou slippers? No, I wouldn't really wear that, but I like the idea. You can't go wrong with a very high heel—maybe with an ankle strap, or something whimsical like Givenchy's floral-print leather pumps.
Finishing touches: A smoky eye, a little sparkle, and a smile.
Night time look: Killer lingerie. Something like our lace bondage set hidden under a little something.
Recent discoveries: I just went surfing in El Salvador, which was a new and exotic adventure.
Favorite stores: New York: The Webster Miami, Kitsuné, and Kirna Zabete. And, while I haven't yet made it to the new Dover Street Market, I know it will be my favorite because they opened a Rose Bakery inside. Europe: I do most of my shopping when I travel—I love vintage stores in Paris and London like Come on Eileen and Lucy in Disguise.
Style pet peeves: Giving up.
Lingerie style icons: Charlotte Rampling, Jane Birkin, and Bettie Page.
Last purchase: Phillip Lim over-the-knee boots. They're called the Kitty boots.
Lusting after: I was pretty spoiled for Christmas, so I don't really want anything for Valentine's Day— but if I were forced to choose something, I would go with the Phantom ring in rose gold with black diamonds by Hoorsenbuhs. I'm also lusting after a new coat!
Favorite romantic haunts: I love Indochine always, Il Buco, The Nomad Hotel, and Paul's Baby Grand for dancing.
Photos: Jennifer Zuccarini Loves Killer Lingerie, Jane Birkin's Style