Jenny Slate's Landline Trailer Captures the Love-Hate Bond Between Sisters and Moms
Jenny Slate reunites with her Obvious Child director Gillian Robespierre for another honest and comic look at life in Manhattan.
---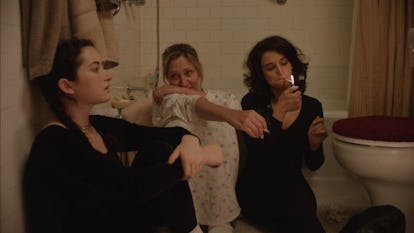 In a darker timeline, Jenny Slate is just known as that one-season-and-done Saturday Night Live cast member. Thankfully, after her unfortunate departure form the show she reunited with old collaborator Gillian Robespierre, the writer and director, and the pair produced Obvious Child, one of 2014's best indie comedies and a pointed, thoughtful yet still hilarious female-centered response to so many mainstream comedies about unplanned pregnancies. In the process, it also cast Slate in a new light as not only a viable but perhaps necessary indie leading lady.
Three years later, and Slate and Robespierre have reunited once again. This time for Landline, a film that finds Slate, Edie Falco and young new comer Abby Quinn as three members of a family in 1995 Manhattan (back when everyone was actually using landline telephones) all with honestly portrayed strained relationship.
Slate plays the elder daughter who is newly engaged (Transparent's Jay Duplass picks up the fiancé role), but perhaps not taking it too serious. An ex-boyfriend she runs into, played by Finn Wittrock, seems amazed she actually said yes.
Quinn plays the younger still-in-high school sister who is the midst of a full blown teenage rebellion while she should be concentrating on college applications instead. It's clear that, perhaps because of the age difference, the two sisters have never quite bonded and start the film with an antagonistic relationship. Meanwhile, Falco takes up the role of the long-suffering mother just trying to keep everything together. Yes, there is a dad too, played by John Turturro, who may or may not be carrying on an affair facilitated by dial-up internet.
Basically, everyone in the family is a mess and seems sort of sick of every other mess they're related. You know, relatable stuff. Though, it seems by the end of trailer there's hope for stronger relationships.
Landline premiered earlier this year at the Sundance Film Festival, where it received positive reviews. IndieWire called it a "a huge step forward for everyone involved."
"Robespierre succeeds at making another candid, comedic portrayal of family dysfunction and difficult life transitions, this time from a multigenerational perspective," concluded PopMatters.
The film is set to hit theater on July 21.
Related: ****Chris Evans and Jenny Slate Prove that Complimentary Uncoupling Is the New Conscious Uncoupling
Jenny Slate on the Strange Importance of Joe Versus the Volcano: