THIS IS NOT A FASHION PHOTO
Jerry Berndt: A Staff Pick
Looking for style in some very unexpected places.
---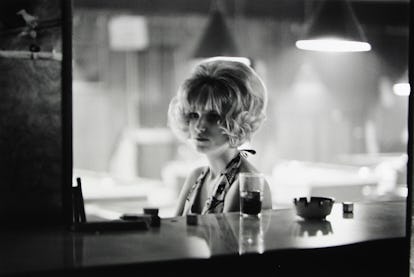 "Staff Picks," the show just about to close at the Howard Greenberg Gallery, is packed with the sort of vintage photographs I'd expect to find on a fashion photographer's inspiration board. In what has become a summer tradition, employees chose favorite pictures from the gallery's vast inventory and arranged them in a series of compact displays, often by theme (Paris, pedestrians, transportation, music, couples). For staffers, the exhibition is an opportunity to sharpen their curatorial skills; for viewers, it's a chance to see rare and terrific work that may never have found its way out of archival storage boxes before. Greenberg, who notes that "a good part of my dream life was spent airborne," dug up 15 images of figures caught in mid-air by Alexander Rodchenko, Aaron Siskind, Ruth Orkin, Gjon Mili, Marc Riboud, and the always dazzling Jacques Henri Lartigue—a fairly typical cross-section of his holdings in the European and American avant-garde. For a fashion fix, seek out the selections by Franny Vignola and Rachel Petersman, both of which focus on introspective young women. The pictures they've chosen by Danny Lyon, Garry Winogrand, Robert Frank, Dave Heath, and Homer Page are all wonderful, inadvertent fashion photographs. But my favorite is Jerry Berndt's shot of a woman in a patterned halter top, seen across the counter in a Boston dive bar in 1970. Her big blonde bouffant is backlit, her eyes in shadow, and she seems unaware of being watched. It's exactly the kind of cinematic photograph Alex Prager has been staging on a much larger and more effortful scale recently, but here it's small, subtle, and quite touching.
"Staff Picks" is at Howard Greenberg Gallery, 41 East 57th Street, through August 30. 212-334-0010.
© Jerry Berndt, Courtesy Howard Greenberg Gallery, New York.