Jessica Alba, Alexa Chung Channel Classic French It Girls in Paris
Longchamp celebrated its new flagship store on Rue Saint-Honoré with a party and a dinner.
---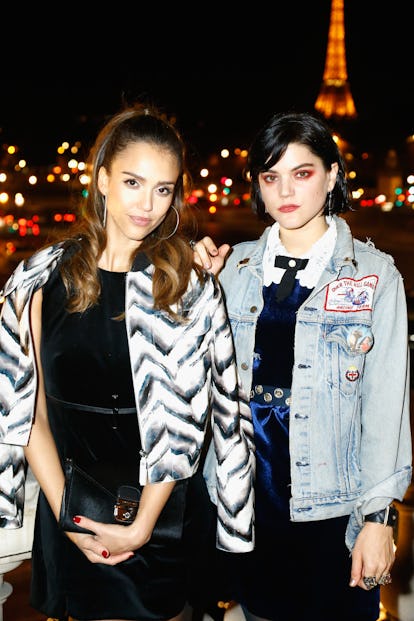 Photo by Julien Hekimian/Getty Images for Longchamp
"It was definitely inspired by Catherine Deneuve," said Jessica Alba in a look reminiscent of the iconic French actress, half her hair pulled back in a high ponytail. "The dress felt so '60s, so it's our modern take on Catherine Deneuve."
When in Paris?
"When in life!"
Alba was inside Longchamp's flagship reopening on 404 Rue Saint-Honoré. Entering the store, the actress and Honest Company co-founder posed for photos, before walking straight into an elevator to the second level, where she remained in a closed off VIP section with close friend Kelly Sawyer.
"It's such a classic French brand," said Alba. "I love their bags. They're timeless, super elegant, but they're still funky. And they do all those collaborations with different artists and designers like Jeremy Scott, and the whole nylon, folded bag. It's something that now everyone has caught on to and has copied them, but they were doing it 30 years ago."
The cocktail event, hosted by the Cassegrain family, who own the luxury house, was a celebration of the renovation and reopening of the Longchamp flagship, now a three-story, 7,500 square foot shop, as well as a new men's boutique across the street.
With Soko playing DJ in the flagship and Frédéric Beigbeder behind the turntable on the men's side, the night brought out artist Ryan McGinness, models Lindsey Wixson and Liu Wen, and French actors Lambert Wilson, Audrey Tautou, Leïla Bekhti and Mélanie Laurent.
Soon, Alexa Chung – current face of Longchamp – showed up.
"I'm channeling myself tonight, but I am a huge fan of so many French actresses and singers, France Gall I love, Francoise Hardy – anyone with France in their name," said Chung later at the dinner that followed inside Hôtel de la Marine, a lavish building on Place de la Concorde.
"I guess there are fewer of them in London, so I don't see them there, and in New York, it's only if I ever wander into Soho that I look up, and I'm like, 'Oh yeah, that.' It's nice," she said of her Longchamp ads, plastered all over Paris. "I've always been a fan of France in general, so when I first met the Longchamp family – and they are actually a legitimate family-run business – I just felt like they and their brand have captured that Parisian style and sort of heritage authenticity that I respond to.
She added: "And then, aside from that, I just like them as people as well as the things they make."
Inside Longchamp's Flagship Reopening Party
Photo by Julien Hekimian/Getty Images for Longchamp
Photo by Julien Hekimian/Getty Images for Longchamp
Photo by Julien Hekimian/Getty Images for Longchamp
Julien Hekimian/Getty Images for Longchamp
Sumire Matsubara and Alexa Chung

Getty Images
Photo by Julien Hekimian/Getty Images for Longchamp
Audrey Tautou and Lambert Wilson

Photo by Julien Hekimian/Getty Images for Longchamp
Photo by Vittorio Zunino Celotto/Getty Images
Watch: Nicky Hilton's Wild 21st Birthday in Vegas