Jessica Alba Shares Her Daily Beauty Routine And Explains Why She's Scared To Get a Pixie Cut
The beauty entrepreneur opens up about everything from her ultimate beauty routine to the one haircut she'd never try again.
---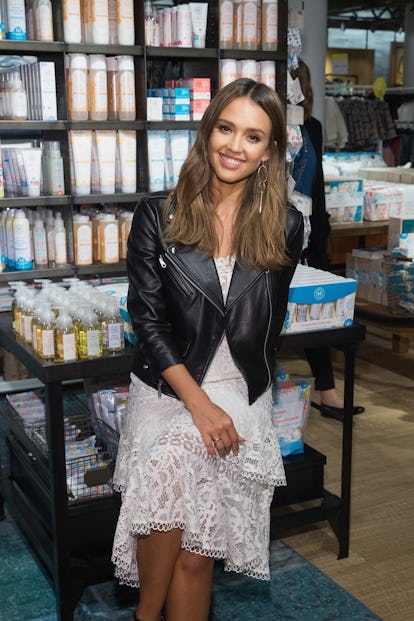 Jessica Alba, who turns 36 today, has a lot to celebrate these days. As the founder of Honest Beauty, the actress turned entrepreneur serves as the ultimate beauty guru, frequently sharing her best health and wellness tips for enhancing beauty from within with her 10.5 million Instagram followers. Known for her signature beachy waves, brown smoky eyes, and luminous skin, Alba is a master of natural beauty on the red carpet. Here, Alba opens up about everything from her on-the-go beauty routine and favorite products to her biggest beauty inspirations.
Your look in three words:
Fresh, Effortless, Clean.
Medicine cabinet snapshot:
Honest Beauty Everything Organic Facial Oil, Honest Beauty Organic Magic Balm, Honest Beauty Refreshingly Clean Gel Cleanser, makeup remover wipes, and hydration mist.
Good skin starts with:
Cleansing. I use the Braun Facial Cleansing Brush.
Best advice from your facialist:
Wear sunscreen.
Makeup miracles:
Honest Beauty Magic Balm, Concealer, Brow Pencil and Mascara.
Most underrated product:
Hydration Mist.
Never leave the house without:
Between the kids and the office, I usually only have about five minutes to get ready so I like to keep it simple. I start with Everything Organic Facial Oil to hydrate and wake up the skin. Then I use Honest Beauty Everything Primer, Tinted Moisturizer, and Concealer Duo. I tap Magic Balm around my eyes, high points and cupids bow. I put on Brow Filler, Crème Blush, curl my lashes, put on mascara, add a lip crayon and go!
A good hair day starts with:
Washing with a high quality shampoo and conditioner, Honest Beauty Moisture Milk Leave-in-Conditioner, and Honest Beauty Sea Salt Spray.
My hair colorist always says:
Don't put heat on your hair everyday if you don't have to.
Nails must be:
Shaped well and buffed, if nothing else.
Beauty from the inside out:
Drink water and eat as clean as possible.
Exercise obsession:
I wish I worked out more, but even just getting in three days a week has been challenging for me. When I do work out, I like group spin classes.
Drink of choice:
Zico Coconut Water.
Product that you picked up from the pros:
Allegra Magic Globes, Nurse Jamie Uplift & Massaging Beauty Roller, and Joanna Vargas Bright Eye Firming Mask.
A woman should smell like:
Joya Composition No. 1.
Appointment you'd love to nab:
I'd love to spend more time at home with my daughters cooking up our own beauty products.
Spa-cation at:
Rosewood Mayakoba.
In-tub must-read:
I just finished The Truth. If you are in business, I love Seth Godin books. Start with Why is also great.
Beauty myth you'd like to debunk:
That oil is bad for your face. Organic, amazing oils can be great for your face no matter your skin type.
Definite doppelgänger:
My Grandma.
Beauty advice for your younger self:
You don't always need a full face of makeup. I actually wore too much makeup when I was a teenager. I didn't know that there was the "no-makeup" makeup look until I was in my 20's.
Beauty blunder:
I don't think there is anything I regret trying—beauty is about having fun and experimenting, but I probably wouldn't do the blonde bob again.
Your next beauty look:
I've always wanted to try a pixie cut, but I don't think I can pull it off, so I probably never will.
Beauty advice you will pass onto your daughters:
That being healthy, happy, and confident will always be beautiful.
Beauty inspiration:
Right now I'm loving timeless beauties like Rita Hayworth, Catherine Deneuve and Sophia Loren.
Wellness mantra to live by:
Get enough sleep and take time for yourself.
Model and Musician Rainey Qualley Undergoes a Radical Hair Transformation in the Hands of Celeb Stylist Garren