Jessica Chastain Is Not Lost
The actress discusses her role in The Disappearance of Eleanor Rigby.
---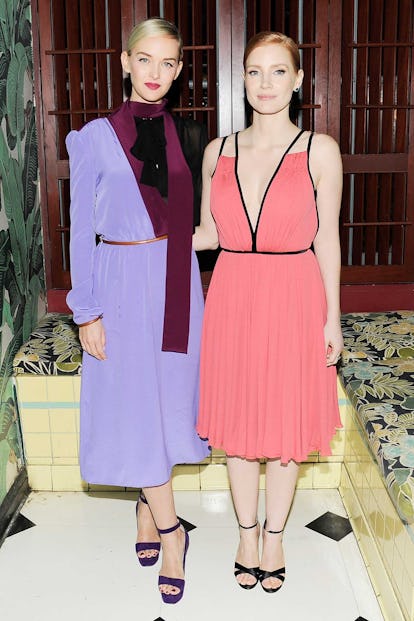 On Wednesday evening, camera bulbs flashed as actress Jessica Chastain made her way down the red carpet at the Cinema Society and Prada-hosted premiere of The Disappearance of Eleanor Rigby. The actress was on hand to discuss the film in which she plays the titular character, whose life is forever changed after the unexpected death of her only son. Suicidal and searching for ways to cope with the pain, Rigby leaves her husband Connor Ludlow (James McAvoy) and their New York City apartment to move back to her family's home in Connecticut. "I had never suffered any tragedy like Eleanor had, so I did a lot of reading about it—I had to find a way to communicate that," said Chastain. "Ned [Benson, the director] wrote the character of Eleanor for me. It's a beautiful thing to have a person who's such a great friend of mine, who knows me so well, to create a character for me." Following the screening at Sunshine Cinemas, Chastain was joined by her co-stars Nina Arianda, and Jess Weixler at a star-studded after party at Indochine. No disappearance necessary.
Photos: Jessica Chastain Is Not Lost
Jess Weixler and Jessica Chastain. ©PatrickMcMullan.com
James McAvoy and Ned Benson. ©PatrickMcMullan.com
Condola Rashad. ©PatrickMcMullan.com
Nina Arianda. ©PatrickMcMullan.com
Zoe Kazan. ©PatrickMcMullan.com
Alysia Reiner. ©PatrickMcMullan.com
Richard Phillips and Liza Thorn. ©PatrickMcMullan.com
Mamie Gummer and Billy Magnussen. ©PatrickMcMullan.com