Jessica Chastain Proves Why She's an Oscar Frontrunner in Molly's Game Trailer
She's an Oscar frontrunner already.
---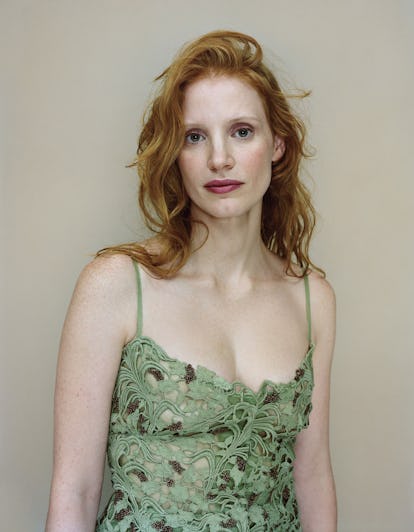 Molly's Game may be the long-awaited directorial debut of TV creator and blue-chip screenwriter Aaron Sorkin, but from the looks of the trailer, which dropped today, this is clearly Jessica Chastain's movie. The actress is definitely a strong contender for an Oscar nomination for the role, and, depending on who you talk to, may even be the front runner at this point to walk away with the trophy. It's not hard to see why judging from the latest trailer.
Chastain plays Molly Bloom, a young woman who works her way up from unappreciated assistant to running one of the most elite underground poker rooms in New York City. Her game regularly attracts titans of industry, celebrities (represented here by Michael Cera's character, "Player X"), and other assorted millionaires and billionaires. Minimum buy-ins reach a cool quarter of a million, and her hustle soon becomes "one of the world's most exclusive and decadent man caves."
Of course, there's one small problem. The Russian mafia is involved. Which soon attracts another small problem of an FBI investigation: Bloom, a principled hustler, refuses to rat out her regular players even at the behest of her lawyer, played by Idris Elba.
"Not to spoil the ending, but that's when the Government raided my game, and took all of my money, assuming all of it was made illegally, which it wasn't," says Chastain in the first few seconds of the latest trailer.
Molly's Game premiered last month at the Toronto International Film Festival where it received rave reviews.
"Chastain roars through the performance with a force and take-no-prisoners attitude that keeps one rapt," raved The Hollywood Reporter.
"Bloom learned the poker trade mostly by accident, but she proved—as she had with most things in her life prior—preternaturally adept at negotiating the contours and physics of this semi-sordid world," claimed Vanity Fair. "Which gives Sorkin opportunity to write rich torrents of speech for Chastain to tear into. She does so with focused, funny aplomb. It's her best role since The Help—yes, better than Zero Dark Thirty." She was nominated for an Oscar for both of those roles, for whatever it's worth.
Chastain really only had her big breakthrough six years ago with Tree of Life, so maybe it seems wrong to say an Oscar win is overdue. Though, it certainly wouldn't seem wrong if it happened.
You can judge for yourself when the film comes out November 22nd.
Related: Jessica Chastain Is the Heroine Women Deserve
Jessica Chastain Wants to Love Elvis Tender:
Jessica Chastain's Style Evolution As the Ultimate Red Carpet Chameleon
Humble beginnings: Chastain is the ultimate early aughts girl in tattered boot-cut jeans and stripped pastel tee.

Getty Images
Attending a fashion week party in LA, Chastain looked cool and casual in a halter-neck black dress.

Getty Images
Once again, Chastain keeps it simple at classic at the opening of Othello at B-Bar in NYC wearing a little black dress.

Getty Images
Chastain at the Dior Haute Couture Spring 2009 show, this time in a ruffled strapless black gown.

Getty Images
The actress arrived at the InStyle magazine Summer Soiree party, beginning to experiment with color in a printed dress.

Getty Images
At the Somewhere premiere in Los Angeles, Chastain's sartorial verve appears in this adventurous floral frock.

Getty Images
Arriving at the GQ 'Men of the Year' party, Chastain chose a flirty red polka-dot cocktail dress and smoky eye makeup.

Getty Images
Shown here in a structured, ivory frock for the Decades Denim launch party. When in doubt: belt it.

Getty Images
In a flamingo-feathered pink cocktail dress for a Golden Globes party, with an emphasis on the statement pump.

Getty Images
At a W Magazine party for the Golden Globes at a light blue dress and black strappy heel.

Getty Images
For the I Am Number Four premiere in Los Angeles in a gathered, gold dress and matching heel.

Getty Images
Jessica Chastain in Zac Posen at the Tree of Life premiere at the 64th annual Cannes Film Festival in Cannes, France.

Getty Images
A lady-like figure in a shocking pink frock and black pump for a Pre-Oscar party.

Getty Images
At a Vanity Fair launch party in a dramatic Alexander McQueen peplum top and matching skirt.

Getty Images
A gilded McQueen gown for the 84th Academy Awards, as a loose up-do completes the look.

Getty Images
Arriving at the Calvin Klein Fall 2013 show in a chic coat and dress combo.

Getty Images
A vision in glittering Givenchy Haute Couture at the premiere of All is Lost.

Getty Images
Arriving at the 70th Annual Golden Globes in gorgeous celadon gown with plunging neckline.

Getty Images
Chastain wore Armani Privé to the 85th annual Academy Awards in February 2013.

Getty Images
The pockets on Chastain's black velvet Alexander McQueen dress and the hue of her multi-colored pumps were just fun enough for a daytime photo call.

Getty Images
Statuesque beauty in a custom Prada gown for the Interstellar premiere red carpet.

Getty Images
Recalling Félix Vallotton's 1924 painting Le Retour de la Mer in a beguiling Atelier Versace gown.

Getty Images
Chastain poses on the red carpet for the European premiere of the film Interstellar in London wearing a dusty rose gown by Saint Laurent.

Getty Images
Prim and pretty in an embellished Oscar de la Renta dress and gilded heel at the 40th Deauville American Film Festival.

Getty Images
Chastain arrives at 'China: Through The Looking Glass' in golden Givenchy Couture gown for ultimate movie star glamour.

Getty Images
In an Oscar de la Renta printed dress for the Jameson Empire Awards in London.

Getty Images
Jessica Chastain in Givenchy at the Toronto International Film Festival premiere of The Martian in Toronto, Canada, September 2015.

Getty Images
The lady is a vamp! In a dramatic, plunging gown by Versace at a Golden Globes party.

Getty Images
Jessica Chastain in Elie Saab at the opening of the Metropolitan Opera's 2015-2016 season in New York, New York, September 2015.

Getty Images
Jessica Chastain in Givenchy at the 87th annual Academy Awards in Hollywood, California, February 2015.

Getty Images