Jessica Chastain's One Simple Trick to Making Sure She's Getting Paid as Much as Her Male Co-Stars
Jessica Chastain says she now asks how much she gets paid in relation to her male counterparts. She says actresses can no longer just be "grateful."
---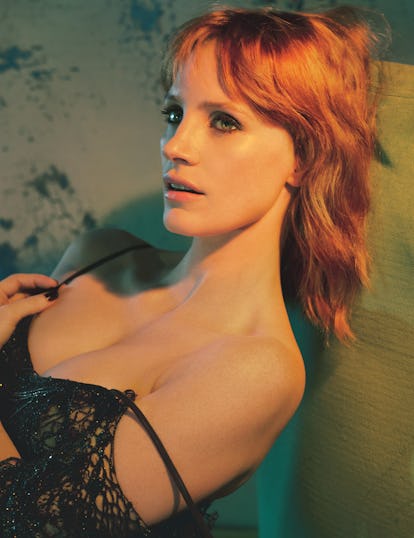 Photograph by Mert Alas & Marcus Piggott. W Magazine, March 2017.
Jessica Chastain is sick of getting paid less than her male co-stars and she's not going to take it anymore. She's become an outspoke advocate for equal pay in Hollywood, but how does one undo decades of ingrained sexism in an industry where male actors regularly make more than their female counterparts? It's quite simple. Jessica Chastain simply asks to know how much her male co-stars are making up front.
The Academy Award nominee suggested in 2015 that she earned less than $2 million to co-star in The Martian with Matt Damon, who took home $18 million. In a new essay for Variety, she shares how she now makes sure similar situations don't happen again in the future.
It all started when she once heard former Sony studio chief Amy Pascal say that often actresses just don't ask for as much money as their male counterparts, and that's when it clicked for Chastain.
"That really hit me. At first, I was really pissed off. And then I thought, 'She's touching on something here,'" she wrote. "Women need to step forward and demand they're fairly compensated for their work."
Chastain also reveals that in the past studios have come to her to star in a film first, but then will find a male co-star next, negotiate his deal, and then offer her whatever was left over.
No more of that, says Chastain.
"What I do now, when I'm taking on a film, I always ask about the fairness of the pay," she writes. "I ask what they're offering me in comparison to the guy. I don't care about how much I get paid; I'm in an industry where we're overcompensated for the work we do. But I don't want to be on a set where I'm doing the same work as someone else and they're getting five times what I'm getting."
It's not bad advice. One of the most egregious tales of unequal pay in Hollywood revealed recently was the fact that Ashton Kutcher was paid three times as much for No Strings Attached as Natalie Portman. This despite the fact that the film definitely benefited form the buzz of Portman's then recent Academy Award win, and that Portman has continued a career in film while Kutcher now mostly concentrates on television.
Portman revealed that at the time she wasn't as "pissed" as she should have been, and was just grateful to be making so much money for a film role in the first place, but has since realized she probably shouldn't have been.
For her part, Chastain revealed that she has lost one major role due to her new negotiating tactics, but otherwise she seems to be doing fine.
She's attached to several upcoming projects with high profile male costars. She'll appear in action thriller The Division with Jack Gyllenhaal, the aptly titled Woman Walks Ahead with Sam Rockwell, Molly's Game with Idris Alba and Kevin Costner, and George and Tammy with Josh Brolin. She's also attached as the lead for Painkiller Jane, and is actually teaming up with Portman for Xavier Dolan's The Death and Life of John F. Donovan with a female-heavy cast that also includes Bella Thorne, Susan Sarandon, Thandie Newton and Kathy Bates.
Presumably, she's getting properly compensated for all projects now.
Related: Jessica Chastain Is the Heroine Women Deserve
Jessica Chastain Wants to Love Elvis Tender:
Jessica Chastain's Style Evolution As the Ultimate Red Carpet Chameleon
Humble beginnings: Chastain is the ultimate early aughts girl in tattered boot-cut jeans and stripped pastel tee.

Getty Images
Attending a fashion week party in LA, Chastain looked cool and casual in a halter-neck black dress.

Getty Images
Once again, Chastain keeps it simple at classic at the opening of Othello at B-Bar in NYC wearing a little black dress.

Getty Images
Chastain at the Dior Haute Couture Spring 2009 show, this time in a ruffled strapless black gown.

Getty Images
The actress arrived at the InStyle magazine Summer Soiree party, beginning to experiment with color in a printed dress.

Getty Images
At the Somewhere premiere in Los Angeles, Chastain's sartorial verve appears in this adventurous floral frock.

Getty Images
Arriving at the GQ 'Men of the Year' party, Chastain chose a flirty red polka-dot cocktail dress and smoky eye makeup.

Getty Images
Shown here in a structured, ivory frock for the Decades Denim launch party. When in doubt: belt it.

Getty Images
In a flamingo-feathered pink cocktail dress for a Golden Globes party, with an emphasis on the statement pump.

Getty Images
At a W Magazine party for the Golden Globes at a light blue dress and black strappy heel.

Getty Images
For the I Am Number Four premiere in Los Angeles in a gathered, gold dress and matching heel.

Getty Images
Jessica Chastain in Zac Posen at the Tree of Life premiere at the 64th annual Cannes Film Festival in Cannes, France.

Getty Images
A lady-like figure in a shocking pink frock and black pump for a Pre-Oscar party.

Getty Images
At a Vanity Fair launch party in a dramatic Alexander McQueen peplum top and matching skirt.

Getty Images
A gilded McQueen gown for the 84th Academy Awards, as a loose up-do completes the look.

Getty Images
Arriving at the Calvin Klein Fall 2013 show in a chic coat and dress combo.

Getty Images
A vision in glittering Givenchy Haute Couture at the premiere of All is Lost.

Getty Images
Arriving at the 70th Annual Golden Globes in gorgeous celadon gown with plunging neckline.

Getty Images
Chastain wore Armani Privé to the 85th annual Academy Awards in February 2013.

Getty Images
The pockets on Chastain's black velvet Alexander McQueen dress and the hue of her multi-colored pumps were just fun enough for a daytime photo call.

Getty Images
Statuesque beauty in a custom Prada gown for the Interstellar premiere red carpet.

Getty Images
Recalling Félix Vallotton's 1924 painting Le Retour de la Mer in a beguiling Atelier Versace gown.

Getty Images
Chastain poses on the red carpet for the European premiere of the film Interstellar in London wearing a dusty rose gown by Saint Laurent.

Getty Images
Prim and pretty in an embellished Oscar de la Renta dress and gilded heel at the 40th Deauville American Film Festival.

Getty Images
Chastain arrives at 'China: Through The Looking Glass' in golden Givenchy Couture gown for ultimate movie star glamour.

Getty Images
In an Oscar de la Renta printed dress for the Jameson Empire Awards in London.

Getty Images
Jessica Chastain in Givenchy at the Toronto International Film Festival premiere of The Martian in Toronto, Canada, September 2015.

Getty Images
The lady is a vamp! In a dramatic, plunging gown by Versace at a Golden Globes party.

Getty Images
Jessica Chastain in Elie Saab at the opening of the Metropolitan Opera's 2015-2016 season in New York, New York, September 2015.

Getty Images
Jessica Chastain in Givenchy at the 87th annual Academy Awards in Hollywood, California, February 2015.

Getty Images