Mother of Invention
Jessica Jackson Hutchins transforms household objects— paper cups, dining tables, baby clothes—into emotionally raw art pieces. Maura Egan visits the woman behind the work.
---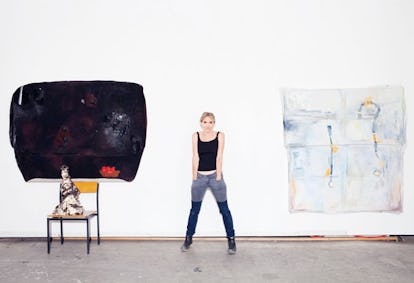 Last year, the artist Jessica Jackson Hutchins pulled up stakes in Portland, Oregon, and moved her family—daughters Lottie, 7, and Sunday, 4, and husband Stephen Malkmus, the former frontman of the cult indie slacker band Pavement and current lead singer of the Jicks—to Berlin, a city she had "never laid eyes on," she admits.
"We picked Berlin because we wanted a central place in Europe," says the 41-year-old Hutchins. "Steve tours a lot over here, and he didn't want to have to learn a new language at the age of 45." The city is famously full of English-speaking hipster expats, she tells me. "One of the tech guys who used to tour with Pavement lives across the street from us. And the guy from Travis is nearby." Though the Chicago-born Hutchins didn't speak any German before she arrived, eight months later she appears at ease giving directions to cab drivers and greeting neighbors at her Mitte art studio complex in her adopted language. "I have the numbers down," she says. "But it's hard sometimes when I'm ordering art supplies." When I visited her last spring, she was busy shipping works out to various group shows—to Brussels (Barbara Gladstone Gallery), to London (Timothy Taylor Gallery), and to Rome (Federica Schiavo Gallery). In 2013, she will have solo shows at New York's Laurel Gitlen gallery and the Hepworth Wakefield museum in West Yorkshire, En­gland. "Steve gets to be on manny duty a lot right now."
Hutchins makes arts-and-crafts-style ceramic, textile, and furniture hybrids that speak to the chaos of domestic life, ­relationships, and motherhood. Her work would seem more apropos of Portland's DIY ethos than, say, the highbrow European art world, but Hutchins is a bit too ironic for the feel-good ­Portlandia universe. She rolls her eyes at the preciousness of the city's inhabitants, and later, when we meet up with Malkmus, he immediately fake chides her: "Did you make fun of Portland?"
Domestic objects—carved-up kitchen tables, her daughters' old baby clothes—figure prominently in Hutchins's world, and she is often placed in the feminist art canon, next to heavyweights like Judy Chicago and Betty Woodman. But that ­perspective seems reductive—her work is more about emotionalism than feminism. "She's turning everyday items into art," says Jenelle Porter, the senior curator at Boston's Institute of Contemporary Art, who organized Hutchins's first major solo show there late last year. "There's a messiness, a sentiment that charges the work. It's not slick. She's not relying on conceptual modes."
But that's not to say there aren't ideas behind it. What look like lo-fi artworks—blobs of clay or gnarled papier-mâché pieces atop discarded furniture or hammocks made from old fabric—are, in fact, clever puns, emotional metaphors, and linguistic tropes come to life.
With husband Stephen Malkmus and daughters Sunday (left) and Lottie.
For Kitchen Table Allegory, in 2010, Hutchins turned her family's old table into a printing press. She applied ink to the surface and used it like a woodblock, letting the dings and scratches reveal the story of its daily use. It's personal but not mawkish. "So much about her work is about love," Porter says. Hutchins shows me Rama and Sita, a piece based on the Sanskrit epic Ramayana. "I was totally engrossed in the text," Hutchins says. "I wept reading the verses­—I loved all the romance and desire." Sita is depicted as a tall red pole with a heart-print smock hanging from the top, while Rama is represented by a small squat rock with a clay vessel mushed on top. Sita looks like she's crying and curling her body toward her lover, who looks up beseechingly.
As much as Hutchins's work is about love, it's also about language. At first glance, the piece Symposion seems like an enormous hunk of papier-mâché plopped on a shabby couch. But look closer and you see that the form suggests a ring of human figures (similar to the patterns on an ancient-Greek vessel). "Symposion" is the classical Greek word for a drinking party during which revelers would lie around sipping wine, having sex, and making speeches. Hutchins's drinking party lounges on a sofa.
Text, both archaic and contemporary, informs a lot of Hutchins's work. She discusses literature with unapologetic earnestness—whether it's talking about the metaphysical symbolism in Moby Dick or writing about why the comma is her favorite punctuation mark ("It is the least beholden to convention…it can be drawn as an almost dot with a tail, like a sperm cell or perhaps a tear," she noted in one essay). She ­excitedly pulls out Joseph Roth's novel Radetzky March and another book on the German terrorist group Baader-Meinhof that she recently picked up.
Reading and making art are what saved her during her lonely adolescence, says Hutchins, whose mother died when Jessica was 12. "I was an intense kid, and I always identified as an artist." After studying at Oberlin College in Ohio, she went to graduate school at the Art Institute of Chicago. It was there that Hutchins began creating papier-mâché works. She fashioned a tongue for Syd Barrett, the Pink Floyd vocalist, who had left the band after becoming mentally ill and ended up a recluse uttering gibberish in his mother's basement. "I wanted him to be able to speak." She made a heart for Brian Wilson of the Beach Boys, another troubled musician. She was making arms for junkies she knew and other assorted totems for various lost individuals. She also made "a leg for me to stand on," she says matter-of-factly. At the time, she was battling her own heroin addiction, which she would finally kick at 27. She didn't go to rehab. "I just sat in the bathtub for a few days."
Those dark times seem far behind now—her last lengthy stays in the bath were when she home-birthed her daughters back in Portland. "I was getting in and out of the tub watching Larry David," Hutchins recalls of Lottie's birth, in 2005. "I made Steve get me macaroni and cheese, and he came back with some kind of soy version. I wanted to kill him." Currently, the only people she wants to "party with" are her children. "We have a very rock 'n' roll house," she says, referring to the playful chaos of their domestic life.
It's also quite a creative place, with husband and wife working in similar bare-bones styles—he with his abstract loner lyrics and she with her emotionally raw sculptures. Yet Hutchins says that she and Malkmus don't hash it out artistically at the end of the day. "He's never going to give me a dissertation on my work. He might say, 'I like that red.' " In fact, it's her daughters who are more involved: "Lottie used to tease me and pretend that she was going to knock something over."
No matter—you can imagine Hutchins picking up the pieces and creating something new, with all the cracks, nicks, and stains lovingly exposed.
Photos: Artist Jessica Jackson Hutchins
Hutchins in her Berlin studio.

Photographs: Christian Kryl
With husband Stephen Malkmus and daughters Sunday (left) and Lottie.

Photographs: Christian Kryl
Photographs: Christian Kryl
Photographs: Christian Kryl
Hair and makeup by Abra Kennedy for Aveda and Chanel at Blossom Management; Symposion: courtesy of the artist and Laurel Gitlen, New York; The Point: courtesy of the artist and Timothy Taylor Gallery, London