Jessica Lucas
Jessica Lucas steals the show in J. J. Abrams's new big-screen thriller.
---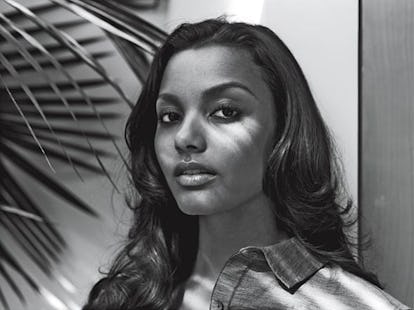 Closed sets, fake movie titles, confidentiality agreements and a covert marketing campaign have kept a seductive veil of secrecy over Cloverfield, a creature-attacks-New York thriller from megaproducer J.J. Abrams that's set to open in January. But, of course, there are bound to be leaks. And word has it that Jessica Lucas, 22, a member of the ensemble cast of six, is poised to be its breakout star.
Just don't tell her that. "I have no desire to be famous," groans the actress, a North Vancouver native who is best known (if she is known at all) as Veronica "Ronnie" Lake on CSI: Crime Scene Investigation and as a soccer buddy of Amanda Bynes's character in the teen movie She's the Man.
Staying low-profile may be impossible, however, since Abrams has a knack for turning fresh faces into famous ones (the name Jennifer Garner comes to mind). The film's much discussed first trailer, which appeared with only a few credits, the date of its release (1-18-08) and no title, features a group of friends at a party that's rudely interrupted by fireballs flung from the sky and the head of the Statue of Liberty rolling through Manhattan.
Lucas's almond-shaped eyes and caramel skin suggest faraway places like Brazil, India or Cuba, often leaving people stumped as to her heritage. "I'm half black, half white," she explains. She's also as Canadian as they come. "You'd have to dig pretty deep" into her family tree "to get out of Canada," she says. And she has no immediate plans to relocate to Los Angeles, preferring the Canadian attitude. "When I tell people [at home] I'm an actress, no one is impressed," she says, laughing. "I tell them, 'But I was in a movie with Amanda Bynes!'"
She adds that the two have not kept in touch. "It's not like I call her when I come to town," Lucas says. "She wouldn't know who I was. I'm sure she'd be like, 'Who is this again?'"
Hair by Charles Baker Strahan for Redken; Makeup by Brett Freedman for vanitymark.com/celestineagency.com. Location: Image Locations