Gift Ideas from Gallerist Jessica Silverman and Writer Sarah Thornton
The San Francisco-based pair share their holiday gift recommendations, including a Judy Chicago sweatshirt for the art lover in your life.
---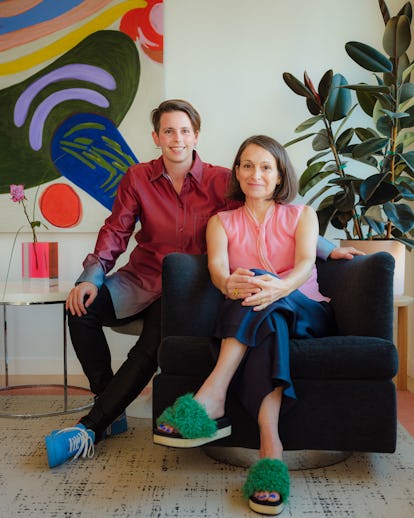 From left: Jessica Silverman and Sarah Thornton. Photographed by Ulysses Ortega.
Jessica Silverman is the first to admit that she's the most difficult person on her friends' and family's gift lists. As they're well aware, one category is always off-limits for the San Francisco–based gallerist: art. "They know that we're quite specific," Silverman said of herself and her partner, the writer Sarah Thornton. "They wouldn't dare."
When it comes to giving, though, Silverman is a pro. For Hanukkah this year, her list includes clients and curators, plus her accountant, her dog walker, and Thornton.
One of Silverman's go-to gifts is artist editions, like a Damascus steel letter opener by the sculptor Davina Semo, whom she represents. She and Thornton are particularly fond of Judy Chicago editions, the latest of which is a sweatshirt emblazoned with the artist's name. Chicago wore the original for an ad in Artforum, alongside an announcement of her official name change: "Judy Gerowitz hereby divests herself of all names imposed upon her through male social dominance." The photo was in black-and-white, but the edition, like the original, is pale orange. (It's also $95—a far cry from the six figures Chicago works usually fetch on the market.)
Silverman's gift for Thornton is already sorted. After nearly two decades, Thornton finally tracked down the item she's long coveted: a brand-new handbag from Louis Vuitton's 2005 collaboration with Takashi Murakami, an artist who figures prominently in her book Seven Days in the Art World.
Rare handbags aside, Thornton says she's extremely easy to buy for. "I'm of the opinion that you cannot have too many throws," she said. "It's actually impossible. Especially in San Francisco, where it can get quite chilly at night, but we don't really want to turn the heat on because by noon the next day it can be hot again." In the Silverman-Thornton household, everyone has a wool or cashmere TV blanket. Even two of the three cats have claimed their own.
One gift that would make both Silverman and Thornton happy is a mug by the ceramicist Zoe Dering, whom they've been buying pieces from since they met her through the caterer Leif Hedendal, about three years ago. "I do not want to drink a hot drink out of a factory-made mug. It kind of feels soul-destroying," Thornton said. "I like to hold in my hand something made by another's hand."
In a normal year, a big part of the couple's gift-giving would involve showing up to people's dinner parties with food in hand. Now, Silverman and Thornton are continuing that tradition by shipping out some of their favorite things. For those lucky enough to be their neighbors, they send a 10-layer Russian honey cake from 20th Century Cafe (which also makes what Thorton has declared "the absolute best bagels in town"). They're keeping things local, with one exception: a fruit-and-nut loaf from the Hudson Valley gourmet provisions shop Talbott & Arding. "It's the one thing we import from the East Coast," Thornton said. "Whereas the honey cake is super light, this is like dense, heavy, serious bread."
Silverman is hoping for some food herself. "To be honest, I would like some caviar," she told a relieved Thornton. The plans are settled: They'll feast on December 10, the first night of Hanukkah and the 14th birthday of their dog Bear. But Thornton knows she isn't off the hook just yet. "My next issue is going to be trying to source the caviar that she likes," she said with a laugh. "I have to make sure I confirm that."
Jessica and Sarah's Gift List:
20th Century Cafe Russian Honey Cake, starting at $32, 20thcenturycafe.com
ACLU Membership, aclu.com
African Art in the Barnes Foundation, $62, amazon.com
iPhone 12, $699, apple.com
Lines and Arcs Reversible Throw, $375, artwareeditions.com
Bright Black Candles, $125, brightblackcandles.com
Summer Harvested Biointensive Orchard Native Wildflower Honey, $35, flamingoestate.la
Make Your Own Jon & Vinny's Cheese Pizza Kit, $22, jonandvinnys.com
Original Lady Falcon Classics Coffee, $56, ladyfalconcoffeeclub.com
Olivia Von Halle Silk Pajamas, $560, oliviavonhalle.com
Judy Chicago Sweatshirt, $92, prospectny.com
Zoe Dering Turquoise Mug, zoedering.com
Private Yoga Zoom Session From Teny, theyteny.com