Meet Jessie Reyez, the Rising Star Whose Raw and Real Music Grabs Back
On Wednesday, the 26-year-old singer debuted a short film in which she opens up about sexual harassment in the music industry.
---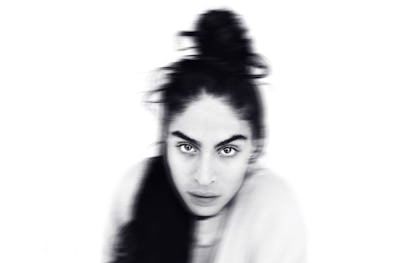 "I'm a child of extremes," said the 26-year-old musician Jessie Reyez of her debut EP, Kiddo, which dropped in April and oscillates between heartbreak ballads and hard rhymes about harassment in the music industry. With her lyrics and visuals, the Canadian-Colombian singer-songwriter isn't afraid to expose her realest self, but in person, she's press-shy, and hadn't spoken at length with a reporter in almost three years.
"I'm all about polarities and juxtapositions," she continued when we met during a recent visit to New York from Toronto, where she's based. She made a face, as if to suggest that she was dancing around the reason why. She paused for a moment, fidgeting and looking up to the ceiling: "Ugh, I'm a Gemini!"
She put her hands over her face. I assured her that she was in good company: Kanye West, Bob Dylan, Stevie Nicks, and Kendrick Lamar all share her astrological temperament. So it's not not a fact that a nature of extremes can also indicate extreme talent.
One of her lyrics on "Shutter Island," which she scream-sings on Kiddo in a departure from her smooth acoustic voice, maybe sums it up best: "My straightjacket's custom-made though / crazy just like Galileo."
While Reyez isn't a star just yet, she's got the range. Her songs have been compared to Amy Winehouse's for their gut-wrenching rawness, ("I'm not worthy," she says of her idol), her favorite song to perform acoustically is Schoolboy Q's "THat Part," and she's got a feature on Calvin Harris's upcoming album.
Reyez describes her own sound as "Quentin Tarantino music"—one minute she's "vulnerable and sad and down on [herself]," and then the next, she'll look at herself in the mirror and say: "Butch up."
Her most popular song, "Figures," is a slow jam about wanting to move on from someone who's hurt you—in this case, a cheating boyfriend—and failing. Many fans have told her that it keeps them from calling their exes. And on Wednesday, she debuted a short film to accompany her new single, "Gatekeeper," which tells her personal story of experiencing sexual harassment six years ago as a young artist trying to climb the ranks in the music industry.
"Spread your legs / Open up / You could be famous," Reyez snarls on the single. And in the short film and an accompanying open letter, she describes the incident in detail, saying that her harasser's words, "If you're not using your pussy, you're not serious about your dreams," almost made her quit music. But today, the experience has only made her want to work harder; she's using music to grab back.
"I never want it to come off as this stoic or pretentious perspective, just because I happened to say, 'No,'" Reyez said of the song's empowered message. "I know a lot of people who have been in those situations and said, 'Yes.' I just wanted to process it and say: 'This is happening, and it's bullshit.'"
Looking forward, Reyez recoiled at the suggestion that she'd "made it." She won't feel that way until she can hand (at least) one Grammy award to her father. In the meantime, she's focused on getting her tracks on the charts ("Figures" has over seven million Spotify streams to date) and selling out shows. Her tour kicks off at the Governors Ball music festival this summer, and her parents will be there to see her perform.
"I'm currently trying to be present, but I'm also saying to myself: 'Don't get comfortable," added Reyez, transitioning once again from giddy to serious. "You better move because the horizon is a lot further away than it looks.'"
And then she was off.