Jet Set Scandals: Kate Moss, Naomi Campbell, and a Couple of Hiltons
These aren't old wives' tales. As you venture away for the weekend, heed the lessons from these superstar scandals, and learn from their mistakes.
---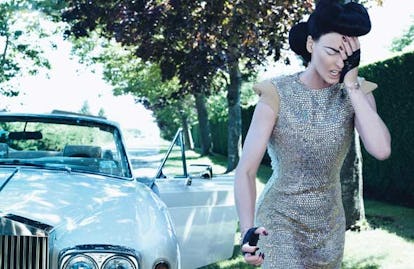 Calling All the Basic Bitches Let's get this one out of the way: Yes, Kate Moss was escorted by police from a plane recently. Yes, she may have called the pilot a "basic bitch" as she left. But as fans of her rare Instagram cameo (and tribute to @Lohanthony) on Marc Jacobs' account, our theory is, maybe they just didn't get the joke?
A Model Citizen In 2008, Moss's pal Naomi Campbell was arrested at Heathrow after an argument over her missing luggage. British Airways banned the super from flying with them again, but all was forgiven and the ban was lifted just five years later.
The Love Boat Aristotle Onassis outfitted his massive yacht with a marble mosaic pool, an onyx staircase, and whale foreskin-covered barstools, which he would explain to visitors as, "the largest penis in the world!" Not quite scandalous, but definitely gross.
The Yacht Club The list of celebrities kicked off yachts grows each year. Most recently, Lindsay Lohan was asked to leave a party for disobeying a request from her host to remove her shoes before boarding. In 2009, Paris Hilton met Elton John's Husband David Furnish at the famed Hotel du Cap and he invited her to a friend's yacht party. Little did he know the enterprising heiress would bring her new beau Doug Reinhardt—and proceed to "act inappropriately" with him. Hilton and Reinhardt were promptly thrown overboard, so to speak.
Snake on a Plane Paris isn't the only Hilton to get stuck in transit. Her younger brother, Conrad Hilton, "disrupted" a London to Los Angeles flight last July when he allegedly threatened flight attendants and smoked marijuana and tobacco in the cabin's restroom. As if that weren't enough, the young Hilton allegedly also told an FBI agent he would "ruin his career," claimed his father had previously paid $300,000 to get him out of trouble, and called his fellow passengers "peasants."
Choice Words with Friends Like many Americans, Alec Baldwin fell victim to the app Words with Friends. In 2011, the actor refused to turn off his cell phone on an American Airlines flight because he was playing the game. Baldwin and others blamed the flight attendant for overreacting, Baldwin was removed from the flight, and the airline tweeted at the actor to get in touch. No one really looks great here. Let's move on.
Last, but Not Least Few celebrities have been involved in as many transit scandals as Justin Bieber. In early 2014, the singer was arrested on suspicion of driving under the influence and drag racing in a yellow Lamborghini, and again later that same week for allegedly assaulting his limousine driver for refusing to turn up the radio. The next month, the young star was accused of smoking weed with his father on board a Teterboro-bound flight from Canada, but was not officially charged. Covering all his bases, the Biebs was arrested in Canada for crashing his ATV into a paparazzi's minivan, with fellow star Selena Gomez in tow. Somebody, stop him.