Also Known As @VaJiaJia
Instagram phenomenon JiaJia Fei answers our social q's.
---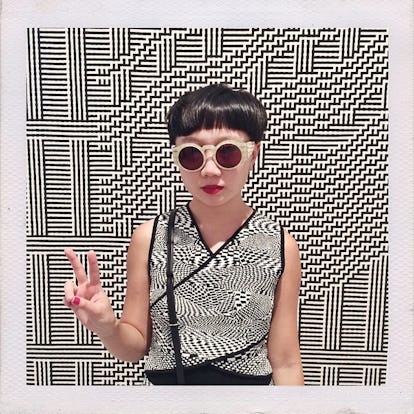 By day, JiaJia Fei photographs the Guggenheim Museum in New York for the institution's social media feeds. By night, she's @VaJiaJia, a prolific (and, in some circles, iconic) Instagram star whose distinctive posting style and eye for contemporary art has attracted more than 50,000 followers. Here, she shares the secrets to her social media success.
Occupation: Associate Director, Digital Marketing at the Solomon R. Guggenheim Museum, New York
Define your Instagram style in three hashtags:
art, #artselfie, #caturday
Maximum number of daily posts: Around 3, but there are no limits when traveling or gallery hopping.
How many selfies do you take before posting? By definition I don't actually take selfies; I usually get my friends to take pictures of me, but am a believer of Henri Cartier-Bresson's decisive moment—therefore, as many as it takes to reach that point.
What is your favorite thing to post? Art, followed by my cat.
The one thing you would never post: Food, unless it's food art.
#Nofilter or filter?
nofilter
Favorite editing apps: All of my images go through the Afterlight app, which adds a faux-polaroid border.
Most memorable comment you've ever received: The first time I ever received a comment in Arabic.
Most geo-tagged location: I bike across the Brooklyn Bridge everyday to get to work, and am always compelled by New York's stunning skyline to snap a gram.
Greatest hits: My 3 most liked Instagrams are a view of the city skyline from the Brooklyn Bridge at night, an Alex Prager work taken at Frieze London, and a picture of my cat Coco sleeping on her birthday.
Your first Instagram: June 2012, my cat sleeping.
Your secret to social media success? Be yourself!
5 favorite accounts to follow: The Guggenheim (@guggenheim) because I love my job; Artsy (@artsy) for awesome global art world coverage; NASA (@nasa) for cool space facts; photographer Sam Horine (@samhorine) for consistently breathtaking shots of NYC; artist Andrew Kuo (@earlboykins) for laughs.
Social media pet peeve: Artists with bad Instagram feeds.
Photos: Also Known As @VaJiaJia
With a Tauba Auerbach piece at the De la Cruz Collection in Miami. Courtesy of JiaJia Fei.
Fei's cat, Coco. Courtesy of JiaJia Fei.
At the Museum of Modern Art. Courtesy of JiaJia Fei.
At Blenheim Palace in London. Courtesy of JiaJia Fei.
At the ZERO opening at the Guggenheim Museum in New York. Courtesy of JiaJia Fei.
A Sol LeWitt drawing at the Metropolitan Museum of Art. Courtesy of JiaJia Fei.
Posing with Gabriele de Santis's work I Can't Take My Eyes Off You at Frieze London. Courtesy of JiaJia Fei.
Hank Willis Thomas's Truth Booth at the Bass Art Museum during Art Basel Miami. Courtesy of JiaJia Fei.