Jill Kortleve Is the First "Plus-Size" Model to Walk Chanel in 10 Years
For the second time this season, Jill Kortleve made history.
---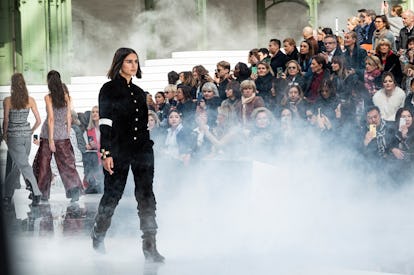 Peter White/Getty Images
Fashion Week hasn't been the same without Karl Lagerfeld, who passed away at age 85 last February. But as the fall 2020 season repeatedly proved, change can be good. Milan Fashion Week saw Fendi—where Lagerfeld was the creative director for decades—cast "plus-size" runway models for the first time in the house's history. And on Tuesday, March 3, the last day of the fall 2020 shows, there was another surprise: A "plus-size" model walked a Chanel show for the first time in a full decade.
In both cases, the model who made history was Jill Kortleve, a Dutch 26-year-old who made her runway debut as an Alexander McQueen exclusive in 2018. (At Fendi, she had company: her fellow model and body positivity advocate Paloma Elsesser also walked Fendi, and reunited with Kortleve on the McQueen runway earlier this week.) Prior to Kortleve, who is signed to the Curse divisions of Muse Model Management and Milk Model Management, the last "plus-size" model to walk a Chanel show was Crystal Renn, in 2011.
For Kortleve, walking Chanel marked a personal milestone too: It was the first time she's worked with the house. "This whole month has been a dream, and I never expected that it was even possible for me to walk on the runway, let alone be included in the amazing shows this season," she wrote on Instagram after Chanel. "There's a much needed change happening on the runway, and I'm proud and feel grateful to be a part of it. I truly hope that in the future I get to see and work with many more models who used to not fit the briefing."
Kortleve, who also walked shows like Mugler and Valentino this season, has been booked and busy ever since making her runway debut. Still, booking Chanel is particularly significant. And, seeing as this is only Virginie Viard's sixth collection since succeeding Lagerfeld—who was hardly team body positivity—suggests that even more change is ahead. From the look of Elsesser's newfound success on the European runways, change is on the horizon for other houses too.
Related: A Look Back at Karl Lagerfeld's Biggest Runway Controversies at Chanel
Chanel's Virginie Viard Gave Her Interpretation of the '80s at PFW
On the runway at the Chanel fall 2020 show, during Paris Fashion Week, on March 3, 2020. Photographed by Serichai Traipoom.

Serichai Traipoom
On the runway at the Chanel fall 2020 show, during Paris Fashion Week, on March 3, 2020. Photographed by Serichai Traipoom.

Serichai Traipoom
On the runway at the Chanel fall 2020 show, during Paris Fashion Week, on March 3, 2020. Photographed by Serichai Traipoom.

Serichai Traipoom
On the runway at the Chanel fall 2020 show, during Paris Fashion Week, on March 3, 2020. Photographed by Serichai Traipoom.

Serichai Traipoom
On the runway at the Chanel fall 2020 show, during Paris Fashion Week, on March 3, 2020. Photographed by Serichai Traipoom.

Serichai Traipoom
On the runway at the Chanel fall 2020 show, during Paris Fashion Week, on March 3, 2020. Photographed by Serichai Traipoom.

Serichai Traipoom
On the runway at the Chanel fall 2020 show, during Paris Fashion Week, on March 3, 2020. Photographed by Serichai Traipoom.

Serichai Traipoom
On the runway at the Chanel fall 2020 show, during Paris Fashion Week, on March 3, 2020. Photographed by Serichai Traipoom.

Serichai Traipoom
On the runway at the Chanel fall 2020 show, during Paris Fashion Week, on March 3, 2020. Photographed by Serichai Traipoom.

Serichai Traipoom
On the runway at the Chanel fall 2020 show, during Paris Fashion Week, on March 3, 2020. Photographed by Serichai Traipoom.

Serichai Traipoom
On the runway at the Chanel fall 2020 show, during Paris Fashion Week, on March 3, 2020. Photographed by Serichai Traipoom.

Serichai Traipoom
On the runway at the Chanel fall 2020 show, during Paris Fashion Week, on March 3, 2020. Photographed by Serichai Traipoom.

Serichai Traipoom
On the runway at the Chanel fall 2020 show, during Paris Fashion Week, on March 3, 2020. Photographed by Serichai Traipoom.

Serichai Traipoom
On the runway at the Chanel fall 2020 show, during Paris Fashion Week, on March 3, 2020. Photographed by Serichai Traipoom.

Serichai Traipoom
On the runway at the Chanel fall 2020 show, during Paris Fashion Week, on March 3, 2020. Photographed by Serichai Traipoom.

Serichai Traipoom
On the runway at the Chanel fall 2020 show, during Paris Fashion Week, on March 3, 2020. Photographed by Serichai Traipoom.

Serichai Traipoom
On the runway at the Chanel fall 2020 show, during Paris Fashion Week, on March 3, 2020. Photographed by Serichai Traipoom.

Serichai Traipoom
On the runway at the Chanel fall 2020 show, during Paris Fashion Week, on March 3, 2020. Photographed by Serichai Traipoom.

Serichai Traipoom
On the runway at the Chanel fall 2020 show, during Paris Fashion Week, on March 3, 2020. Photographed by Serichai Traipoom.

Serichai Traipoom
On the runway at the Chanel fall 2020 show, during Paris Fashion Week, on March 3, 2020. Photographed by Serichai Traipoom.

Serichai Traipoom
On the runway at the Chanel fall 2020 show, during Paris Fashion Week, on March 3, 2020. Photographed by Serichai Traipoom.

Serichai Traipoom
On the runway at the Chanel fall 2020 show, during Paris Fashion Week, on March 3, 2020. Photographed by Serichai Traipoom.

Serichai Traipoom
On the runway at the Chanel fall 2020 show, during Paris Fashion Week, on March 3, 2020. Photographed by Serichai Traipoom.

Serichai Traipoom
On the runway at the Chanel fall 2020 show, during Paris Fashion Week, on March 3, 2020. Photographed by Serichai Traipoom.

Serichai Traipoom
On the runway at the Chanel fall 2020 show, during Paris Fashion Week, on March 3, 2020. Photographed by Serichai Traipoom.

Serichai Traipoom
On the runway at the Chanel fall 2020 show, during Paris Fashion Week, on March 3, 2020. Photographed by Serichai Traipoom.

Serichai Traipoom
On the runway at the Chanel fall 2020 show, during Paris Fashion Week, on March 3, 2020. Photographed by Serichai Traipoom.

Serichai Traipoom
On the runway at the Chanel fall 2020 show, during Paris Fashion Week, on March 3, 2020. Photographed by Serichai Traipoom.

Serichai Traipoom
On the runway at the Chanel fall 2020 show, during Paris Fashion Week, on March 3, 2020. Photographed by Serichai Traipoom.

Serichai Traipoom
On the runway at the Chanel fall 2020 show, during Paris Fashion Week, on March 3, 2020. Photographed by Serichai Traipoom.

Serichai Traipoom