Jill Magid's Light Saber
In the group exhibition "Junkies' Promises," at New York's Paul Kasmin Gallery, the artist cuts into the mind of a killer.
---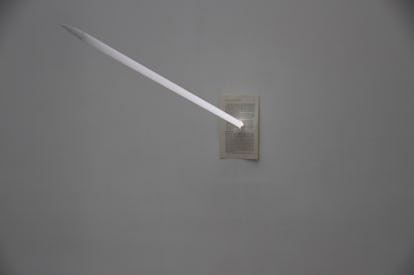 Pinning a page from a book on the psychology of murder to the wall, the artist Jill Magid's glowing bayonet asks: Is the path from violent thought to violence as straight as the blade? One might hope, at least, that it's not so well-lit.
Jill Magid's Bayonet Range, 2013 is part of "Junkies' Promises," curated by artist Iván Navarro, running through August 16, 2013, at Paul Kasmin Gallery, 293 10th Avenue and 515 West 27th Street locations.