The 6 Best Jim Carrey Political Cartoon Burns on Twitter
The Trump era has really got the comedian going. Here are Jim Carrey's best political Twitter cartoons.
---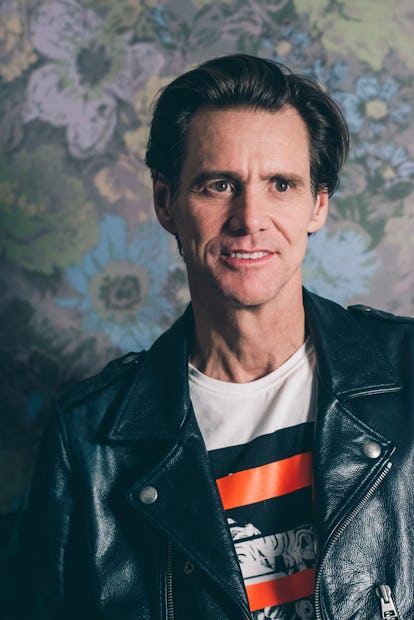 Caitlin Cronenberg
Jim Carrey continues to be mystifying as ever. While the actor has spent the majority of his time in the past few years out of the spotlight, on September 9, he will return to television in Kidding, a new Showtime series helmed by Michel Gondry. Just one year after Carrey was the focus of Jim Carrey: I Needed Color, a short documentary about his journey to become a painter, he will star in Kidding, taking on the heartbreaking role of Jeff, or Mr. Pickles, a Mr. Rogers type who hosts a children's television series and grapples with the recognition and pressure that comes with being the face of a brand.
But in case you haven't already heard, the enigmatic comedian is also a rather prolific painter and visual artist. In fact, he's been creating political cartoons since he was a child, which he revealed in an interview with W last year. ("When I was in grade six, my teacher confiscated a bunch of the cartoons I made in the back of class of her being mutilated by bombs and axes, dogs chewing her leg, whatever," he said.) He shares many of his quick sketches and illustrations—most of which are extremely political (he has drawn multiple cartoonish renditions of Donald Trump, Kim Jong Un, and Vladimir Putin)—on Twitter.
As entertaining as these political portraits can be, Carrey has not always received the best feedback for his work. For example, in August, he tweeted a quick drawing of Aretha Franklin on the day of her passing, and members of the Twitterverse responded with accusations of whitewashing That was not even the first illustration of his to be met with such vitriol. In March, he drew a picture of White House Press Secretary Sarah Huckabee Sanders, and tweeted, "This is the portrait of a so-called Christian whose only purpose in life is to lie for the wicked. Monstrous!" Conservative news outlets, and conservative members of Twitter, were not predictably not happy about it.
These illustrations are informed by a long line of comedians making humorous political art. The Twitter illustrations differ from the more abstract paintings featured in the short documentary about his painting career, and the catharsis in them feels palpable. Below, we picked Carrey's six best political works on Twitter to date.
In one of his earlier pieces, a rather brusque sketch of Donald Trump comes a rather gruesome, graphic, and purposefully outrageous caption by Carrey.
Drawing the Facebook CEO as if he were Marvin the Martian? Insinuating that Facebook is probably going to destroy the earth? This cartoonish dig at Mark Zuckerberg, made during the social media tycoon's five hour testimony before Congress, is such a burn.
Carrey's attention to detail is on display in this portrait of the Civil Rights activist. For example, in Martin Luther King, Jr.'s eyes, there is a small white dove flying in front of a stained glass window. He also added other such tiny details in an earlier illustration, which is a demonic portrait of Jared Kushner engulfed in flames in front of his 666 Fifth Avenue home.
Carrey depicted Paul Manafort as one of the lizard people walking among us, slipping on a "human skin-suit for a quick mugshot." Darkly hilarious, it's one of the more apt interpretations of what's going on with the simultaneous Trump-related trials going on right now.
Robert Mueller, favorite Trump target, is depicted here putting the proverbial squeeze on the President.
In possibly the best political cartoon he's created so far, Carrey submitted his contribution of the official portrait of Trump to the National Portrait Gallery on Twitter in March. His question ("Will We Ever Stop Screaming?") sadly remains unanswered nearly half a year later.
Related: A Beautiful, Bewitching Conversation with Jim Carrey, Who Has Returned Reborn