Joan Didion Breaks the Internet in Céline
In case you missed them, here are the top style stories of the week.
---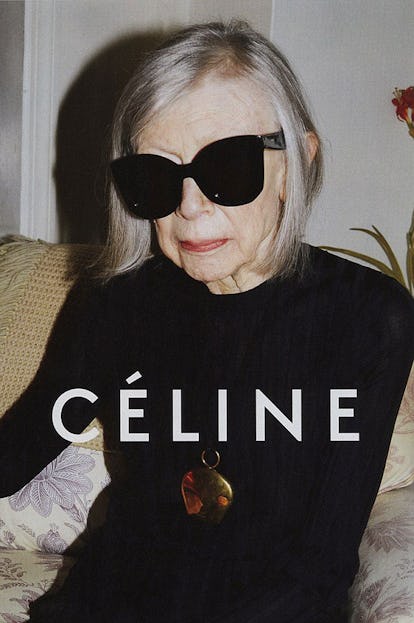 Bieber, Justin Starring alongside model Lara Stone in Calvin Klein Jeans and Underwear ad campaigns. Almost breaks the Internet.
C. Wonder Chris Burch plans to close all Tory knock-off boutiques. Truce?
Chung, Alexa Confesses that she prays to Jane Birkin, reveals the secret to perfect, wispy hair.
Coach Announced that the brand will buy Stuart Weitzman. Celebrates with a shoe-shopping spree.
Cooper, Bradley Donned a curly wig for The Tonight Show. Unfortunately, no suspenders were visible.
Cumberbatch, Benedict One of the cover stars of W's February 2015 issue revealed that he is going to be a father. Get the cumberbaby memes ready.
Delevingne, Cara Shaves part of her head, also nearly breaks the Internet.
Didion, Joan Didn't realize her Celine campaign was a big deal, until she succeeded in breaking the Internet.
Hanky Panky The underwear line is launching a fragrance. No, it will not smell like the brand's primary product.
IMG Acquires Made Fashion Week. Hopes to minimize taxi expenses for all in the process.
Leto, Jared Shows off his abs, covers up lower stomach with a fanny pack.
Lively, Blake Finally gave birth to her first child with Ryan Reynolds, just when her maternity style couldn't get any sexier.
McCartney, Stella Launches a sporty collaboration with Adidas for teenage girls—and their envious moms.
Moss, Kate Looked flawless sans Photoshop, with lighting, in new photographs by Peter Lindbergh.
Pitt, Brad Discovered that he really, really loves nail art.
Prada Features a collection of man candy—Jack O'Connell, Miles Teller, Ansel Elgort, and Ethan Hawke—in new spring ad campaign.
Public School Won the first International Woolmark Prize for men's wear. Because they are winners.
Saldana, Zoe Gave birth to twins. One-ups Blake Lively.
Slimane, Hedi Demonstrates his continued infatuation with rock goddess by casting Joni Mitchell in his new Saint Laurent campaign.
Stone, Lara Received death threats post Bieber campaign.
Target Reveals bright floral collaboration with Lilly Pulitzer in the depths of winter.
Tiffany & Co Featured a same sex couple in an ad. It's about time.
Urban Outfitters Is in trouble—again. This time, for promoting an unhealthy thigh gap. Hey, you live and you learn.