Command Performance
At 78, Joan Jonas is still a renegade. Arthur Lubow meets the artist as she prepares her takeover of the U.S. pavilion in Venice.
---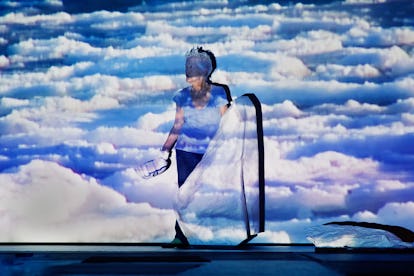 After she married her college boyfriend, Gerald Jonas, at the age of 23, Joan Edwards Jonas would wake up each morning wondering what to make for dinner. "I cooked elaborate meals every night," she tells me on a recent wintry afternoon. In the '50s, menu planning was a standard occupation for a wife. But for Jonas there was more to it: Cooking was a way of breaking through her inhibitions. "You could blame it on being a WASP," she says. "You don't talk about some things. And I was very painfully shy." Through food, she could communicate with friends warmly but obliquely.
By the mid-'70s, her marriage was over, and, she says, "I shifted from cooking for other people to caring about my work." But her years behind the stove, in some ways, distilled her artistic practice. "In cooking, you combine ingredients and it's a chemical reaction, and you come up with the dish," she explains. "I thought of making my art in the same way. You bring together ideas and objects, and something else emerges. It is collage, assemblage."
At 78, Jonas is busier than ever concocting new combinations. When I visit her in her pleasantly cluttered loft in New York's SoHo, she is preparing for this year's Venice Biennale, where she is representing the U.S. Only now is she winning the recognition at home that she has enjoyedin Europe for years. In some respects, she is a relic of a bygone art era, occupying territory that others abandoned. That's true in a literal way: Jonas has lived in the same apartment since 1974, when SoHo housed artists, not chain stores. Unlike the sleek residences that currently fill her street, her place feels like the home of a middle-class artist. More important, she is producing work that harks back to the radically experimental art that was shaped on a tiny budget and with even smaller market prospects by her friends and colleagues 40 years ago. She hasn't changed her attitude. "Joan is not a person who makes consumable products," observes the sculptor Richard Serra, who lived with her for several years in the early '70s.
Jonas projects an aura of gravitas that is totally out of proportion with her diminutive stature. Her eyes are sharply observant; her emotional temperature is cool. But the restrained facade conceals another part of her personality. With close friends, Serra says, "she would do things that were hilarious. You'd turn around and she'd be standing on her head in a costume or making an outrageous sound. It was as if a 4-year-old kid wanted to catch your attention."
Growing up in Manhattan and on Long Island, Jonas felt like the perpetual outsider. Her parents divorced when she was a child, and she spent much of her time drawing. When she began molding clay as a young Mount Holyoke College grad who revered Alberto Giacometti, she didn't really consider herself an artist. "I wasn't making earth-shattering sculpture," she says. But then she discovered the fermenting New York performance scene in the early '60s and knew immediately what she wanted to do. Performance was even more malleable than clay and could be shaped with far greater spontaneity. The idea of exposing the process behind the work—or, better yet, making the process a subject of the work—excited her. She had always been drawn to the myths and ceremonies of ancient cultures. Here was a way to make rituals for our time.
A priestess's solemnity and a child's goofiness run through Jonas's art. She might draw with chalk over a projected video she made years earlier; a video of that intervention will then constitute a new piece. In an installation, she will dissolve time barriers by juxtaposing a decades-old video performance and screens displaying new footage and then blur image and reality by exhibiting the actual props that appear on the monitors. "She has always looked at things in a mediated way, fluctuating between her own body and her mediated presence," notes Catherine Wood, curator of contemporary art and performance at Tate Modern, in London. In an iPhone culture in which people connect as readily to layered images as they do to physical reality, her insight seems prescient.
The consistency of her vision, over a career spanning four decades, was much in evidence in her recent retrospective at the HangarBicocca art foundation in Milan. Most of her pieces were installed without clear boundaries. Given that superimposition and recycling are central to Jonas's approach, "the idea was to avoid any chronological order and to build without any separation between one work and another," explains the curator, Andrea Lissoni. In fact, many elements of Jonas's lexicon recur throughout the years: barking dogs, elongated cones, chalked circles, white masks, reflective surfaces. "You look back at work and see a thread," Jonas says.
Early on, Jonas recorded her performances on film. But after a trip to Japan with Serra in 1970, she came home with a Portapak video camera. "Sitting in front of the camera and seeing yourself was a big thing, " she said. "It was less complex technically than a film camera. I could do it in my loft, and I could see it right away." She continues to find new possibilities for video. In Reanimation, a performance she has reworked since its first presentation in 2010, she makes drawings on paper that are then projected onto a screen, and also walks in and out of a watery image of melting glaciers.
As part of her fascination with ancient cultures, Jonas is drawn to Irish and Icelandic epics, which were sung with subtle differences each time. That instability struck me as akin to her ever evolving pieces. People think the work is unfinished, she says, because she presents different versions in public as she develops it and the endings usually seem arbitrary. Yet a piece may feel unresolved even if it has been completed. It's this in-the-moment, handmade sensation that Jonas seeks. Smoothness in her mind is akin to slickness, which helps explain her attraction to Giacometti's heavily reworked art. As I leave her loft, she asks if I'd happened to see one of her favorite sculptures when I was in Milan: Michelangelo's Rondanini Pietà. "It looks so modern," she says. "Yes," I reply. "I'm not surprised that you like it." She laughs. Michelangelo left the Rondanini Pietà unfinished.