Inside the Gilded Estate of Joan Rivers
The late comic left behind a $150 million estate whose most glittering jewels are going on auction this week.
---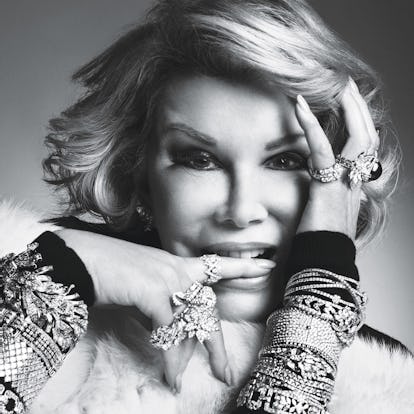 Joan Rivers photographed by Inez Van Lamsweerde and Vinoodh Matadin, styled by Edward Enninful; W magazine March 2014.
The late Joan Rivers was perhaps best known for her razor sharp wit and her often controversial fashion, political, and cultural commentary. A lesser known facet of the late, trailblazing actress, writer, producer, and comedian—the first woman to host a late night network TV show, among other accomplishments—was her highly specific passion for the fine and decorative arts (in addition to couture and exquisite, statement jewelry). Rivers's Upper East Side triplex, lavishly portrayed in the bio-documentary A Piece of Work, was a visual homage to Versailles and no detail went unnoticed—even her dog, Spike, had a Tiffany silver water bowl. "Marie Antoinette would have lived like this," she once quipped, "if she had the money." At the time of her death, Rivers left behind an estate worth $150 million.
On Thursday, fans of the Brooklyn native can have both a glimpse into and perhaps a piece of Rivers' visual legacy when Christie's mounts two auctions of furniture, paintings, jewelry and fashion, among other items, in "The Private Collection of Joan Rivers." Encompassing almost 300 lots, the sales, comprised of an online endeavor from June 16 to 23 and a live one on June 22 in New York, will help benefit the charities God's Love We Deliver and Guide Dogs for the Blind.
Below, eight lots handpicked by Christie's experts that demonstrate that Rivers' opinions on Fabergé and Chinese lacquer were as strong as her musings on the Kardashians and Nancy Reagan's coiffure.
Estimate: $5,000 – $7,000 Created in the 14th century, the Prince of Wales feathers is one of the most enduring and recognizable symbols in British royal heraldry, said Caroline Ervin, Christie's specialist for jewelry. Rivers' antique brooch is a stylized homage to the Prince of Wales feathers using favored gemstones – turquoise and seed pearls were frequently seen in jewelry during that period. It is very fitting that this antique brooch was at one time retailed by Wartski, a company which presently holds royal appointments to the Queen and the Prince of Wales, and also a place which Rivers frequented during her trips to London.
Estimate: $12,000 – $18,000 Rivers was inspired both professionally and personally by the beauty of Fabergé designs. She and her husband, Edgar, were avid collectors of works by the iconic Russian jeweler and the pieces they acquired embodied Fabergé's desire to make everyday items into works of art. With its hypnotic pattern and unique lavender shade, this gold, silver-gilt pill box showcases the enameling techniques and color palette that Fabergé so famously perfected in the Imperial Easter eggs, said Helen Culver Smith, Christie's specialist for Russian works of art. Originally purchased in 1898 by the Dowager Empress Maria Feodorovna (1847-1928), mother of Nicholas II, the box is further embellished with a triangular portrait diamond, covering an enameled question mark. This personal iconography gives us a glimpse of the opulence and intimate exchange that lay at the heart of both the Russian Imperial court and Rivers' own collection.
Estimate: $2,500 – $3,500 Rivers had a number of pieces in her collection by New York designer Iradj Moini, who is known for his bold juxtapositions of large colorful stones and small faceted crystals. Though Rivers favored large, attention-grabbing jewelry, the jewels never wore her, Ervin said. Whether strolling the streets of New York City or filming an episode of Fashion Police in Los Angeles, pieces like this set of aquamarine bead jewelry seemed like they were made for larger than life personalities like hers.
Estimate: $1,000 – 2,000 In an online article of 2012, Rivers was quoted as saying, "Coco Chanel said something so smart. It's 'Fashion fades. Only style remains the same.' You just need to have the security in yourself. I'm not frightened to say what I like. This looks good on me, so that's what I'm going to wear." This classic tinsel-embellished Chanel wool jacket demonstrates Rivers' inimitable style, which is reflected in the select pieces from her wardrobe offered as part of the auction, said Gemma Sudlow, Christie's specialist head of private & iconic collections.
Estimate: $1,000 – $1,500 [Veteran event designer] Preston Bailey once commented that being entertained at Rivers' New York apartment "was a reflection of the true Joan: warm, elegant and truly inviting. You felt as though you were being entertained by royalty." This group of 69 floral placeholders exemplifies the care and attention to detail shown by Rivers to the many guests she entertained, Sudlow said. In fact, they add a formal flourish to entertaining at home.
Estimate: $5,000 – $8,000 This French giltwood mirror is conceived in the Régence style of the early 18th century, Sudlow said. The mirror hung in the magnificently restored [Gilded Age American architect] Horace Trumbauer interior of Rivers' New York apartment above an important French ormolu-mounted and marquetry commode by the renowned fin-de-siècle ébéniste François Linke.
Estimate: $7,000 – $10,000 This black lacquer Chinese screen, with its twelve-panel continuous scene depicting maidens and children, served as a room divider in the vaulted rooms of Rivers' New York apartment, Sudlow said. As grand as it may seem, it apparently seamlessly blended in with all the other Russian, Chinese, French and English furniture and works of art that made up the 'gilded-age' interior.
Estimate: $800 – $1,200 This fun Victorian centerpiece combines opulence with a sense of playfulness or whimsy, no doubt the reason Rivers liked it. Modeled as a palm-tree with foliate-clasped hanging baskets, the centerpiece by Mark of John Pinder & Co. would have been originally conceived to adorn a 19th century table ideal for displaying small fruits or bonbons, Sudlow said.