Joaquin Phoenix and Rooney Mara Had a Baby Named River
Rooney Mara and Joaquin Phoenix gave birth to a baby boy they named River, after the actor's late older brother who passed away in 1993.
---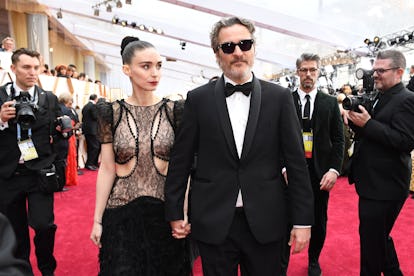 Joaquin Phoenix and Rooney Mara. Image courtesy of Getty Images.
Earlier this year, the rumor mill speculated that Rooney Mara and Joaquin Phoenix couple would give birth to a baby in quarantine. Now, it has been confirmed by The Guardian that Phoenix and Mara did have a baby boy this month.
Director Victor Kossakovsky was the one who actually let the news slip. Phoenix was an executive producer on a documentary called Gunda, which screened at the 2020 Zurich film festival. Kossakovsky revealed that Phoenix was not present at the screening because he was tending to his newborn son.
The director also revealed that the couple named him River, after Joaquin's late older brother, actor River Phoenix, who died at the age of 23 from a drug overdose in 1993. "He just got a baby, by the way…a beautiful son called River," Kossakovsky told the audience during the Q&A portion of the screening of Gunda.
Kossakovsky also revealed that Phoenix's 2020 Oscars speech about animal rights moved him and his team to tears, and inspired him to ask Phoenix to come on board the documentary, which follows the life of a pig, two cows, and a chicken.
Both Phoenix and Mara have a track record of being proud animal and human rights activists, with Phoenix giving his rousing speech during this year's awards season about systemic racism in Hollywood and working with animal activists to confront a Los Angeles slaughterhouse, and Mara investigating factory farms while undercover as well. Baby River might have his uncle's name, but it's likely he could take after both of his parents when it comes to inheriting the spirit of activism.
Related: Joaquin Phoenix and Rooney Mara Are Reportedly Expecting a Child