Jodie Comer Puts Her First and Only Controversy to Rest
The Liverpool-born actor has finally addressed the rumors that she's dating a Trump supporter.
---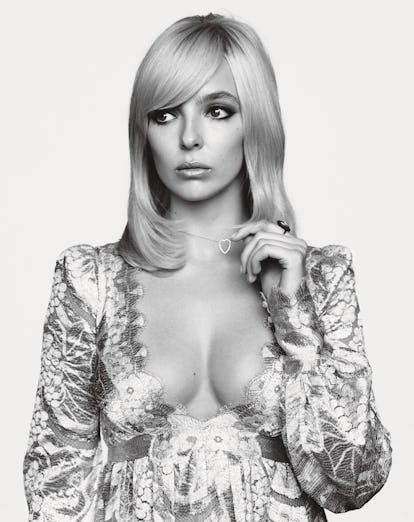 Photograph by Alasdair McLellan, Styled by Edward Enninful; Hair by Shay Ashual at Art Partner; makeup by Diane Kendal for Marc Jacobs Beauty at Julian Watson Agency; manicures by Casey Herman for Dior at the Wall Group. Set design by Stefan Beckman at Exposure NY.
Jodie Comer has enjoyed a remarkably drama-free career since her breakout role as Villanelle in Killing Eve—to the point she doesn't even have a "personal life" section on Wikipedia. So when a rumor about Comer went viral on Twitter over the summer, it marked a first. The discovery of her boyfriend's identity led to the apparent discovery that he is a Trump supporter—and thereby to the hashtag #jodiecomerisoverparty trending.
A number of Comer's own fans turned their back on the actor, pointing to her significance in the LGBTQ+ community and support for the Black Lives Matter movement. But not everyone was convinced. The evidence seemed to be two photos of Comer with James Burke, a 26-year-old lacrosse player from Massachusetts, who some argued was a different James Burke from the one the internet decided was registered as a Republican.
Comer, on the other hand, stayed silent; while ineligible to vote in the U.S., the Liverpool-born actor has yet to denounce Trump in the five or so months since. But as of this week, she has at least addressed the rumors about Burke. "All this false information came out about him, and people just ridiculed him and me and my family," the 27-year-old said in a new interview with Porter. "People took these tweets as truth."
To Comer, there's something deeper at stake. "It's important for my family and having a boyfriend who isn't in the public eye," she said. "I'm very cautious of what I bring into my family's life; it's a safety thing."
"That was the biggest time my life has been kind of blown up and publicized in that way," Comer continued. "A lot of people read things and they go, 'Wow, she's that, she's this type of person.' And I'm like, okay, I can spend my life and my energy trying to convince people otherwise, or I can go, 'I know who I am, I know my truth and that's good enough for me.'"
Privacy is paramount to Comer, which is part of why the incident was such a rarity. "There's definitely part of my life that I want to keep sacred in a way," she told W in September. "It's nice to keep some things to yourself and not have everything out there, because, of course, with acting, people think they have a very clear indication of who you are as a person."
Comer has an Instagram, and occasionally posts personal content that she's comfortable with. Still, she could do without social media: "I also just love thinking back to old Hollywood, with no social media and the mystery that surrounded the people we adored onscreen," she continued. "A lot of that has fizzled away. Of course, we're in a different age, but I quite crave that."
Related: Jodie Comer Is Also Mystified by Killing Eve's Cliffhanger