Jodie Turner-Smith Will Put a New Spin on Queen Anne Boleyn in a "Psychological Thriller" Series
Jodie Turner-Smith will get the chance to play another queen on screen, albeit one of royal blood this time.
---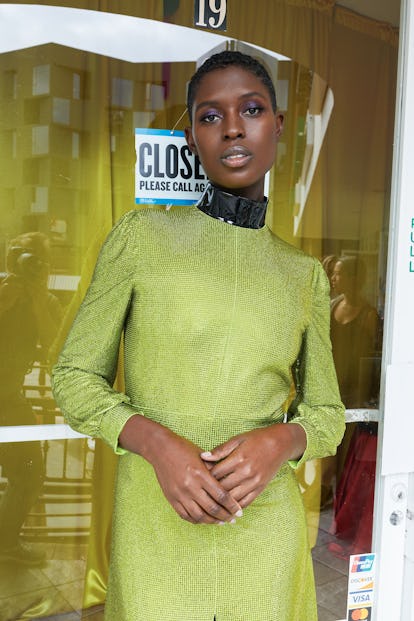 Photograph by Juergen Teller; Creative Partner to Juergen Teller: Dovile Drizyte; Styled by Sara Moonves. Hair by Larry Sims for Flawless at Forward Artists; Makeup by Sam Bryant at Bryant Artists; Manicure by Michelle Saunders.
Queen & Slim star Jodie Turner-Smith will soon get the chance to play another Queen, albeit one of official royal blood, when she stars as Anne Boleyn in a three-part miniseries for Channel 5 in the United Kingdom.
Anne Boleyn was the second wife of Henry VIII and the Queen of England from 1533-1536, until she met her tragic end. Because of Henry VIII's desire to annul his marriage to his first wife Catherine of Aragon so that he could marry Anne Boleyn, the Church of England removed itself from the Catholic Church's authority, and Henry VIII was excommunicated by the Pope. In effect, Anne kickstarted the English Reformation that forever changed government policy in the country. She suffered miscarriages and never had a son to carry on the throne, but she did give birth to Elizabeth I, future Queen of England. And in order to find a reason to marry his next wife, Jane Seymour, Henry VIII had Anne Boleyn investigated for treason and eventually executed her by beheading.
So, there's a lot to uncover and unpack in a series based on her life, especially one that promises to "re-frame her story as a propulsive psychological thriller" in three parts.
The role of Anne Boleyn has, in recent years, most famously been portrayed by Natalie Dormer in The Tudors, Natalie Portman in The Other Boleyn Girl, and Claire Foy in Wolf Hall. Some have responded negatively to the idea of a Black woman portraying a Queen who was white, but it should be noted that Turner-Smith is not the first British person of color to assume the role. Merle Oberon, who was of Sri Lankan and Māori ancestry, kickstarted her career by playing Anne Boleyn in the 1933 film, The Private Life of Henry VIII. In fact Oberon's relationship to her ethnicity was the subject of a book by the first published Māori novelist, Witi Ihimaera, called Medicine Woman, which was adapted into a 2013 film called White Lies.
Anne Boleyn is considered a tragic figure, one who eventually was seen as a martyr for her country after her husband ordered her execution and the English Reformation (part of the larger Protestant Reformation in Europe at the time) changed the country on a massive scale. According to a statement obtained by Variety, Turner-Smith is excited to tell the story of "one of history's most controversial queens" alongside cast members Paapa Essiedu (of I May Destroy You fame), Thalissa Teixeira (known for her performance in an HBO Max and BBC co-production called Trigonometry, about a couple that turns into a throuple) and White House Farm's Amanda Burton. "Delving deeper into Anne Boleyn's immense strengths while examining her fatal weaknesses and vulnerabilities, Eve's scripts immediately captured my imagination," Turner-Smith said. "In the hands of Lynsey Miller, the legend of this formidable queen and fierce mother will be seen as a deeply human story that is still so relevant for today. I look forward to bringing my heart and spirit into this daring retelling of the fall of this iconic woman."
Related: Jodie Turner-Smith and Joshua Jackson Welcomed Their First Child