Jodie Turner-Smith and Joshua Jackson Welcomed Their First Child
The couple reportedly welcomed a daughter sometime in early April, while quarantined together during the coronavirus pandemic.
---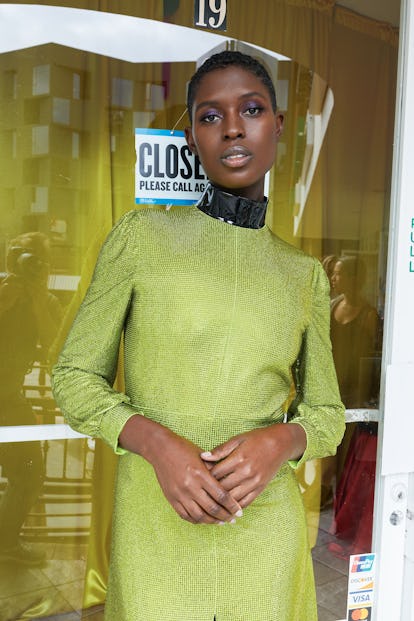 Photograph by Juergen Teller; Creative Partner to Juergen Teller: Dovile Drizyte; Styled by Sara Moonves. Hair by Larry Sims for Flawless at Forward Artists; Makeup by Sam Bryant at Bryant Artists; Manicure by Michelle Saunders.
Jodie Turner-Smith and Joshua Jackson are officially parents now—the couple welcomed a daughter while quarantined together during the coronavirus pandemic.
According to their representative, who spoke to People, "Both mother and baby are happy and healthy."
The relationship timeline between Turner-Smith and Jackson is a little up in the air, with paparazzi photos of the two holding hands dating back to last summer, and a rumor that they met at Usher's 40th birthday party in 2018. By the fall of last year however, the couple had confirmed their romance.
Last September, when Bossip posed the question, "Is Joshua Jackson Swirlfully Smashing Jodie Turner-Smith's Stunning Cakes To Smithereens?" Turner-Smith decided to take matters into her own hands with a simple reply. "Yes. the answer is yes," she tweeted back.
And just like that, the Queen & Slim actress made it clear that she is indeed living out the teen fantasy of many who grew up in the late '90s and early '00s by dating Pacey from Dawson's Creek.
She revealed her pregnancy in January, when she arrived arm in arm with Jackson on various red carpets for the awards circuit. The two were reportedly already married, as photos of the couple wearing what appeared to be matching wedding bands circulated in November. They confirmed that they were indeed married the following month.
Just two weeks ago, Turner-Smith shared a tribute to motherhood with a photograph showcasing her pregnant belly on Instagram. "A fantastic voyage that begins in wonder and transformation," she wrote in the caption.
Jackson, who appeared on Good Morning America to discuss his role in the Hulu series Little Fires Everywhere, revealed that Turner-Smith's due date was March 26, but that she would likely give birth in April.
"Obviously, it's a bit stressful right now and we're just trying to figure out how to be smart about being quarantined. The medical system right now is a little bit difficult, so we're figuring it out day by day," he said before adding, "But she's healthy and the baby's healthy, so that's important."
Related: Chloë Sevigny Is Reportedly Pregnant with Her First Child