Reintroducing Joe Alwyn, Hollywood's Next Great Leading Man
With a slew of major movies coming out, he's much more than a Best Supporting Boyfriend.
---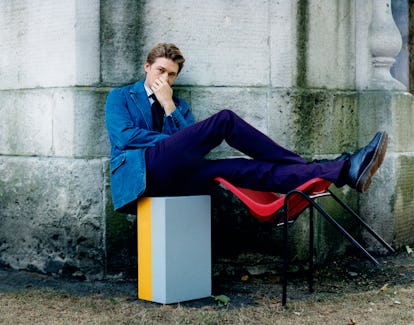 Photograph by Paul Wetherell; Styled by Tom Guinness.
Joe Alwyn could be forgiven for having a glide in his stride. It is, after all, a good time to be him. The 27-year-old British actor, who was the breakout lead in Ang Lee's 2016 satire, Billy Lynn's Long Halftime Walk, and who later starred alongside Charlotte Rampling in Ritesh Batra's The Sense of an Ending, kicked off the summer by winning the Chopard Trophy for emerging talent at the Cannes Film Festival, a nod previously awarded to the likes of Marion Cotillard and Gael García Bernal. But when Alwyn arrives for our interview in a restaurant in Manhattan's TriBeCa, his gait is more furtive lurk than leading-man swagger. His understated outfit of a cobalt crewneck sweater, blue jeans, and black Puma sneakers also appears calibrated to not impose his presence on the room.
Try as he might, it's soon going to be hard for Alwyn to go unnoticed, and not just because he is recognizable to tabloid readers as a costar in the ongoing drama that is his girlfriend Taylor Swift's life—there they are on vacation in Turks and Caicos!…out on the town in London! There is also the matter of his acting chops, which are on full display in four new movies sure to propel him away from the ranks of best supporting boyfriend.
The London-born actor plays the son of the Nazi war criminal Adolf Eichmann in Operation Finale, directed by Chris Weitz, alongside Mélanie Laurent and Oscar Isaac. He also portrays the love interest of Emma Stone's character in The Favourite, a riotous period film by Yorgos Lanthimos, also starring Olivia ­Colman and Rachel Weisz. He appears, all valorous and lovestruck, alongside Saoirse Ronan and Margot Robbie in Mary Queen of Scots, the first feature film directed by Josie Rourke, the formidable English theater director. And, despite his relatively short time onscreen, he practically steals Boy Erased, the Joel Edgerton–directed drama starring Nicole Kidman, Russell Crowe, and Lucas Hedges, about a pastor's son forced to undergo gay-conversion therapy.
"It's really up to him to choose what kind of actor he wants to be," Edgerton says, "because he has it all. He has a short chapter in our story, but he completes a very interesting arc, from affable, friendly, and almost benign to self-absorbed and diabolical. He reminds me a bit of Brad Pitt, in that he could easily play sweet romantic leads, but he actively seeks roles with a darker quality." Ang Lee, who cast Alwyn in Billy Lynn's Long Halftime Walk despite the reservations of executives, who wanted a bigger name, echoes that view. "I'm surprised he hasn't become a star yet," Lee says. "He can carry a movie on his shoulders—he has the height, the looks, obviously, the voice, the ability with accents; he is versatile." Adds Lanthimos, "Joe has a certain kind of depth—in his looks, his eyes, the voice."
I share the hosannas with Alwyn, and he responds with a "Who, me?" expression. "What can I say?" he asks, in his trademark deep voice that belies his youthful appearance. "I'm very fortunate to have been exposed from the beginning to learning from actors and directors at the top of their game. It's pretty unusual."
It's certainly a contrast to what he paints as an unremarkable middle-class upbringing in north London. The son of a documentary filmmaker father, whose work often took him to gritty, far-flung locations for months at a time, and a psychotherapist mother, Alwyn says he doesn't remember ever being particularly interested in acting as a kid. "But I guess I did drama early on, because my mom recently discovered some incriminating evidence in the cellar—a home movie of me in a production of Bugsy Malone when I was 6. I definitely wasn't playing Bugsy. I'm just staring at my brother, trying to stick close to him, and at one point I just trip and fall over in a sea of people."
In addition to the video debriefings of his father's excursions to Uganda, South Sudan, and Russia ("All the holiday hot spots," Alwyn jokes), he recalls watching a lot of old movies and going on frequent trips to the theater with his mother. One such outing, when he was about 13, to see Ben Whishaw starring in a production of Hamlet at the Old Vic, definitely piqued his interest. "I remember being so impressed with how great he was. It's ridiculous to think that I fully got Hamlet at that age, but I always felt like theater was something I could do without necessarily telling people about it. I was quite open about my love for film without saying that I wanted to be an actor."
After majoring in English literature and drama at the University of Bristol, he studied acting at the Royal Central School of Speech and Drama, and graduated in 2015. Like most acting schools, the training was largely limited to the stage, with work in front of the camera confined to only one week. "It was basically me and a bunch of mates choosing a scene from a well-known show and then filming ourselves and sending it round to agents, hoping that they would pick us up," he says. "I did a scene from Orange Is the New Black, but I had never seen the series, so I had no context whatsoever. We all did British accents, too, but somehow it worked."
Before long, he was being flown to New York to meet with Lee, who was late in the process of casting the lead for Billy Lynn's Long Halftime Walk, his movie based on Ben Fountain's novel about an Iraq War veteran who, on his return home, is trotted out for a "victory tour" that includes a halftime performance at the Super Bowl by Destiny's Child. Despite Alwyn's instinctive ease in front of the camera and its profound appreciation of him ("The camera sees everything with him—his innermost thoughts, right down to the temperature of his blood," Lee gushes), the novice had plenty of questions for the cast and crew.
His costar and friend Garrett Hedlund, who was out drinking with Alwyn the night before we meet, recalls the two-week boot camp that Lee put them through as a bonding exercise. "We stayed in barracks," Hedlund explains, "and he was constantly grilling me about my career and the choices I had made. It was very sweet. He listens and wants to learn, and is as dedicated as can be—though now that he has a multitude of great films coming out, I don't think he is going to be asking me too many more questions."
Alwyn is not so sure. "In this business, if you stop asking questions, you're cheating yourself," he offers, as sage as a seasoned veteran. He's also clearly adept at answering personal questions, disclosing everything and revealing nothing at the same time. When we're close to wrapping up our interview, Alwyn checks the time, revealing an elegant, small-faced Patek Philippe watch that's been concealed under his left sleeve. A present to himself or from someone special, I can't help but ask, hoping against hope that he will share that it was from Swift. "It was a present," he says with a wicked grin. Then he's off, with the quiet assuredness of someone who's right on time for his appointment with fame.
Joe Alwyn Sure Looks the Part of a Modern Leading Man
Joe Alwyn wears a Charvet shirt; Giorgio Armani trousers; Lock & Co. Hatters hat; Falke socks; stylist's own shoes.

Photograph by Paul Wetherell; Styled by Tom Guinness.
Joe wears Louis Vuitton suit; Turnbull & Asser shirt; stylist's own pocket square, tie & shoes.

Photograph by Paul Wetherell; Styled by Tom Guinness.
Joe wears Paul Smith blazer and trousers; Charvet shirt and stylist's own shoes.

Photograph by Paul Wetherell; Styled by Tom Guinness.
Joe wears Prada jacket and pants; Charvet shirt; Falke socks and stylist's own shoes.

Photograph by Paul Wetherell; Styled by Tom Guinness.
Joe wears Gucci jacket; Charvet shirt; Lanvin trousers and stylist's own shoes.

Photograph by Paul Wetherell; Styled by Tom Guinness.
Joe wears Dior Men suit; Turnbull & Asser shirt and stylist's own shoes.

Photograph by Paul Wetherell; Styled by Tom Guinness. Grooming by Matt Mulhall at Streeters. Set design by Samuel Overs at the Magnet Agency. Produced by Alice Guard at Rosco Production; Retouching by Tablet Retouch; Digital Technician: Bruno Conrad; Photography Assistants: Chris Miller, Sam Wilson; Fashion Assistant: Bianca Raggi; Set Design Assistant: Casper Bucknall; Production Coordinator: Danny Needham; Production Assistant: Gerard Markes.