Joe Jonas Is Finally Having His Cake and Eating It Too
After the Jonas Brothers, he's finding his voice with DNCE. Minutes before he opened for Selena Gomez, he caught up with pal Ashley Graham, the star of his new video.
---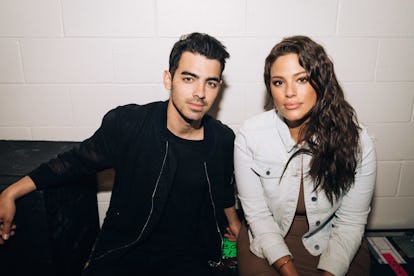 Photography by Simbarashe Cha
About an hour before he was set to go onstage in front of 18,000 or so Selena Gomez fans on Wednesday night, Joe Jonas was casually dribbling a basketball down a hallway in the basement of Barclays Center in Brooklyn. Meanwhile, the bandmates in his new band DNCE – Jack Lawless, Cole Whittle and JinJoo stood about admiring pictures of the more famous people who have performed on the stage before them. Though they're relatively new to the spotlight, all this – the crowds, the arenas, the trailing photographers – is old hat for the former teenybopper.
The transition from child star to budding pop icon is a difficult one to make, but the 26-year-old has managed it against all odds, scoring a hit with the catchy single "Cake By The Ocean," which has climbed to the top ten ranks of several Billboard charts since its release in September. (And also scored the band a high-profile gig at the Billboard Awards last month.)
In May, they band released a second single, a ballad called "Toothbrush" ("baby you don't have to rush/you can leave a toothbrush/at my place/at my place"), recruiting the plus-size model Ashley Graham for its video and that, too, has taken off, notching over 11.7 million views and counting on YouTube.
That is why Graham was also backstage with Jonas at Barclays, where DNCE opened for Gomez's Revival Tour on Wednesday night, and the two bantered with the easy rapport of a couple of old girlfriends.
"I like this!" cood Graham, pinching Jonas' shirt. "You like this? This little sheer number?" returned Jonas (it was Diesel; he's a friend of the label).
But actually, "We met in bed," Jonas said, which made Graham roar. He meant that they met on the set of their music video. "There might have been a little nerves to be honest with you," he continued. "Because you're also walking into a situation that's not the most normal thing. You have 20 people filming you roll around in bed."
"He's also a musician so he gets to roll around in bed with girls," Graham said. "That's not really always been my thing. I only made out with one other guy prior to making out with Joe…professionally."
Much like her notorious Sports Illustrated cover – Graham became its first plus-size cover girl – the video stirred up a cacophony of press on model size and beauty standards. "I knew that it was going to be a big deal, because girls my size are never in music videos, especially with guys as hot as Joe," she said. "So I knew the girls in my community were going to make a big deal out if it. [But] I had no idea his fans were going to love it as much as they did."
"I don't think we're trying to make a huge statement, but if for some reason, we change a standard a little bit, that's great," Jonas added diplomatically.
For Jonas, the response to his new outfit is something of a vindication. His first effort outside of the Jonas Brothers, a solo album called Fastlife, came and went in 2011. With DNCE, he's already released a commercially successful EP, whose first video single was directed by none other than Gigi Hadid, and sold out a tour, appropriately called "The Greatest Tour Ever Tour."
With minutes to go before they're due on stage, Jonas and the gang listened to Nirvana and Creed. "We listen to bad early 2000s rock – it started as a joke, and now it's kind of like, we have to," he explained of one of their pre-show rituals.
Emily Mortimer wandered by. Ansel Elgort made the rounds.
"We like to have a lot of people around until we go on stage. We don't like to have a closed dressing room," Jonas said. "I did that for 10 years of my life, where no one was allowed to see us, and it was like, let's just enjoy it and have fun."
And with that: Showtime!