The Celebrity Furniture Guru Behind the Homes of Jennifer Aniston and the Olsen Twins
Want a midcentury Modernist chair? A Han Dynasty vase? For those and anything in between, L.A.'s celebrities turn to Joel Chen, proprietor of JF Chen.
---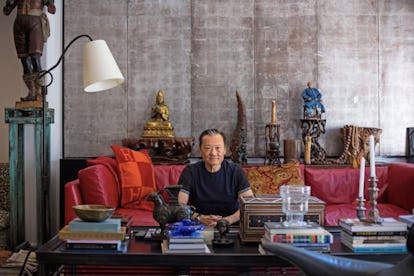 The JF Chen Collection, which was sold on Tuesday at Christie's Rockefeller Center, offered a glimpse into the discerning eye and wide-ranging tastes of the man who amassed it, the renowned Los Angeles furniture dealer Joel Chen. Raised in Hong Kong, Chen opened his first shop on Melrose Avenue in the 1970s, selling mainly antique Chinese porcelain. Over the years, his offerings expanded greatly in both volume and scope; Chen, his wife Margaret, and his daughter Bianca (who joined the family business in 2002) now preside over three spaces, including a vast showroom on Highland Avenue, and sell everything from 18th century antiques to mid-century modern and cutting-edge contemporary design and art. (It was Chen who introduced John Hoke, Nike's chief design officer, to the L.A. architect Greg Lynn and the British designer Max Lamb, two stars of the avant-garde who have collaborated with Nike.)
Chen's free-ranging curiosity fuels his self-described "tradition with a twist" aesthetic, and has also assured him a perennially au courant clientele. Where in the early days his fan club included William Holden, Rudolf Nureyev, and Betsy Bloomingdale, he now sells to interior designers like Michael Smith, Studio Sofield, Steven Gambrel (who designed the Christie's installation) and Courtney Applebaum; fashion designers like Tom Ford and Mary-Kate and Ashley Olsen; Hollywood luminaries like Ellen De Generes and Jennifer Aniston (for whose Stephen Shadley-designed house Chen supplied a 1970s' laminated wood desk by Don S. Shoemaker, seen above); and L.A.'s young creative class like the fashion designer Jenni Kayne and her art dealer sister Maggie, who had her 30th birthday party at the Highland Avenue space in 2013. Maggie's own house—which, like the interior of the Olsens' The Row shop in L.A., was decorated by Applebaum—is furnished with pieces from JF Chen by Modernist pioneers Pierre Jeanneret and Jean Prouvé.
While Chen often deals with celebrities through their designers, there are some who also come in on their own, like Aniston and the Olsen sisters, whom Chen describes as "very knowledgeable." Last fall, when Chen organized an exhibition on the German industrial design master Dieter Rams, Mark Ronson bought a Braun SK 55 turntable/radio, an iconic 1963 design by Rams and Hans Gugelot that Braun's competitors referred to as "Snow White's Coffin" for its long, boxy shape. Most recently, the singer Adele dropped in with Cameron Diaz, a longtime customer.
The Christie's sale reflected Chen's eclectic outlook: an antique Chinese inlaid bronze vessel in the shape of a tapir brought $100,000; one of Carlo Mollino's 1953 Casa del Sole side chairs fetched $35,000; and the Danish architect Kaare Klint's three-piece "Addition" suite of two chairs and a bench, designed in 1933, brought $47,500. "My problem is I'm very random," Chen says. "My taste comprises all categories. I'm not looking for anything particular except provenance, quality, and craftsmanship."
Still, as Bianca Chen notes, today's younger buyers are less focused on the past and more interested in newer pieces. "They're also more geared to contemporary art," she explains, adding that she organized a 2016 exhibition on the New York design duo Material Lust, and is currently at work on a fiber-art exhibition (which will include a large work by the late artist Magdalena Abakanowicz) and another on fashion that will, she says, be "glam rock-oriented."
But JF Chen won't ever abandon its roots. "We're turning more contemporary, with Bianca's help," her father says, "but we will still be primarily about antiques." Maybe, but you'll never accuse them of being staid.