The Olsen Twins Gave Out Crystals as Fashion Week Party Favors, Obviously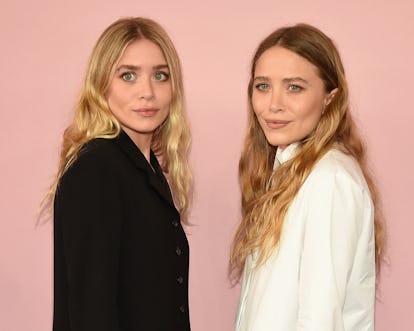 Dimitrios Kambouris/Getty Images
When you think of the Olsen twins, you might think of outerwear that completely engulfs the body, sunglasses that do the same to the face, or possibly the '90s nostalgic ones that got away (they're the only Tanners to not visit Fuller House). If new-age accessories also happen to come to mind, you're obviously having a vision of Mary-Kate and Ashley Olsen's goodie-bag gifts at New York Fashion Week.
The Olsens showed off their Fall 2018 collection for The Row on Monday, and those in attendance left with not only a clear picture of the twins' aesthetic—there was literally an exhibition of Noguchi sculptures that doubled as the runway—but also, their very own crystal. According to The Cut, the crystals came in either white (to promote harmony) or black (for protection from bad vibes, of course). According to a note that accompanies the black crystal, recipients of the "black tourmaline" can expect all the benefits of a crystal that "repels and blocks negative energies" and "works in reducing fear and increasing focus." Ever helpful, the Olsens also included instructions for keeping the crystal squeaky clean—basically, "cover and soak in salt water for 24 hours."
The Olsens aren't the only celebrities who believe in the powers of crystals. Victoria Beckham reportedly uses them (including the black tourmaline) to prep before she shows off her own fashion designs, and Adele believes having her crystals can make or break her performances. And Kim Kardashian even went so far as to use crystals to heal her psyche after her robbery at gunpoint in Paris in 2016. She got really, really deep into them—visiting crystal warehouses all over Los Angeles—before then turning crystals into a limited-edition KKW fragrance called "Crystal Gardenia," which you can shell out money to buy, of course. At least the Olsens gave their rocks away for free.