Kim Kardashian's Paris Robbery Inspired Her First Fragrance
The crystals that inspired the line was originally meant to heal her.
---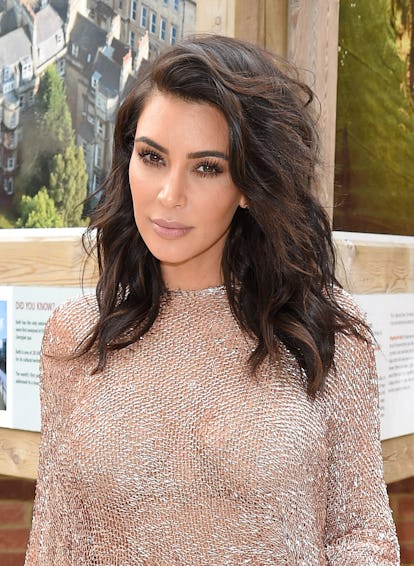 Getty.
After being robbed at gunpoint in Paris last year, Kim Kardashian spent the better part of the next year looking to heal from the terrifying ordeal. It was during that time that her friends offered their own attempt to aid her recovery, albeit in a very on-trend way: via crystals.
"Honestly, after my Paris situation, a lot of my friends would come over and bring me healing crystals, and I obviously knew what they were—it's very L.A. and it's very popular right now—but for me it meant something so different," Kardashian told Women's Wear Daily in a new interview. "I was sitting there and I'd get these collections of them and I started to really dig deeper into what they meant and the meanings behind them and started to go to these crystal warehouses in Culver City and downtown [L.A.]."
But in true Kardashian form, the reality star decided to turn her healing into a lucrative business, using the process as inspiration for her first fragrance, to be launched under her newly-minted KKW Beauty range, beginning tomorrow on the website. ""It's the first time that a fragrance is really being sold with the model that I'm doing it at. It's really just using online sales and doing it all digitally," she said.
The crystal inspiration is right there in the packaging, a jagged, crystal-shaped bottle meant to lay horizontally on your vanity, but what exactly does a crystal smell like? Each scent was designed to be "calm and healing," but that's where the connection may end. Instead, Kardashian created three different variations on crystal, based on her favorite flowers and scents: "Crystal Gardenia," "Crystal Gardenia Citrus" and "Crystal Gardenia Oud." Each is based in, you guessed it, gardenia. And yes, Kardashian herself does know that it can be hard to describe a scent through the internet. ""Fragrance is harder [to sell], but makeup is difficult, too, because you don't really test the product. I hope we're doing a good job of describing what it will smell like, that's always a little bit tricky," she said.
But if her KKW Beauty contour sticks—which sold out her product in under three hours the day it launched, bringing in an estimated $14.4 million—are any indication, she's not in any trouble. Each scent will come in 30-ml. and 75-ml. sizes and retail for $35 and $60, respectively, and are all limited edition—meaning Kardashian enthusiasts will surely be clamoring for a piece of beauty history. WWD surmises that the fragrance will pass the $10 million mark in less than 24 hours.
And there are no signs of slowing down. Kardashian revealed that she plans to roll out a full line of fragrances, as well as concealer, and additional color cosmetics, the latter following in the footsteps of lip kit mogul little sister Kylie Jenner.
Jenner may not be the only young makeup mogul in Kardashian's life, though. Towards the end of the interview, the soon-to-be mother of three revealed that her four-year-old daughter North West is just clamoring to get into the beauty blogging business. "My daughter watches so many YouTube tutorials and videos and she was unboxing the My Little Pony Colourpop collection and I thought to myself, 'I wish I was recording this' because her reaction was so funny. And then she did makeup on the My Little Pony that they gave and she said, 'Mom, I want to do a YouTube video,'" she shared.
Dad Kanye West quickly shut that one down. ""I don't know if it's something she would really want to do…but it's always a struggle on how much you want to have exposed or how much access you want them to have to have to social media. I remember when Kendall and Kylie were growing up. We were so freaked out and we always had their passwords and we would always go check their accounts, and I mean, they were really little. I don't know if they knew we knew," she added. ""In the world we live in today, I don't think you ask someone young growing up to not be on social media — that's just cruel. That's like asking [someone] to not communicate."
Related: Kim Kardashian Acknowledges Accusations of Blackface in KKW Beauty Campaign
Kanye West Just Wants to Bring Joy to the World Like Will Ferrell in 'Elf'