For Kanye West's Birthday Let Kanye West Tell You How Great Kanye West Is
On the occasion of Kanye West's 40th Birthday, here's a roundup of his own best quotes about Kanye West.
---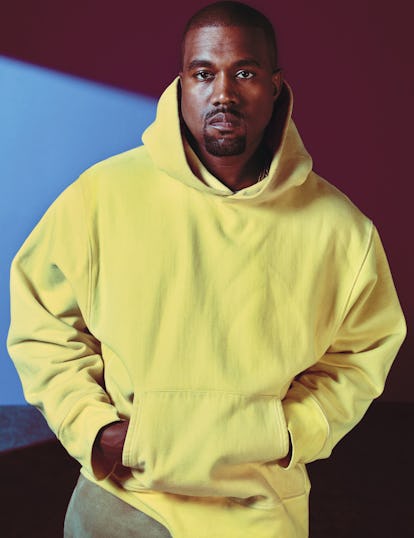 Photographs by Mario Sorrenti, Styled by Edward Enninful.
The multi-hyphenate Kanye West is known for many things among them rapping, designing clothes, escorting Kim Kardashian, and interrupting Taylor Swift. However he is perhaps most famous for is telling everyone just how amazing he is and just saying absolutely bonkers things in general. Today is his 40th birthday so if you're looking for someone to celebrate Yeezy there is no one better than Yeezy himself. And just for an extra added present for all of us, we threw in some other insane things that he's said over his first four decades. May the second four be just as colorful.
"I love me." — From Twitter
"I think what Kanye West is going to mean is something similar to what Steve Jobs means. I am undoubtedly, you know, Steve of Internet, downtown, fashion, culture. Period. By a long jump." — As told to New York Times
"If you learn from your mistakes, then I'm a fucking genius." — As told to Rolling Stone
"I realize that my place and position in history is that I will go down as the voice of this generation, of this decade. I will be the loudest voice." — As told to The Huffington Post
"There's nothing I really wanted to do in life that I wasn't able to get good at. That's my skill." — As told to The Guardian
"Put this in the magazine: There's nothing more to be said about music. I'm the fucking end-all, be-all of music." — As told to Details
"I rock a bespoke suit and I go to Harold's for fried chicken. It's all these things at once, because, as a tastemaker, I find the best of everything." — As told to Spin
"I am the number one human being in music. That means any person that's living or breathing is number two." From The Wendy Williams Show
"You can't look at a glass half full or empty if it's overflowing." — From Twitter
"My greatest pain in life is that I will never be able to see myself perform life." from VH1 Storytellers
"I'm too busy writing history to read it." — As told to Entertainment Weekly
"Sometimes people write novels and they just be so wordy and so self-absorbed. I am not a fan of books. I would never want a book's autograph. I am a proud non-reader of books." from Reuters
"I want the world to be better! All I want is positive. All I want is dopeness." — As told to the New York Times
"Man…ninjas are kind of cool…I Just don't know any personally." — From Twitter
"People always tell you, 'Be humble. Be humble.' When was the last time someone told you to be amazing? Be great! Be great! Be awesome! Be awesome!" — As told to The Atlantic
"How much is a shit load exactly? I'm assuming it's more than a piss load." — From Twitter
"George Bush doesn't care about black people." From A Concert for Hurricane Relief
"Classical music is tight yo." — From Twitter
"I don't know if this is statistically right, but I'm assuming I have the most Grammys of anyone my age, but I haven't won one against a white person. But the thing is, I don't care about the Grammys; I just would like for the statistics to be more accurate." — As told to The New York Times
"Boyfriends are like rush hour traffic…ALWAYS IN THE FUCKING WAY!" — From Twitter
"You basically can say anything to someone on an email or text along as you put LOL at the end." — From Twitter
"I'm just tryna keep it symmetrical." — From Twitter
"Sometimes I push the door close button on people running toward the elevator. I just need my own elevator sometimes, my 7 floor sanctuary." — From Twitter
"Fur pillows are hard to actually sleep on." — From Twitter
"I hate when I'm on a flight and I wake up with a bottle next to me like oh now I gotta be responsible for this water bottle." — From Twitter
Related: There Is Now a Gold Statue of Kanye West as Jesus in Hollywood
Kanye West Just Wants to Bring Joy to the World Like Will Ferrell in 'Elf':