There Is Now a Gold Statue of Kanye West as Jesus in Hollywood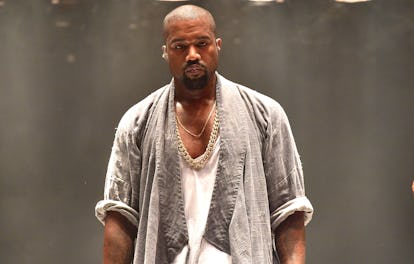 Prince Williams/WireImage/Getty Images
Kanye West is seemingly unavoidable these days. But for those who live in Hollywood, it just got even harder. Today, the artist known as Plastic Jesus erected a giant gold statue of the musician and fashion designer pictured as Jesus in Hollywood, just a stone's throw from where the Academy Awards will be held on Sunday evening.
Dubbed "False Idol," the gilded tribute features West wearing his signature gold chain, as well as another one bearing the face of Jesus. While the clothing choice—a loin cloth—isn't true to life, the Yeezus statue is decked out with footwear that West would approve of: a black pair of his Yeezy sneakers for Adidas.
The artist Plastic Jesus explains that the statue isn't meant to glorify West, but rather serve as a commentary on the way he's been glorified by popular culture. "We have built Kanye West into a god-like character, I believe he's a genius when it comes to writing and producing but he's human," the artist told W in an email. "When we build people into idols we have expectations, and if they fail to meet those expectations we crucify them. We saw this last year when Kanye was admitted to a medical facility to get treatment for stress, anxiety and paranoia. We need to take a step back and remember our idols are only human and as such we need to give them space to err."
If you aren't able to catch the statue on Hollywood Boulevard today, it will make another appearance later in the week at the former Tower Records on Sunset during Plastic Jesus' one-man show with Billy Morrison, Anesthesia: The Art of Oblivion, which you can find info on here.
Watch: Kanye West mouths off about the fashion industry.