At This Point, Reports About Kylie Jenner's Possible Engagement Border on Fan Fiction
It's time to stop projecting our own narratives onto her.
---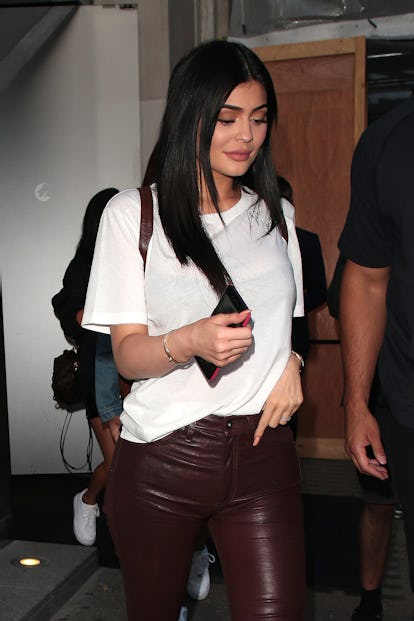 Ricky Vigil M/GC Images
As history has shown, speculating is a futile activity when it comes to the Kardashians. Kylie Jenner knows this, as the youngest member has grown up in a universe where truly breaking family news is solely reserved for their reality show Keeping Up With the Kardashians. But that doesn't stop her from keeping her followers in a holding pattern on social media, as she toys with the rumors that concern her and, even, provokes an onslaught of new ones. The latest? Kylie Jenner may be engaged to her boyfriend Travis Scott.
This weekend, while Kardashian-Jenner social media posts were focused on Kim Kardashian's third baby shower for her first child that will be brought into this world by a surrogate, Kylie posted a video to Snapchat of herself at the wheel, driving to Kim and Kanye's recently sold Bel Air home.
As innocuous as the video sounds, it became a focal point for the internet thanks to a gigantic diamond she casually showed off on her ring finger. Rumors of her engagement swirled with no confirmation to follow from Kylie or any other Kardashian-Jenner.
So what do we know? Absolutely nothing, other than the fact that Kylie enjoys diamond rings—especially on her ring finger—as this isn't the first time she's worn one that has prompted rumors. Recall in July of 2016, Kylie was rumored to be engaged to Tyga after a similarly shiny ring was seen on her ring finger. She later revealed that it was just a promise ring though. Could her new ring also be a promise ring? Maybe! Could it be an engagement ring? Maybe!
These days, reports about Kylie's life seem to veer more on fan fiction than actual facts. We still don't know if she's actually pregnant. That hasn't stopped speculation that she just threw herself a baby shower, though as People reported that one went down at her Hidden Hills home on Sunday, a day after Kim's, and was intentionally undocumented on social media. "Even though this is a very exciting time for her, she wants to be more private for now and is doing her best to stay out of the public eye," a source told People.
Whether or not Kylie is pregnant or engaged, or whether or not she just likes to wear baggy clothing and diamond rings, there is no point in projecting our own narratives onto the 20-year-old. As her TV series The Life of Kylie showed, the only person who actually knows what's happening inside of it is Kylie. And no level of thirst will change that.
A Celebration of Kylie Jenner's 20 Years of Not Letting the Critics Get Her Down