Kim Kardashian's Third Child is Reportedly Due in January
Baby West No. 3 is on the way.
---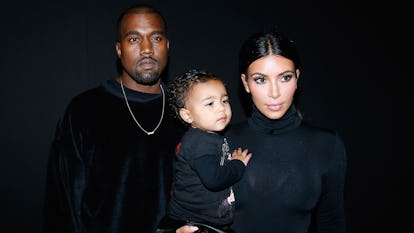 Bertrand Rindoff Petroff/French Select/Getty Images
The Kardashian empire is set to grow again. Kim Kardashian West and Kanye West's third child is due in January according to TMZ. The news follows an earlier scoop from Us Weekly in July that the couple had hired a surrogate who was already, at the time, three months pregnant.
In June, the couple publicly announced that they would use a surrogate to carry their next baby.
The woman that the famous family has allegedly chosen is in her late 20s and is quite literally the poster child for surrogacy. She's served as a surrogate for other couples in the past, according to Us, and has appeared in promotional videos for the process alongside her own family. Thus, the standard contractual stipulations she's bound to as a surrogate—like no drinking, smoking, or drugs, no hot tubs or saunas, no raw fish, no hair dye, and even no touching cat litter—should be a piece of cake.
The Wests are already parents to 4-year-old North and 19-month-old Saint. After experiencing placenta accreta—a life-threatening condition in which the placenta fails to properly detach from the uterus during birth—during her first two pregnancies, the reality star was told by doctors that it would not be safe for her to carry a third child (all of which was captured on her series Keeping Up With the Kardashians). Though the surrogacy process may be less high risk than Kardashian West carrying baby No. 3 herself, it's not without its own challenges. According to TMZ, the couple will pay $45,000 to the surrogate over the course of 10 months (plus $5,000 if there are multiple births) in addition to handing over a $68,850 deposit to the agency that facilitated the process.
Having grown up with three biological siblings, two half sisters and four stepsiblings, Kardashian West has been vocal about her desire to have a large family of her own. "I have so many siblings and I love it, they're my best friends and I would love that for my kids," she told Ellen DeGeneres in 2014, Us reports. Earlier this year, on an episode of KUWTK, she said: "After Paris, I feel the need to bring another soul into this world. I want my kids to have siblings."
Who knows? Maybe the next spinoff of Keeping Up With the Kardashians will be 18 Kardashian Kids and Counting.
Related: Groundbreaking News: Kim Kardashian West's Daughter North West Has Named Her Puppy
Here's more Kim Kardashian: