PETS OF THE RICH AND FAMOUS
Groundbreaking News: Kim Kardashian West's Daughter North West Has Named Her Puppy
It's not Baby Jesus, unfortunately.
---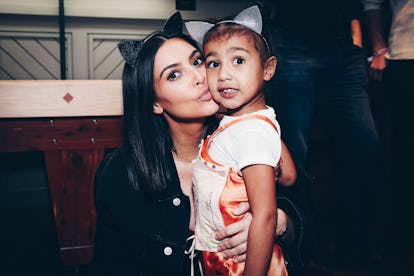 Rich Fury/Forum Photos/Getty Images
Kim Kardashian has some groundbreaking election news for us—about a dog.
The extended Kardashian-Jenner-Disick-West clan has kind of a lot of pets, but apparently there's always room for one (or two) more. Last week North West and her cousin Penelope Disick received a Pomeranian puppy apiece at their joint Moana-themed birthday party (they are 4 and almost 5, respectively).
As Kim Kardashian West revealed on Twitter, her eldest child (soon-to-be big sister to another sibling born via surrogate) was taking her time naming the pup, kicking around ideas like "Goldie" and "Cutie Pie" and fan favorite "Baby Jesus."
But on Monday came the royal decree: "Sushi."
It begs the question: Kim Kardashian West, why did you even make a poll if you weren't going to respect the outcome of the vote? The people have spoken, and the people wanted "Peachy Pop." Alas, "Peachy Pop" will have to wait until the next dog naming ritual at the Kardashian household.
If you cared, Penelope reportedly named her dog "Honey."
North seems to have a penchant for all things ocean-related. Other than naming the dog Sushi, as well as her Moana-themed birthday bash, last year she celebrated her big day with mermaids. Some additional insight: Her famous parents and aunts also often frequent L.A.'s Nobu.
Let's just hope Sushi doesn't disappear into the ether like so many other Kardashianimals. Perhaps she can get a gig modeling Kim's latest contour looks on the 'gram.
Related: At Four Years Old, North West Is Already Chicer Than You on Instagram
Kanye West Just Wants to Bring Joy to the World Like Will Ferrell in 'Elf':