Move Over Kylie, Kim Kardashian's Makeup Line Is Estimated to Make $14.4 Million In 5 Minutes
Kim Kardashian's new beauty line, KKW Beauty is estimated to make $14.4 million dollars in the first five minutes.
---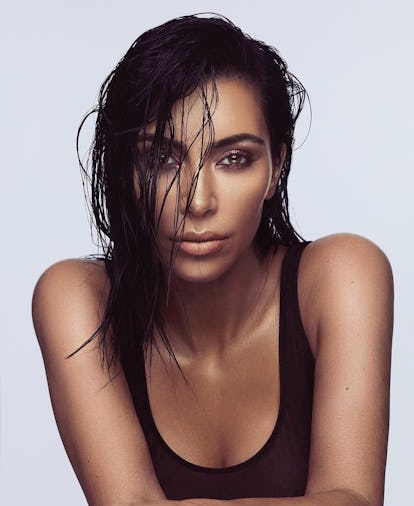 With her clothing and accessories line, fragrance collection and wildly successful video game app, it seemed like only a matter of time before Kim Kardashian West added a cosmetics line to her ever-growing list of fashion and beauty entrepreneurial endeavors. Last week, the reality TV star confirmed the official launch date, June 21, 2017 for her new beauty line, KKW Beauty, to her 101 million Instagram followers.
In an interview with WWD, Kardashian expressed her readiness for her new business enterprise. "We have a good model, and even from our lip kit, we have a really good general idea of what our customer is going to be like. We are definitely prepared for the demand," she explained. And by high demand, she means an estimated of $14.4 million in sales–within the first five minutes.
According to the industry experts, KKW Beauty is expected to mirror the sister duo's wildly successful lip kits, which garnered $13.5 million in sales. And although the famous sisters are technically still new to the makeup world, unlike sister and Estée Lauder model Kendall Jenner, their sales are expected to compete with beauty powerhouses like L'Oréal and Estée Lauder.
KKW Beauty's first products will consist of a Créme Contour and Highlight Kit, and if we've learned anything from the social media mogul's past, this is just the beginning.
As Monica Rose Splits, Meet the Rest of the Kardashians' Glam Squad
Hair stylist Michael Silva preps Kim Kardashian alongside makeup artist Mario Dedivanovic at the Met Gala 2017.

Photo by @michaelsilvahair
Makeup artist Hrush Achemyan works on Kendall Jenner's look of contoured cheekbones and a sleek cat eye at the 2016 Met Gala.

Photo by @styledbyhrush
Mario Dedivanovic, long time makeup artist to Kim Kardashian, has taught us everything from contouring to "non-touring".

Photo by @makeupbymario
Long time makeup artist to Khloe Kardashian, Joyce Bonelli is known for her bold and dramatic beauty looks.

Photo by @joycebonelli
Fitness trainer, Don from Don-A-Matrix Training, has helped to get the whole Kardashian crew into shape.

Photo by @kourtneykardash
Nail artist Britney TOKYO creates elaborate designs for Kylie Jenner's long nails with Barbie pink prints.

Photo by @kyliejenner
Hairstylist Andrew Fitzsimons works regularly with the whole Kardashian clan. Here, Andrew adds the finishing touches on Kourtney Kardashian's hair.

Photo by @andrewfitzsimons
Nail artist Heather Sanders gives sisters Kylie and Khloe their famous "Kardashian claws" sporting vibrant, long nails in all shades.

Photo by @kyliejenner
Makeup artist Aidan Keogh pairs Kendall Jenner's sleek up do with luminous skin and a bold, red lip.
Long time hair stylist to Khloe Kardashian, hairstylist Justine Marjan poses with makeup artist Joyce Bonelli.

Photo by @justinemarjan
Makeup artist Ariel Tejada who works closely with Kylie Jenner, is also a regular amongst all sisters.

Photo by @makeupbyariel
Longtime fitness trainer to the Kardashian sisters, Gunnar Peterson helps to train Khloe Kardashian.

Photo by @gunnarfitness
Jen Atkin, most well known as the hair guru of the Kardashian sister and founder of Ouai, poses with Kim and makeup artist Mario Dedivanovic.

Photo by @jenatkinhair
Makeup artist Mary Phillips transforms sisters Kendall and Kylie Jenner as they radiate with luminous skin and "barely there" makeup.

Photo by @1maryphillips