Vintage Lovers Kendall and Kylie Jenner Launch a "Vintage" Tee Collection
The sisters announced their new collection drop on Instagram.
---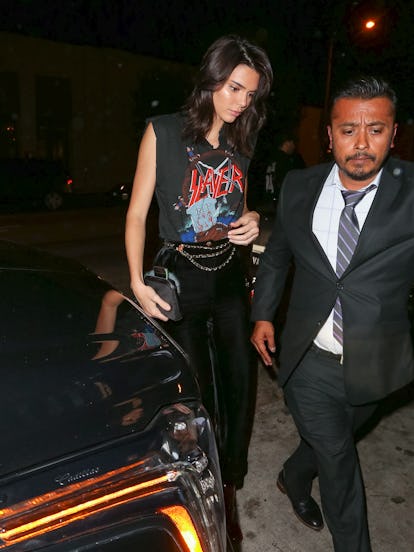 Getty Images
In the age of Facebook "memories" and sepia Instagram filters, nostalgia is not only instantaneous but also manufacturable. And no one knows this better than the Kardashian-Jenner sisters, who have quite literally put a paywall around their collective family memory.
When Kim Kardashian returned to Instagram, for example, she shot a series of family photos and videos (all of which you could see on her app) with what appeared to be a vintage camcorder, giving the illusion that her home life with megastar husband Kanye West was stunningly average. And Kendall Jenner is to thank for the recent revival of 2000s style, à la Paris Hilton.
On Wednesday morning, Kendall and Kylie Jenner also announced that they would be launching a "vintage tee collection" under their namesake brand, Kendall + Kylie. Back in May, the sisters dropped their second, Matrix-inspired collection complete with dad hats and T-shirts bearing their "phone numbers," in case you felt so inclined to leave them a voicemail message. And their latest collection is yet another way to fully immerse yourself in their personal brands, which often include t-shirts of the vintage variety.
Exclusive: You Can Leave Kendall and Kylie Jenner a Voicemail
In the past year or so, the Kardashian-Jenners have demonstrated a proclivity for wearing vintage t-shirts—many of which are sourced from the vintage store, What Goes Around Comes Around—bearing the names of rock bands like Metallica, Slayer, Pink Floyd, and AC/DC, as well as '90s hip-hop icons like Snoop Dogg, which four-year-old North West wore. This follows Kanye West and Justin Bieber both riffing of punk rock bands for their tour merch, and the revival of concert tees in general. Take Balenciaga, for example, which just showed a controversial Ruff Ryders shirt on the Spring 2018 runway in Paris.
So, as Snoop Dogg's own son will tell you, the vintage moment is happening. And if you're smart, you'll capitalize on it, which is exactly what Kendall and Kylie Jenner are doing with their new collection. However, upon closer inspection, these "vintage" t-shirts that they're offering include screen shots of Instagram posts, which is either very "meta" or very misguided. Or both, depending on who you talk to.
See for yourself when the collection drops June 28th at 10:00 a.m. PST / 1:00 p.m. EST on kendall-kylie.com.
Kendall Jenner Gets Real: "I'm Weird, I Love My Tits Being Out"
From Ashley Olsen to Rihanna, Vintage Dressing Is an Easy Way to Be Chic and Sustainable
Kate Bosworth wears vintage Chanel to the Metropolitan Museum of Art Costume Institute Gala "Superheroes: Fashion And Fantasy" in 2008.

Getty
Jennifer Lopez wears vintage to the 78th Annual Academy Awards at the Kodak Theatre in 2006.

Frazer Harrison
Reese Witherspoon wears vintage Christian Dior to the 2006 Academy Awards.

Getty
Penelope Cruz wears vintage to the 2009 Academy Awards.

Getty
Lady Gaga wears vintage Versace while out with Donatella Versace in 2012.

Getty
Natalie Portman wears vintage Louis Vuitton to the 84th Annual Academy Awards in 2012.

Getty Images
Taylor Swift wears vintage to the Taylor Swift and Target "Red" Deluxe Edition CD release launch party in 2012.

Getty
Amber Heard wears vintage to The Art Of Elysium 8th Annual Heaven Gala in 2015.

Getty
Jennifer Aniston wears vintage John Galliano to the 21st Annual Screen Actors Guild Awards in 2015.

Getty
Alexa Chung wears vintage Balenciaga to the 2014 InStyle And Warner Bros. 71st Annual Golden Globe Awards Post-Party.

Getty
Ashley Olsen wears vintage Christian Dior to the Costume Institute Gala for the "PUNK: Chaos to Couture" exhibition at the Metropolitan Museum of Art in 2013.

Getty
Charli XCX wears vintage to the 2015 Billboard Music Awards.

Getty
Michelle Monaghan wears vintage to the 2016 Vanity Fair Oscar Party.

Getty
Rihanna wears vintage to the 2016 Billboard Music Awards.

Getty
Sarah Jessica Parker wears vintage to the HBO Spain Presentation in 2016.

Getty
Kirsten Dunst wears vintage Christian Lacroix to Chopard presents The Garden Of Kalahari collection at Theatre du Chatalet in 2017.

Getty
Naomi Campbell wears vintage to the 2015 Fragrance Foundation Awards.

Getty
Kendall Jenner wears vintage Chanel to "The Tonight Show Starring Jimmy Fallon."

Getty
Sarah Paulson wears vintage Valentino to the premiere of Feud: Bette and Joan in 2017.

Getty
Emma Roberts wears vintage Armani to the 89th Annual Academy Awards.

Getty
Kim Kardashian West wears vintage Versace to the premiere of The Promise.

Getty
Anne Hathaway wears vintage to an appearance on Good Morning America in 2017.

Getty