Swizz Beatz Comments on Balenciaga's Riff on the Ruff Ryders Logo
"Dapper Dan with Gucci now this," he wrote in an Instagram caption.
---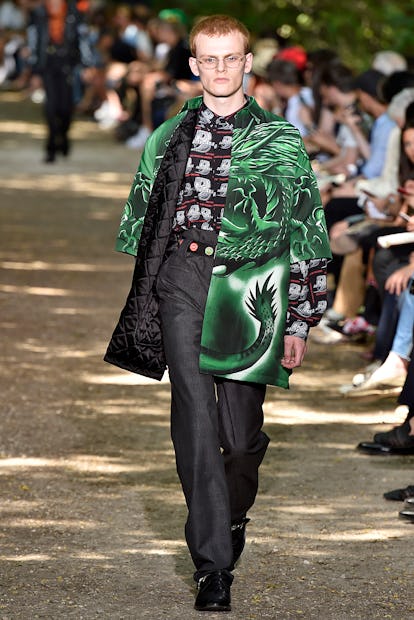 Getty Images
On Wednesday, under the trees of the Bois de Boulogne park in Paris, France, designer Demna Gvasalia showed his Spring 2018 Balenciaga men's show to an audience including Twin Peaks star Kyle MacLachlan. In addition to a star-studded front row, it was easy to be distracted by the collection's triple-layer pants, branded bicycles, and expensive bags, as well as the real-life dads who walked the runway hand-in-hand with their children. But as the producer, rapper, and art collector, Swizz Beatz pointed out on Instagram following the fashion show, the brand's repurposing of the Ruff Ryders logo—a record label founded by Beatz's own aunt and ungle—deserves calling out, too.
"Balenciaga we must have a talk about this Ruff Ryder shirt ASAP," Beatz, born Kasseem Dean, wrote in the Instagram caption of his first post. "Dapper Dan with Gucci now this."
With this, Beatz was referring to the recent controversy surrounding Gucci's almost exact replication of a look by the Harlem boutique owner, Daniel Day, a.k.a. Dapper Dan, which walked the runway during Alessandro Michele's Cruise 2018 show in Florence, Italy. A Gucci spokesman later told The New York Times that Michele had reached out to Day with the idea of collaborating with him, and called it a "homage" Instagram, but like Beatz, many immediately took to social media to demand both accreditation and compensation, including the Olympic sprinter Diane Dixon, who originally wore the look.
Like Michele, who tapped (and by tapped we mean paid) knockoff artist Trevor Andrew, a.k.a the GucciGhost, to graffiti his clothes and accessories, Gvasalia's collections, both for the Kering-owned Balenciaga and his own Vestments label, explore the idea of knockoffs, stereotypes, and corporate logos. The Vetements Fall 2017 runway show, for example, featured a cast of archetypal characters, including "secretary," "bro," and "punk." And that same season, not only did Gvasalia show an army of corporate suits for Balenciaga men's, but also adapted the Bernie Sanders campaign logo to say the brand's name instead. Gvasalia has also recently been inspired, like Virgil Abloh, to adapt Ikea's signature blue shopping bag. And at the Spring 2018 Balenciaga show this week, the front row was provided with McDonald's soda cups bearing the phrase, "The power of dreams," which is Honda's slogan. The Balenciaga 'B' was also mirrored like the McDonald's 'M,' in case you missed the connection. Some might call this "trolling," while others have a different, more culturally concerned categorization for it: appropriation.
In playing with these ideas of corporate symbols, identity, and ownership, designers like Michele and Gvasalia are also simultaneously engaging in an ongoing conversation about cultural appropriation, whether they want to or not. Where does fashion draw the line between homage and theft? Can brands be both the arbiters of stereotypes and critics of them? And can a collection including $1,100 shopping bags really engage in a conversation about corporate lust? At the end of the day, as with all conversations, fashion simply cannot begin one without expecting that other voices will want to be heard, too.
Balenciaga has yet to respond regarding the Ruff Ryders shirt, so the jury is still out whether or not the record label gave permission to use its logo, or was approached at all. But thanks to pressure from Swizz Beatz, the clock is ticking. And judging by the fact that he has family ties to the label, and is the main producer for most of its artists, we'd be surprised to learn that dealings with Balenciaga somehow eluded him. It should also be noted that many pieces from the Spring 2018 collection are available online for pre-order, but the shirt in question is not.
To make his case crystal clear, Beatz posted a second photo on Instagram of the original Ruff Ryders shirt from 2000, which in fact, looks almost exactly like the Balenciaga version with an 'R' instead of a 'B'. "What are we doing???," he writes in the caption. Adding: "Call me back blessings. I Might just want you to open up a fashion school in the bronx or harlem just so you can give back to the culture! thoughts????" Naturally, the internet has many.
Ruff Ryders Entertainment, which was founded by Joaquin "Waah" Dean and Darin "Dee" Dean and Chivon Dean in 1988 as a subsidiary of Universal Music Group, has supported artists such as DMX, Eve, The Lox, Jadakiss, and Swizz Beatz himself. And incidentally, many of the label's top artists are also currently on a 20th anniversary tour, which perhaps explains Balenciaga's sudden acknowledgement of it. (Gvasalia himself is more of a Rammstein guy, as evidenced by his band shirts worn both at the reent Balenciaga show, as well as the CFDA Awards.)
Alas, a stop in Paris is not on the Ruff Ryders' tour schedule, but maybe this time Paris should come to them.
Related: With a $1,100 Shopping Bag, Balenciaga Keeps Trolling and the Internet Keeps Falling For It
Kanye West Just Wants to Bring Joy to the World Like Will Ferrell in 'Elf':